Devi and Sahil
July 6, 2014: The Arbors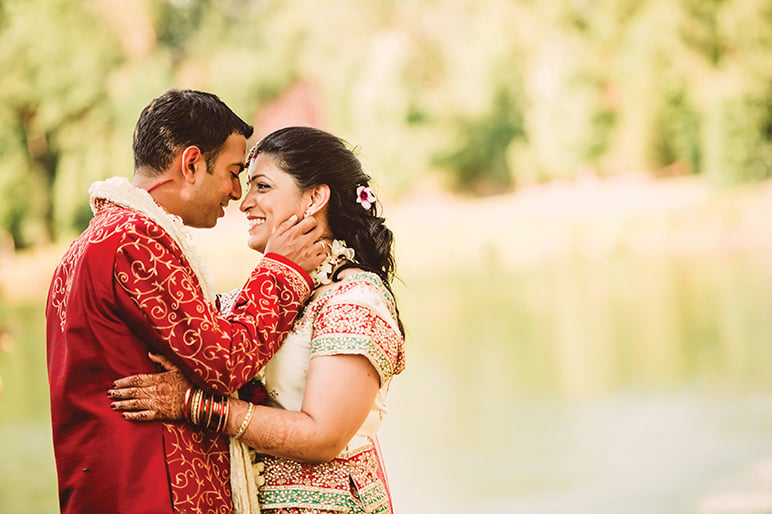 Photographs by Crystal Stokes Photography
​Devi Mehta, in brand marketing for financial services, and Sahil Rajan, who works for Accenture, had long decided a giant Indian wedding was not for them. But then their families were so elated about their engagement that the couple ended up with a compromise: They would have a mere two-and-a-half-day celebration instead of the conventional three days.
Friends and family kicked off the celebration with an Independence Day picnic, followed by the bride's mehndi (henna) party, drawn by Rajesh Wari Reddy. Saturday involved a purification ceremony, where the family smothered the bride and groom with head-to-toe turmeric paste, and a folk celebration, in traditional Indian attire with dancing and dinner at the Hindu Temple.
The couple combined Indian traditions with American ones, with a ceremony in both English and Sanskrit. A friend's company, Rajdeep Mandap, set up the elaborate mandap (a dwelling under which a couple is married) at the Arbors for the couple's poignant outdoor ceremony. Sahil and Devi shared their own vows and promises to each other before their pandit directed them to take the saptapadi, or seven steps around the sacred fire. DJ Desi with Amit Vasi prompted them into their first dance to "Soul Meets Body" by Death Cab For Cutie, an guests sat down to an elegant Indian feast by Bombay Grille at tables adorned with plum linens, orchids, and manzanilla branches.
The Arbors served as a lush backdrop for the couple's ceremony, a fusion of Indian and American wedding traditions.
---
The fireplace at The Arbors glowed with candles and scattered orchids.
---
The ornate outdoor mandap was designed by Rajdeep Mandap.
---
Devi's lavish henna designs were done by Rajesh Wari Reddy, and the amethyst and pearl earrings were from her mother.
---
The couple chose a traditional American wedding cake in raspberry and buttercream by Publix.
---
The newlyweds pose in the sunflowers at The Arbors.
---
The cake table was decorated with colored orchids from Wholeblossoms.com.
---
Cooke Rentals and The Arbors designed the opulent tablescapes, resplendent in plum linen with gold runners, studded with purple orchids.