Dharma Lounge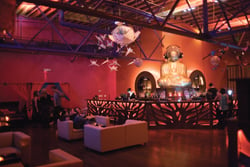 What: After being delayed for almost a year, Dharma Lounge finally opened in South End in September. And it's at the right place at the right time. Tucked away in the office and retail building where Camden Road meets South Tryon Street meets Summit Avenue, it's now part of a growing nightlife district — Apostrophe Lounge is in the same building, while Amos' Southend, Jillian's, the Gin Mill, and others are just up the street.
Vibe: There is a golden six-foot Buddha statue that towers over the bar and wears headphones. White sofas are paired with coffee tables, evoking the feeling of being in someone's living room, while three cabana beds, draped by colorful curtains and throw pillows, invite you to sit down and kick back. There's also an outdoor, enclosed patio with bamboo-lined walls. The music varies, but is often a version of house.
Who's There: It isn't filled with a younger bar-hopping type of crowd, which is probably why some people like it. The L-shaped bar is an appealing hangout for locals, who order cheap drinks (cocktails and wine go for about $2 less than at most places in town).
What Sets It Apart: It's unpretentious, strays from the norm, and even holds free yoga classes on Saturdays.
Hours: Wed.-Sun., 8 p.m.-2 a.m.
Where: 1440 S. Tryon St., 704-334-8336, dharmacharlotte.com.