Diamonds at Laura James Jewelry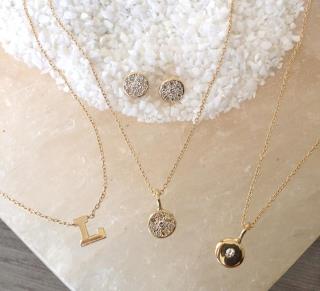 Just when we thought Laura James (and her jewelry) did it all, we discovered that, as of this week, she does it all, plus diamonds. But, leave it to James to keep things fresh in terms of the aesthetic. We love the fusion of classic stones and modern shapes. Right now, the East Boulevard boutique's girl's-best friend-haul includes 14K gold pave studs, diamond pendants, and initial necklaces, like these photographed.
And don't forget about Laura James Jewelry's weekly Facebook auction, which starts tomorrow night at 8. If you need a refresher on how to play, here are the rules. As always, it's your weekly shopportunity for deals that'll have you fighting other Facebook shoppers, tooth and nail, to see who can type "Sold" first. It may also lead to some de-friending.