Dilworth Design Hub
An exclusive guide to the best home goods stores on East Boulevard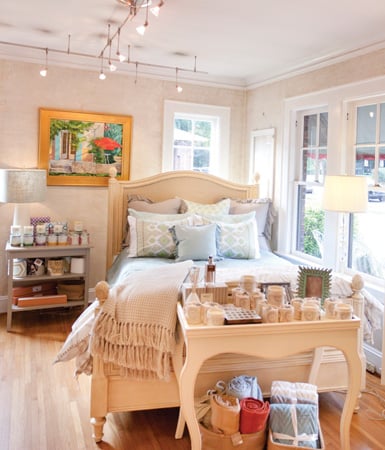 Over the years, East Boulevard has seen a transformation from being mostly residential to becoming a major shopping and dining destination. This Dilworth thoroughfare is easily walkable, allowing you to peruse some of the coolest storefronts and galleries, as well as some seriously delicious specialty food shops.
Cottage Chic has been a mainstay on East Boulevard for the past nine years. This sophisticated yet casual store houses a little bit of everything for the home: area rugs from Dash & Albert, bed linens (Bella Notte, Pine Cone Hill, and John Robshaw), furniture (Seabrook Classics, Somerset Bay, and Taylor Scott), plus candles and diffusers by Anthousa, Archipelago, and NEST. Designer and co-owner Aynsley Mahoney is on hand to assist customers with design picks for the home, including nurseries and kids' rooms. Don't miss the selection of handmade jewelry, including pieces by Heather Moore, as well as an extensive line of bath and body products, such as Sugar Coat It, which is exclusive to Cottage Chic.
WHAT WE LOVE: The annual sidewalk sale. Held the first Saturday in June, it delivers deep discounts—from 50 to 75 percent off—on a little bit of everything.
This family-run chocolate shop has been churning out handmade confections since 2010, though its first location opened in Davidson in 2008. Davidson Chocolate's eighteen varieties of truffles are the big draw, but don't miss the chocolate-dipped Oreos and peanut butter cups. Created using Dutch chocolate-based recipes dating back to the early 1800s, these confections are made without preservatives and additives, which means you can expect pure chocolate flavor at its best.
WHAT WE LOVE: Salted caramels. They're one of Davidson Chocolate's most popular treats, and for good reason: sea salt cuts through the sweetness of the housemade caramel, making it an irresistible flavor combo.
Since this home store opened in 2006, it has become one of the area's most popular home accessories shops. Co-owners Erin Vorhoff and interior designer Aida Saul (whose design office for Aida Interiors is in the back), fill the space with transitional and modern décor that's Mixology 101 at its best. Sleek couches from Lee Industries are complemented by African-horn book-ends and stylish pillows by Ankasa, while candles by NEST and books by acclaimed designers Albert Hadley, Charlotte Moss, and David Hicks serve as great hostess gifts.
WHAT WE LOVE: The design expertise. The Luxe staff is extremely knowledgeable when it comes to interior decorating, so if you're unsure if a piece will work in your home, they'll be more than happy to offer insight.
When Diane and Madis Sulg opened their Dilworth gallery in 2002 as a "little retirement project," they never expected it to become the popular store and gallery it is today. With the work of more than 300 artists, Maddi's boasts pieces by American craftspeople that include a large selection of Southern folk art, glass, and jewelry. Here, customers can find pieces by Shelby ceramic artist Ron Philbeck, glass works by David Goldhagan, and Southern folk art by Cornbread Anderson, among others.
WHAT WE LOVE: The love for "Made in the USA." Maddi's is a huge supporter of American-made crafts.
When visiting this store, come prepared to sample—dipping and tasting its flavored vinegars and olive oils is encouraged. Luckily, husband-and-wife team Sophie and Doug Jones can help guide you by suggesting complementary pairings with not only various meats, seafood, and pastas, but also among its several vinegars and olive oils on hand. Depending on the harvest, expect to find a dozen or so premium olive oils—from $10 per bottle— and savory flavored options such as the chipotle, Tuscan herb, organic garlic, butter-infused, and the two most popular oils, black truffle and walnut. Pick up vinegars that range from a balsamic that has aged for eighteen years to chocolate, espresso, apricot, and even strawberry flavored.
WHAT WE LOVE: The tastings. Book the space for an after-hours private tasting with friends.
Open just longer than a year, this home and garden store has become popular with city and suburban dwellers alike. Housed in the former McColl Fine Art building, co-owners David Newcombe and Rusty Griffith have put their design senses to work—Griffith works for Ralph Lauren and Newcombe previously worked for Smith & Hawken and The Bombay Company—by filling their retail space with a mix of pieces that range from rustic to eclectic. Here you'll find a constantly-changing selection of furniture and home goods, as well as artwork from local artists such as Libby Smart and Ann Conrad.
WHAT WE LOVE: Griffith and Newcombe. The duo is excited about design and wants to help you find the perfect piece for your home.
One stop at this catch-all home, gift, and book store is not enough—there's that much to see. Its curated book selection is one of Paper Skyscraper's biggest draws. The store opened twenty years ago as a bookstore, and it still features New York Times best sellers and celeb chef cookbooks. You can also find a selection of fun reads and pretty coffee-table books. In this well-organized space you'll also find it hard not to walk out with a candle or diffuser by Votivo or Archipelago, wine glasses, or a witty and sometimes off-color MikWright greeting card.
WHAT WE LOVE: The books, naturally. There's nothing more charming than a local, independent store for browsing the latest releases and paging through the month's magazines. Every book on the store's shelves has been handpicked for its local patrons. Now that's customer service.
Though it recently moved its showroom from South End to Dilworth, you can still expect a serious selection at this lighting mainstay. Owner Liza Branch has carefully selected the lines to feature in her showroom, which means no matter what you choose—whether it's an industrial pendant for your kitchen island or a petite crystal chandelier for your wee one's nursery—you'll find only the highest quality. Choose from the lines of Modern Fan Company, LSF, and George Kovacs, among several dozen more.
WHAT WE LOVE: Branch's expertise. Having been in the lighting industry for years, Branch assists homeowners in choosing the most appropriate (and best-designed) lighting for their homes—consider it design help minus the hefty interior-design fees.