Diner Done Right
Big View Diner in south Charlotte is drawing crowds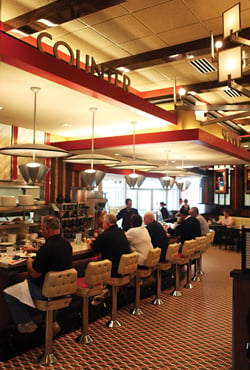 In the Philadelphia area, where I spent most of my youth, diners are everywhere. In their heyday, they functioned as the cultural and culinary centers of every urban neighborhood in the Northeast, serving breakfast, lunch, dinner, drinks, and spirited conversation twenty-four hours a day. And it wasn't uncommon for all to be consumed in one day. Gum-chomping waitresses named Shirley called you "Hon" or "Sugar" and knew what you were going to have before you did. They had certain nuances that made them unique, but they also had quite a bit in common. Good coffee, great breakfast (at all hours), and desserts that would knock your socks off. They had names like Ponzio's, The Domino, Olga's, and The Llanarch — and they were grand spaces. Big, shiny, and brightly lit beacons in the mist.
With Big View, the Stratos Restaurant Group is attempting to re-create the classic diner experience in south Charlotte. Armed with a big budget, big ambitions, and big ideas, Big View opened in May 2009. And it is a stunning replica. At 7,000 square feet, it is a huge restaurant, with large deco-style "wings" on the outside lit by cool red neon signage. Inside, shiny walnut veneer complements the classic mosaic tile floor. Art deco lettering is spread throughout the space, and in the entrance clear dessert cases highlight the ample array of baked goods. True to form, Big View even has its own bakery, where partner and acclaimed pastry chef Frank Kaltsounis conceives every cake, pie, cookie, and loaf. And like any good diner, everything is baked in house.
There are multiple seating options at Big View, depending on party size. Large booths that sit between six and eight are roomy and comfortable, and upholstered in buttery leather. A huge counter smartly runs along the middle of the restaurant. And the balance of the space is peppered with tables and chairs. A unique detail is the circular leather couch in the waiting area. Authentic, right down to the leather spindle backrest in the center. Good thing it's comfortable too, because you will wait for a table, especially on weekend mornings when you can plan on at least forty-five minutes.
Like the classic diners, the menu at Big View is friggin' huge, featuring breakfast, lunch, dinner, and dessert. There is a full bar, with a basic wine and beer selection. Drinks can be enjoyed at your table, or at the front "sports lounge." For lunch, you will find sandwich staples like corned beef, a turkey club, open face turkey, and a workable but paltry Reuben. All are served with house-made chips and a pickle. One favorite is the Diner Burger—over a half pound of hand-formed beef with lettuce, onion, and tomato served on a sesame roll with a side of hot, crispy fries. The house-baked roll lends a fresh dimension to this burger, which is perfectly cooked and juicy. The soulless chicken soup, however, is a letdown. A thin, flavorless stock is the vehicle for too few noodles and vegetables.
Dinner starts at 5 p.m. and features a wide variety of seafood, pastas, and specialties. There's also a broiler section with a few steaks and chops. We dig into a few appetizers while taking in the menu. The onion rings are close to perfect. Thick slices of sweet onion are battered in buttermilk and fried to a delicate crisp. Curious about how they prepare beef, I begin to order a steak tip special (broiled steak tips served over rice with a rich mushroom gravy). I ask for them to be prepared medium rare, and my chatty server crushes my beefy dreams by informing me that they are precooked.
"Really?" I ask, incredulous that the hunks of beef would not be grilled to order. I begin to order something else, but she winks at me fourteen times, indicating that she would get them for me medium rare. However, they still take forever to get to the table and disappoint, as does a dry and overcooked flank steak. A roasted half chicken fares better, with crispy skin livened by lemon and herbs, and the meatloaf is rich and meaty, served with garlic mashed potatoes and fresh steamed vegetables.
Desserts are something to save room for at Big View. In addition to a dazzling selection of cupcakes, rugelach (roog-uh-lakh), and cookies, there are myriad options like Key lime pie, apple pie, and chocolate silk pie heaping with whipped cream. I suck down a $5 peanut butter chocolate shake. It is frothy, chocolaty, cold, and satisfying; I'm just not sure it's worth $5.
A good breakfast is the barometer of a great diner. At Big View, there are buttermilk pancakes, challah (kha-lah) French toast, and waffles along with a variety of baked goods. The coffee is good and strong, but eggs and home fries are the litmus test. At Big View, they are excellent. Fluffy omelets and well-cooked fried and scrambled eggs accompany crispy home fries. The latter come with a thick char and deep flavors of roasted red pepper with the tang and heat of good hot sauce. A forkful of these with the house-made corned beef hash on a slice of perfectly toasted wheat bread is as good as anything back home. They serve breakfast from 7 to 11 a.m. every day. Get there early to ensure you get a table on the weekends. The rush starts around 9:30.
Big View diner has a lot of ambition as well as a keen attention to detail. The owners have built a beautiful, authentic diner that, I must admit, had me pining for Ponzio's. But it needs some work. The service is very slow and the food is often inconsistent. For it to gain real respect, both of those things must be fixed. It is not a fine-dining experience, but then again diners were never meant to be. They should just do what they do very well. And if excellent sister restaurants Nolen Kitchen and Ilios Noce are any indication, the Stratos Restaurant Group knows how to operate restaurants. The Stratos family even operates the Landmark. Perhaps a visit there is needed, just to soak in some history, because the Landmark is as close as it gets to Jersey in Charlotte. I hope Big View isn't far behind.
E-mail: editor@charlottemagazine.com All of Jon Luther's visits are anonymous.