Dining in the Dark, Spring Cocktail Spectacular, Green Tie Speakeasy Gala and More, April 7 to April 10
From bar golf to spring cocktails, Charlotte is obviously ready for the mercury to rise.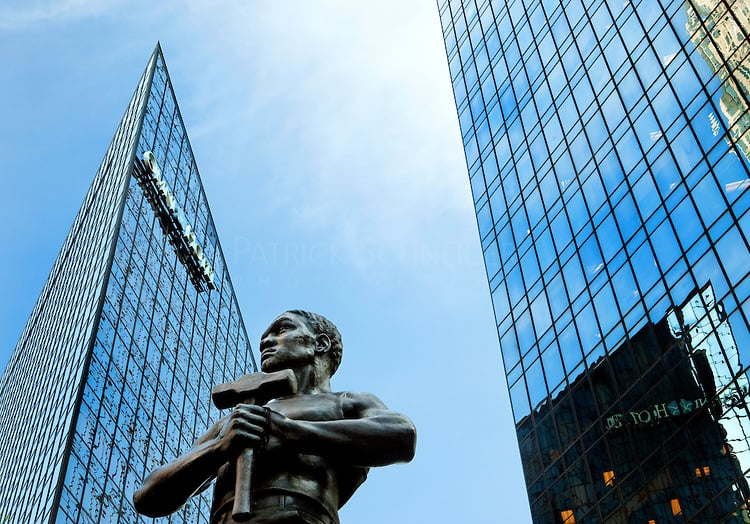 From bar golf to spring cocktails, you can certainly tell Charlotte's ready for the warm weather to stick around. It looks like another great one. See y'all out there!
Thursday, April 7
Dining in the Dark
Close your eyes, put on a blindfold and prepare yourself for an evening of dining in the dark. The evening begins at 7 p.m. at Eight Sushi Asian Kitchen, 1000 NC Music Factory Blvd., with a complimentary drink. After everyone finished their drinks, the blindfolds go on for the secret tasting menu. Only after the meal is over will guests be sure what they've just had for dinner. The evening is $60 per person or $110 per couple. Buy tickets here.
Friday, April 8
Spring Cocktail Spectacular
Ninety minutes. Five cocktails. Spectacular this is, indeed. Until tomorrow morning, that is. If you can down one of Bubble's specially crafted spring cocktails every 18 minutes, than this is the party for you. Doors open at 8:30 p.m. at 210 E. Trade St. Tickets cost about $33, and you can buy them here.
Green Tie Speakeasy Gala
It's Alumniner Weekend for the University of North Carolina at Charlotte, and the '49ers are throwing it back to the Roaring '20s with a speakeasy-themed gala. Throw on your finest '20s or cocktail attire and be ready to party at the Omni Hotel, 132 E. Trade St., from 7:30 p.m. until 11:30 p.m. Tickets are $70 and include dinner, drinks and live entertainment. Buy them here.
Carolina Country Music Festival Night
In preparation for Myrtle Beach's Carolina Country Music Festival in June, Whisky River is bringing along Jason Aldean's tour DJ tonight and giving away a pair of passes to the music festival. The country-crooning evening is free and begins at 9:30 at 210 E. Trade St.
St. Jude Charlotte Wine Dinner
This year's fundraiser, the 12th annual, features dinner, entertainment by the Franklin Street Band, a live and silent auction and, of course, wine. Your ticket also goes to support St. Jude's. Did we mention this event is at Bank of America Stadium? Tickets for the evening that begins at 6:30 cost $250, and you can buy them here.
United States Olympic Team Trials
The road to Rio goes through Charlotte. Well, it does at least for those competing in the canoe/kayak slalom events. The official first runs start at 12:20 p.m., and the winners are announced at 7:30 p.m. Saturday. Find more information go here. Visit the trials at the United States National Whitewater Center, 5000 Whitewater Center Parkway.
Saturday, April 9
Spring Fling Craft Brew Fest
With something for the whole family, including free booze, this day party is a good bet. Olde Mecklenburg Brewery, Birdsong Brewing and more will have beer on hand for the grown-ups in addition to bounce houses, face painting and ice cream for the kids. Tickets are about $17 for adults or $27 for a family. The event begins at 3 p.m. at The Cabana at Deerfield Creek, 10800 Fox Hedge Road in Matthews. Buy tickets here.
Back 9 Bar Crawl
Put your putting and your drinking skills to the test at this bar crawl. With nine stops in the EpiCentre, each with a different miniature golf course, bar crawlers will try to keep both their scores and sobrieties low. There are prizes for best individual score, best team score and, of course, best golf-themed outfit. The game begins at 4 p.m. at Rooftop210, 210 E. Trade St. Tickets cost about $12 for an individual or about $33 for a team of four. Buy them here.
Honey Bees Annual Swimsuit Fashion Show
If you survive the bar golf, head back to Rooftop210 for the annual Honey Bees' swimsuit fashion show. All 19 of the Charlotte Hornets' lovely ladies will strut down the runway in this season's hottest swimwear. Tickets are free for the event that begins at 9 p.m., but an RSVP is required.
Pet Palooza
Grab your pooch and get ready for a day of fun with the family (including the furry ones!). The event features more than 4,000 people and their dogs completing a 2-kilometer walk, followed by strolling and shopping with more than 100 vendors. The event starts at 9 a.m. and lasts until 3 p.m. at Independence Park, 300 Hawthorne Lane. To register for the walk, go here. Prices vary.
Sunday, April 10
Corks and Forks Brunch Day Party
This brunch day party features a build-your-own mimosa bar, a DJ, beautiful skyline views from The Mandrake and more, There is no admission fee to this event that begins at 11 a.m. at 333 W. Trade St.
Verify dates, times, prices, and other info at the web addresses listed for each event.
Be sure to bookmark www.charlottemagazine.com/Blogs/Dusk-Till-Dawn to stay plugged into Charlotte's nightlife and social scene. Click here to sign up to receive the weekly Dusk Till Dawn e-newsletter.
Want your event featured in Dusk Till Dawn? Follow me on Twitter @Jared_misner and let me know about your event, or send me an email at dusktilldawnblog@gmail.com.
Send Jared an email at DuskTillDawnblog@gmail.com, or send him a tweet @Jared_Misner.

Also by Jared Misner:

→This Weekend's Social Events
→Bowling For Books, First Friday Fort Mill, Electric Luau Party, Soulmatic Carolina Music Fest and More, Aug. 6 to Aug. 9
→The Moon Walk, Candy Fest, Silly String Party, Booze Cruise and More, July 30 to Aug. 2
→Christmas in July, More Christmas in July, National Dance Day, National Tequila Day and More, July 23 to July 26