Dinner Reservations: Chef Jim Noble and an Ever-Changing Charlotte
He's one of this city's most successful, innovative, and philanthropic restaurant owners—and a lot of people won't set foot in his eateries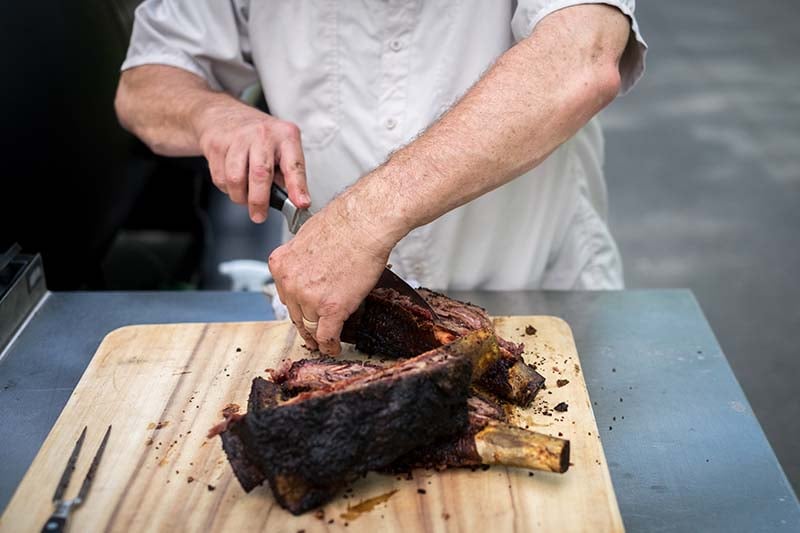 Pick a measure of restaurant success, and Jim Noble meets it: He was one of the city's first chefs to work with local farmers to put heirloom and locally grown products on his menus. He has a long list of successful food businesses, from Rooster's to The King's Kitchen. He's an innovator who has used online orders and catering to build support before he commits to brick-and-mortar spaces, like the newly opened bakery Copain and his barbecue business, Noble Smoke.
Then there are his good works: Before it closed temporarily during COVID-19, his nonprofit restaurant The King's Kitchen drew national attention for using Noble's farm-based cuisine to raise money and employ people struggling with homelessness and addiction. During the first seven months of COVID, Noble and his Charlotte-Mecklenburg Dream Kitchen distributed 140,000 meals to local families in need. Long known for his passionate evangelical beliefs, he leads a weekly Bible study at The King's Kitchen and Sunday services as a pastor for Restoring Place Church on Freedom Drive.
So why does any mention of Noble on social media guarantee a quick backlash? A typical Twitter post from August 11, 2020: "Hi everyone in #charlotte please spread the word that Jim Noble is still homophobic! Please stop talking about his restaurants until he apologizes. Looking at you, @charlotteagenda."
Noble happens to occupy a prominent spot on another list. In 2015, he was one of only two restaurant owners, among 94 prominent conservative clergy, educators, and businesspeople, to co-sign a letter from the national group Alliance Defending Freedom to the Charlotte City Council. The group, which the Southern Poverty Law Center classifies as an anti-LGBTQ extremist organization, opposed a planned nondiscrimination ordinance that, among other things, would have given transgender people the right to use restrooms that matched their gender identity. The council passed the ordinance the following year, but the N.C. General Assembly overrode it with House Bill 2, which required transgender people to use the bathroom that conformed with the gender on their birth certificates. The governor, former Charlotte Mayor Pat McCrory, signed HB2 into law, touching off a season of canceled events and deferred economic deals throughout the state.
Charlotte is a city where, during the 2010s, people aged 25 to 39 outstripped every other age category in rate of population growth, according to the Charlotte Regional Business Alliance. This year, during a poisonous election season, prominent conservatives U.S. Senator Thom Tillis and Lieutenant Governor and gubernatorial candidate Dan Forest; and Trump Pride, a gay pro-Trump group, held campaign events at Noble Smoke. Among millennials, Noble's cultural conservatism doesn't go over well.
In 2017, Noble announced he would finally realize his longtime dream of opening Noble Smoke in a cavernous space on Freedom Drive, in an area of the city that has long been short on lucrative business investment. LaWana Mayfield, an openly gay City Council member who at the time represented District 3, which includes Freedom Drive, announced on Twitter that she wouldn't patronize the business because of Noble's opposition to transgender rights.
Noble refused to be interviewed for this story. When I interviewed him for The Charlotte Observer in 2017, he stuck to the language of evangelism to explain his stance on gay rights: "All of us, according to the Bible, are born according to sin. I have to go by what the Bible says to determine what is and isn't sin."
There was a time when few people in Charlotte would have raised their eyebrows over a restaurateur with evangelical beliefs and conservative values. Thirty years ago, this was a town known for its steeples as much as its skyline, and asking newcomers where they went to church was as common as asking where they were from.
But Charlotte is a different city now, with an exploding, diversifying population, a city that has faced tear gas and rage as it felt its way toward a more just community. In the three years since Noble was called out publicly for his refusal to support the nondiscrimination ordinance, the pushback hasn't let up. Dion Beary, who reviews restaurants for his website, Inside 485, never mentions any Noble restaurant without criticism of Noble's social views.
"I've been pretty vocal, my criticism of him and my criticism of what he uses his business influence for," Beary says. "Those two things are inextricably linked. My goal is not to get his restaurants to shut down. My goal is to make sure people know (about his stance on gay rights). As the city gets younger and more diverse, we begin to divorce ourselves from the idea that politics can be divorced from anything. Before, you could have a business owner who could have political views, and you may never know."
Unlike segregation in the Jim Crow era, there's no evidence that Noble's businesses have refused service to LGBTQ customers. The gay community's reaction is the reverse: Choosing not to patronize a business that doesn't welcome you isn't the same as a business refusing to serve you for who you are. But in a city that has always been desperate to climb the national ladder, appearances matter, and the connection between business clout and social cause is a very old story.
***
Eating, by definition, is an act of intimacy. Letting someone prepare the food you put in your body is one of the most personal business interactions most of us experience. Our bankers may know what we own and what we owe, but our chefs reach right down our throats. Writer Michael Pollan famously said eating is a political act. The actions around it—who can get food, what they pay for it, where they can eat it, who prepares it—have a long history of driving social change in Charlotte.
Take one of the most important dates in Charlotte's history: May 29, 1963, the day of the lunch date that forever changed our city.
It started with a civil rights march that Dr. Reginald Hawkins led from the Johnson C. Smith University campus to the old county courthouse on East Trade Street. While attack dogs and firehoses turned on civil rights demonstrators had roiled the rest of the South, Charlotte had mostly eased peacefully toward integration. Sit-ins had opened lunch counters to Black diners three years earlier. But hotels and fine-dining restaurants, the places where business deals were done, were still whites-only.
So Hawkins and his followers took to Trade Street to let city leaders know that while they were being peaceful, it might not stay that way. "We shall not be pacified with gradualism, we shall not be satisfied with tokenism," Hawkins declared. "We want freedom, and we want it now."
City leaders took Hawkins' charge seriously. Mayor Stan Brookshire called a meeting of Chamber of Commerce members, who approved a resolution that asked businesses to open to all races, creeds, and colors. But white restaurant owners were reluctant: Whichever restaurant went first could become a target for white supremacists.
That's when James "Slug" Claiborne, a young cafeteria owner, made a suggestion: Why not have members of the white business community go out to lunch with their counterparts in the Black community, over the course of a few days? Brookshire himself ate at the Hearth & Embers, a popular and stylish restaurant at the Manger Motor Inn on 10th Street, with A.E. Spears, president of the Black-owned Mechanics and Farmers Bank.
"In my mind, there were no questions about which direction we should go," Brookshire said in 1973. "After all, the blacks in this country are citizens. They were entitled to citizenship rights. To give them their requests for equal rights and opportunities was both legal and morally right."
The lunches continued for three days. Mostly, the action did what Claiborne had predicted: For white Charlotte, anyway, it became a nonissue.
Of course, it wasn't as easy as Brookshire made it sound: The one person no one asked out to lunch that week was Reginald Hawkins. Two years later, in 1965, his house was one of four homes of civil rights leaders that were bombed. No one was ever charged. Near the end of his life, Hawkins was still bitter about it. "(The city) claimed that it did these things voluntarily," he told AARP The Magazine in 2004. "But Charlotte is more interested in the banking interests, economic interests, than it is with justice."
Economic interests drove another restaurant battle that was both profitable and prophetic: The drive to legalize liquor by the drink, which passed in 1978 with major support from the business community.
In the 1970s, Charlotte was pushing upward, recruiting large companies and national chains to bring business here. But that was hard to do when potential investors went out to dinner and had to smuggle alcohol in brown paper bags. Local historian Chuck McShane recalls a state legislator who said that if an out-of-town businessman wanted a Manhattan in those days, "he'd have to go back to Manhattan to get it."
"In a lot of ways, the restaurant and entertainment industry," McShane says, "push Charlotte to be a little more forward thinking." That's another reason Noble's conservative social stances run against the grain even as he finds fresh ways to serve his customers.
***
Politics on the menu isn't limited to gay rights. The popular South Carolina pimiento cheese brand Palmetto Cheese was attacked after the co-owner, Pawleys Island Mayor Brian Henry, unleashed a rant on social media over friends' relatives who had been victimized in a crime allegedly committed by a Black man. The blowback was swift (and included criticism from me on social media). While Henry refused calls to step down as mayor, including from the NAACP, Palmetto Cheese quickly disappeared from many stores, including 120 locations of Costco.
Trial by social media has become so common that marketing firms have developed playbooks to guide clients through the minefield of online ire and calls for boycotts. "Obviously, it's a very politically charged time," says Barry Finkelstein, the director of PR for Luquire George Andrews in Charlotte. "Brands of all varieties—food, travel, all of them—are subject to being called into these controversies."
On the positive side, he says, brands and their representatives are having open, public conversations that once would have stayed private if they happened at all. That's led some companies to make positive changes in advance. On the other hand, businesses' public stances can give rise to strong backlashes with deep repercussions, Finkelstein says: Calls for boycotts might come from small groups, and you can't know how many others may be alienated.
"It's the old perception-becomes-reality game," Finkelstein says. "You can say, 'Oh, it's just a handful.' But the other piece is the optics, the perception. Facebook is a megaphone. At the end of the day, it's a business decision: 'Do I feel strongly enough to risk my business?' Or is it strong enough to survive?
"Your beliefs are your beliefs. We all have them. But you don't have to amplify them."
***
The only Noble restaurant Dion Beary has reviewed on Inside 485 is Bossy Beulah's, Noble's chicken shack next to Noble Smoke. Here's an excerpt of his review, written very soon after the restaurant opened: "Bossy Beulah is an over-hyped, under-seasoned, disappointment of a sandwich. … The idea that Jim Noble's chicken sandwich deserves some kind of benefit of the doubt when he doesn't believe transgender people deserve the same is asinine."
Beary says he paid for his food but made a matching donation to the Trevor Project, a group that works with LGBTQ youth. "There's an idea that there's no ethical consumption under capitalism," he says. "But we should all do what we think is doing the right thing. It made me feel like I was balancing the universe a little bit."
On the surface, Noble restaurants are doing well. Step into Noble Smoke on a weekday at lunch, and you'll see plenty of customers dotted around the multiple indoor dining rooms. Most are white and male, but is that really any different from what you'd see on a typical day at Mac's Speed Shop or Midwood Smokehouse?
Still, Beary says, the younger audience he reaches on social media can shape business reputations: "When I outline his history and motives, I do get replies from people who say, 'Oh, my God, I didn't know that, I'm not going to eat there again.' And I get replies from people who say, 'Who cares? His barbecue is great, his ribs are great, I'll still eat there.'"
Do boycotts change anything? Chad Turner, the president of the LGBT Chamber of Commerce, says it's impossible to know their long-lasting effects. The LGBT chamber doesn't take stances on actions against businesses, preferring to boost businesses that support the gay community.
"From a chamber standpoint, we don't say go or not go," Turner tells me. "We would not allow (Noble's businesses) in the chamber. But we would never make a statement." That doesn't mean his members don't encourage him to speak out. Turner knows 30 to 50 people who don't patronize any Noble-owned restaurant, and he thinks that number is a lot higher. Charlotte is home to more than 100,000 LGBTQ people, he says, and "90% to 95% are loyal to those who are loyal to them."
It's also impossible to know how much the gay community's patronage—or absence—affects businesses' profits, Turner says. But, as a rule, the gay community is good for restaurateurs. "We eat out a lot," he says. "We have more disposable incomes. I think about how many times I frequent Midwood (Smokehouse). I can't put my money in the pocket of someone who doesn't believe I'm equal. What (Noble's) missing out on is probably the most loyal customer base he could have. The people out there fighting for us, we fight for them."
Kathleen Purvis, the former food editor at The Charlotte Observer, is a freelance writer in Charlotte who writes about food culture in Charlotte and the South.
---
This story has been updated from its original version.