Dinner with the Ghost and the Devil, Halloween Bar Crawls, Costume Parties and More, Oct. 29 to Nov. 1
Have a horrifyingly gruesome time this weekend, Charlotte, as Halloween bleeds into bars.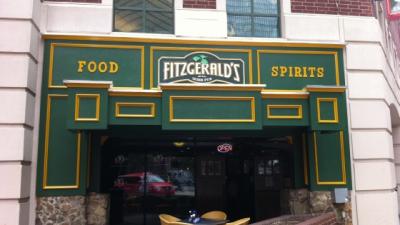 It's all just a bunch of hocus pocus, right? It's Halloween weekend, and Charlotte has a frightfully fun weekend ahead of you. Don't blame us if you feel like the undead after it's over. See y'all out there!
Thursday, Oct. 29
Dinner with the Ghost and the Devil
This is a two-part trick-and-treat event. Begin the evening by taking a walking tour of some of Charlotte's spookiest locales, including Fourth Ward's Settlers Cemetary, and listen to some of the Queen City's oldest ghost tales. Dinner and drinks are at Dandelion Market either before or after the ghost tour. Tickets are $55 per person or $95 per couple. Dandelion Market is at 118 W. Fifth St. Times vary. Buy your ticket and find more information here.
Friday, Oct. 30
Forever Young: An '80s Prom and Halloween Party
Turn back the clock tonight and get ready to dance to the tunes of the '80s. Pick your poison tonight: come dressed in your '80s prom attire or a Halloween costume. The Duke Mansion celebrates its 100th birthday this year, so this bash will be huge. Chef Harrison Booth provides the free food and the band Bad Daddies provides the music. Tickets are $75, which includes $25 of a tax-deductible donation. The party starts at 7 p.m. at 400 Hermitage Road. Buy your ticket here.
Halloween Eve Costume Contest
Consider this your last test run for your big costumed debut. Ice Martini Bar hosts this Halloween Eve costume contest with the chance to win a $25 gift certificate for the evening's best costume. There is no cover charge for the party that starts at 9 p.m. at 9525 Birkdale Crossing Drive in Huntersville.
D9 Haunted tapHOUSE
To celebrate its first year in business, this Cornelius brewery will release a dozen new craft beers each paired with a candy. DJ Festivus will provide music and two food trucks will be on hand to provide the frightful foods. Come dressed in costume and you'll score a free D9 pint glass to take home. The free haunted event starts at 6 p.m. at 11138-C Treynorth Drive.
Trick-or-Treat Bar Crawl
While this is called a trick-or-treat pub crawl, it's certainly all treat. Along the crawl, you'll get heavy appetizers, free "spooky" cocktail samples, cheap drinks, free cover to a host of bars and a picture of you in your costume in a "Halloween Mummories" frame. Registration is from 6:30 p.m. until 8 p.m. at Vida Vida, 210 E. Trade St. Ticket prices vary, and you can snag one here.
Nightmare on Fifth Street Bar Crawl
If one bar crawl in Uptown isn't enough for you, tonight's your night. This costumed crawl begins at Fitzgerald's from 6 p.m. until 8 p.m. and then travels to The Local, Prohibition, SIP, Ri Ra, Connolly's, Roxbury and, finally, TILT on Trade. A $15 ticket buys you free cover to all the bars and access to Corona/Corona Light, Cold Spell shots and Stoli Flavored Vodka specials. Fitzgerald's is at 205 E. Fifth St. Buy your ticket here. http://www.eventbrite.com/e/4th-annual-nightmare-on-5th-street-bar-crawl-tickets-18473444570?aff=es2
Saturday, Oct. 31
Tonight's the ghoulish night. Throw on your costume and head out on the town. Get back before midnight or risk the werewolves and undead.
Check out our separate list of Halloween parties here.
Sunday, Nov. 1
Front Porch Sundays
Come enjoy the final Front Porch Sunday of the year. This monthly market features all kind of fall fun, including food trucks, fashion trucks, artisans, local beer samples courtesy of BREWPUBLIK and Lenny Boy Brewing Co. will have kombucha samples. The free event is from 1 p.m. until 5 p.m. at 2151 Hawkins St.
Dia de los Muertos Celebration
With Halloween over, it's time to celebrate this Latin American holiday honoring the dead. This family-friendly cultural celebration features an altar contest, music and dance performances, traditional foods, sugar skull workshops, arts and crafts and free admission all day. The fiesta begins at noon and goes until 4 p.m. at the Levine Museum of the New South, 200 E. Seventh St.
Verify dates, times, prices, and other info at the web addresses listed for each event.
Be sure to bookmark www.charlottemagazine.com/Blogs/Dusk-Till-Dawn to stay plugged into Charlotte's nightlife and social scene. Click here to sign up to receive the weekly Dusk Till Dawn e-newsletter.
Want your event featured in Dusk Till Dawn? Follow me on Twitter @Jared_misner and let me know about your event, or send me an email at dusktilldawnblog@gmail.com.
Send Jared an email at DuskTillDawnblog@gmail.com, or send him a tweet @Jared_Misner.

Also by Jared Misner:

→This Weekend's Social Events
→Bowling For Books, First Friday Fort Mill, Electric Luau Party, Soulmatic Carolina Music Fest and More, Aug. 6 to Aug. 9
→The Moon Walk, Candy Fest, Silly String Party, Booze Cruise and More, July 30 to Aug. 2
→Christmas in July, More Christmas in July, National Dance Day, National Tequila Day and More, July 23 to July 26