Direct Flight: A Trip to New Orleans
Mardi Gras in the Big Easy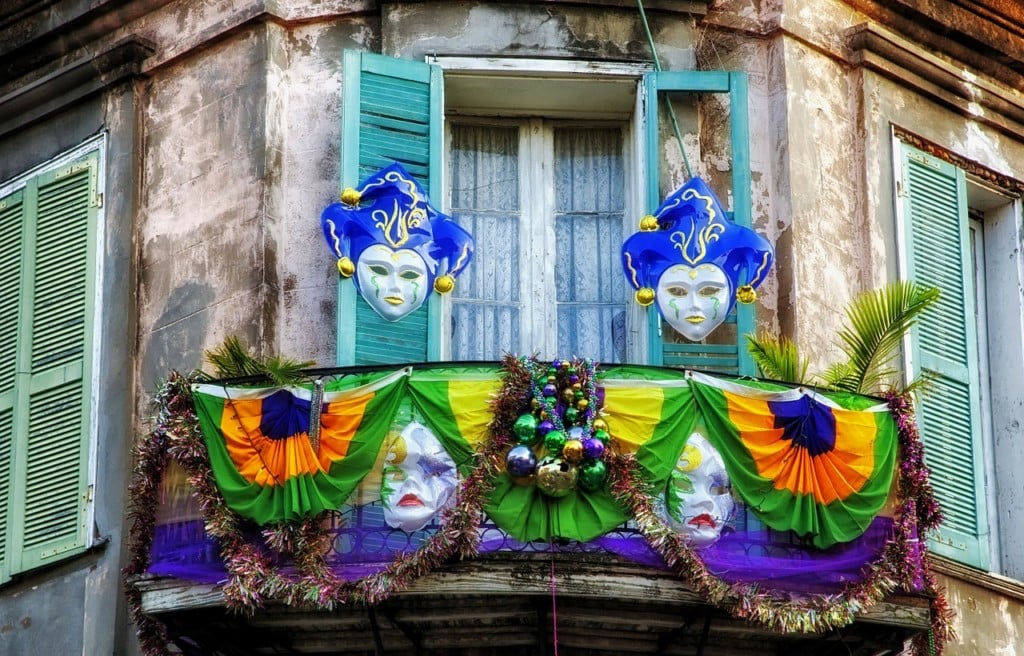 Our Direct Flight Series is presented by Mann Travels and American Airlines Vacations.
Miles from Charlotte: 713
Flying time: 2 hours
Nonstop service on: American Airlines, Allegiant Air (from Concord, N.C.)
MY NOSE IS BLEEDING, and I can't remember why.
The blood didn't come from my nostrils, though. Rather, it trickled down the length of my nose from a horizontal cut across the bridge and hardened atop my nose overnight.
My brother, Austin, whose 23rd birthday we're celebrating in New Orleans during Mardi Gras, reminds me that the previous day, my yellow, purple, and green sequined and feathered mask that I bought at a French Quarter store named Jazz Funeral for $6.04—which I insisted on wearing around Bourbon and Dauphine streets the entire rainy day, had carved a jagged, indelible reminder of the Big Easy into my face.
The day before my mask had become a weaponized accessory, and before I lost the ability to remember such an inglorious injury, Austin and I shared a 64-ounce Hurricane (a potently delicious blend of rums and fruit juices) fishbowl, attached to a lanyard that hung from Austin's neck.
It wasn't yet noon.
We bought this half gallon-sized necklace not from a bar but, rather, from a walk-through awning. It was one of many overhangs in the French Quarter advertising discounted refills (when 64 ounces just isn't enough) on fishbowls or two-for-one beers at bars as creatively named as "Huge Ass Beers."
As we walked down Bourbon Street, Austin's fishbowl necklace fell and splattered red liquid across booze- and rain-soaked thoroughfare. There were so many green, hourglass Hand Grenade bottles, empty plastic cups, and trash of all colors on the street that it was hard to tell which stickiness was ours and what had glossed over from previous revelers.
Even among Bourbon Street's more tame jazz bars, like at Maison Bourbon, if you're sitting, you're most certainly drinking. The bar has a one drink-per person-per set minimum.
Without our half gallon of Hurricane, Austin and I continued on our way through the French Quarter, shimmying through the never-ending crowds of people, alternating between dodging beads thrown from balconies above like bombs and raising our shirts to claim some of our own. Toward the northeastern end of Bourbon Street, where St. Ann Street intersects, a cluster of gay bars (Oz, Bourbon Pub Parade, and Napoleon's Itch, among others) advertising $1 Jell-O shots called to us.
We'd be silly not to order some from each bar as we made our way around. They were practically free!
I should say now this isn't everyone's experience in New Orleans. The Crescent City offers many remarkable plantations, towering cathedrals, and museums.
But I came here for Mardi Gras, and so Mardi Gras is what I got.
Amid the drinking that day (and there was much more of that—on balconies, on park benches, on tiptoes on the sidewalk as parade floats marched by), Austin and I ate our way through one of the most delicious cities I've been to. We slurped gumbo at the Gumbo Shop, licked our fingers after finishing off roasted sweet potato po' boys at Killer PoBoys, devoured etouffee and chocolate crepes from stalls in the French Market, and ordered seconds of the pillow-y, sugar-dusted beignets from Café Beignet (Skip Café Du Monde if you want to keep your sanity.).
Thankfully, in a city with booze that literally flows down the street, the food is just as plentiful and memorable.
After our bodies gave up and we couldn't physically drink or eat anymore, we tried to take an Uber back to our hotel. No Uber drivers would come collect us; they couldn't. We were staying on the opposite side of the city, and that's a mistake if you'd like to drive there during one of the many Mardi Gras parades. The grand marches, where thousands of people line up throughout the city hoping to catch more beads, plastic trinkets, and drink locally brewed Abita beer on the sidewalk, bisect the city. A word to the wise: Make sure you're on the side you want to be on before you've had half a dozen Jell-O shots.
We walked the two miles back to our hotel in the rain as jester-faced parade floats passed us, decorating trees with shimmering pink, purple, and blue beads that hung side-by-side with Spanish moss along the way.
Exhausted from the day, Austin and I fell asleep almost immediately. We'd be up again the next day to repeat it all over again.
Perhaps without the mask this time.
Jared Misner is a writer for this magazine. His work has also appeared in the Chronicle of Higher Education, The Knot, and Logo.
---
Stay
Hotel Monteleone​
214 Royal St., 504-523-3341
Even if you don't stay at this luxury hotel a block from Bourbon Street, you should have a drink at the hotel's famous rotating carousel bar in the lobby.
Eat
Gumbo Shop
630 St. Peter St., 504-525-1486
There's no shortage of incredible food in New Orleans, but you shouldn't skip this place. Snag a seat under the sun-filled atrium and get yourself a bowl of the namesake dish.
Slim Goodies Diner
3322 Magazine St., 504-891-3447
If you can pull yourself away from the French Quarter (and you should), walk down Magazine Street and pop into the many boutiques, bakeries, and restaurants. Slim Goodies is a local favorite with a charming backyard patio. A hangover calls for one of the dive's "slammers," a conglomeration of hash browns, proteins, and, essentially, anything you need to soak up last night's booze.
Do
City Park
1 Palm Drive, 504-482-4888
When you can't drink or eat anymore, head to City Park, New Orleans' 1,300-acre park that offers bike paths, a sculpture garden, paddle boats, a botanical garden, an amusement park, and more.