Direct Flight: A Trip to the Bahamas, Where the Atlantic and Caribbean Meet
A remote island there is now reachable via direct flight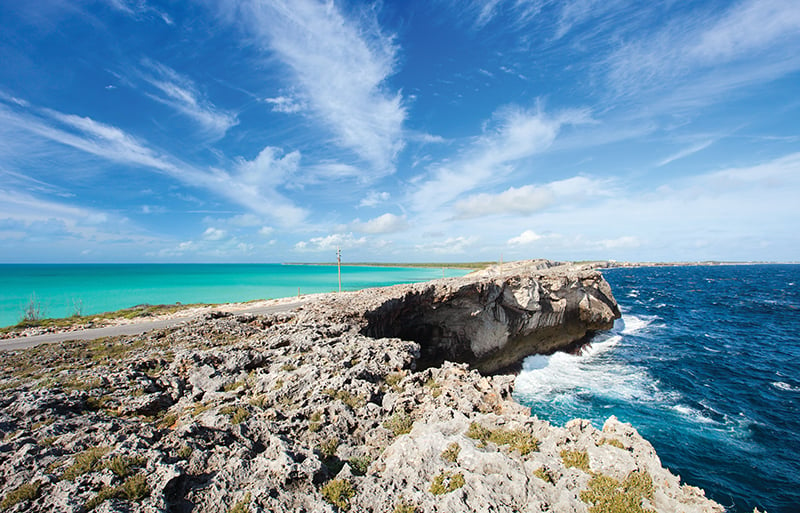 MILES FROM CHARLOTTE: 764
FLYING TIME: 2 hours, 20 minutes
NONSTOP SERVICE ON: American Airlines
---
AT THE NARROWEST POINT of this pencil-thin island in the Bahamas, the Atlantic Ocean heaves itself into a rock wall from the east, spraying a mist that floats up and over a two-lane highway, then into the Caribbean Sea to the west. Glass Window Bridge, as it's called, is only 30 feet wide, but it keeps the peace on Eleuthera. It also makes for the most remarkable visual. When we drove through here, I had to find the wipers on the car we'd rented, a small Mitsubishi Pajero that felt especially puny between these two bodies of water, dark blue to the horizon on one side, light green to the other.
We'd gotten the car from a man named Steve. I know this because when we reserved it, Steve emailed our formal, detailed instructions for how to find him after we landed at the North Eleuthera airport: "When you exit the building ask for Steve."
Sure enough, Steve was there, chewing on a straw. He flipped me the keys, chuckled for some reason, and said, "Stay left."
If you're planning a trip to Eleuthera—and you should absolutely, without hesitation, leave your house this very minute and get on the first plane from Charlotte—you'll want to have a car when you get there. This isn't the Caribbean resort getaway you've seen in commercials, and it's not a cruise ship stop. You'll want to roam here. The island's name, after all, is derived from the Greek word for "free."
Eleuthera is 110 miles long and only about a mile wide in most spots. It's shaped like a close-parenthesis mark cupping the calm waters of the Caribbean.
We rented a one-bedroom cottage on the Atlantic side in Governor's Harbour. The cottage was a mile back on a dirt road that meandered through coconut trees and casuarinas. The house manager warned us that wireless Internet would go in and out, and I'm happy to report that for six nights, it was completely out. You don't come here to stay connected—and with the pace of news these days, why would you want to? During our trip, Tom Petty died and Cam Newton got into trouble for something he said, and Lord knows what happened in Washington … and we missed all of it, too caught up in such important decisions as: paddleboarding or snorkeling? One rum drink or two? Fresh seafood or jerk chicken?
Our cottage—by the second day Laura and I were calling everything here "ours"—is on the north end of French Leave Beach, an immaculate stretch of sand that feels like memory foam under your feet.
Each morning, I took a cup of coffee about a hundred yards from our back porch and watched waves hit a reef near the shore. There was a fist-sized hole in the rocks where the saltwater shot through and up, giving the effect of a 20-foot geyser. I can still hear it, over and over; it sounded something like an elephant snorting.
It took maybe five minutes to get from our cottage on the Atlantic to the Caribbean. We rented snorkels and paddleboards from Harbour Water Adventures, then drove a few miles north and parked along a dirt road near Cocodimama resort. For two straight afternoons, we shared that pocket of the Caribbean with the tropical fish and nobody else.
The only time we ran into a crowd of people was at the Anchor Bay Fish Fry, a popular Friday night gathering. We sat down with whole snapper and struck up a conversation with another couple. They were natives and residents of Nassau, one of the busier islands in the Bahamas. Their hometown is a wildly popular destination for travelers, and they told us they take the 20-minute plane trip to Eleuthera whenever they can, just to get away from the getaway.
---
Stay
Eleuthera Vacation Rentals
The island has several resorts, including Pineapple Fields, Sky Beach Club, and French Leave Resort. And there's Dunmore Beach on Harbour Island, a prestigious island just a short ferry ride away from North Eleuthera, frequented by A-list celebrities such as Mick Jagger, Lenny Kravitz, and Jennifer Aniston. But we recommend searching through listings to find the type of accommodation that suits your personality. On Eleuthera, there's everything from rustic and remote to upscale communities where everything's taken care of. 239-482-8173, inquiries@eleutheravacationrentals.net
Eat
Anchor Bay Fish Fry
Every Friday night at 6 p.m. at Cupid's Cay in Governor's Harbour, eat local fare from snapper to conch salad and enjoy live music. Anchor Bay in Governor's Harbour, 242-332-2467
Tippy's Restaurant and Beach Bar
The tables are made from old shutters, and the wood is all weathered, but Tippy's is a top-notch beachfront bistro with a chalkboard menu and a range of fresh seafood and vegetable dishes. Pineapple Fields Resort in Palmetto Point, 242-332-3331
1648 Bar & Grille
If you've ever wanted three different rums in one drink, this is your spot. It's part of French Leave Resort, and the wide-reaching menu delivers fresh fish, pizza, or short rib. Queens Highway in Governor's Harbour, 242-332-3777
Do
Harbour Water Adventures
Rent paddleboards or snorkeling gear in the heart of Eleuthera. Haynes Avenue in Governor's Harbour, 242-470-5255
Ocean Hole
Dive off 12-foot limestone cliffs and swim alongside tropical fish in this Rock Sound hole, which locals say is bottomless and has healing powers. Fish Street in Rock Sound, 242-332-2142
---
Photos from Shutterstock