Direct Flight: A Visit to Paris
Watching the world from a Parisian café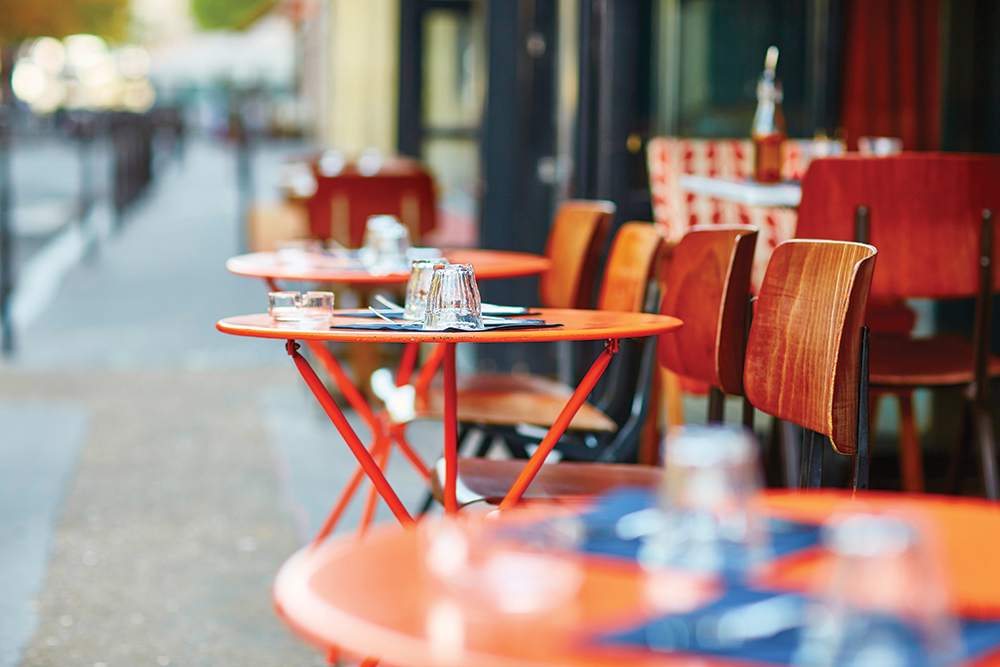 Our Direct Flight Series is presented by Mann Travels and American Airlines Vacations.
Miles from Charlotte: 4,161
Flying Time: 8 hours, 25 minutes
Nonstop Service On: American Airlines, British Airways, Finnair, Iberia
I HAVE MY PASSPORT in one front pocket and my wallet in the other, and as I walk along the Seine, I keep patting each to make sure they are still there. I might as well hand out Euros to save pickpockets the time and energy of bumping into me. I feel slightly less as though I have a blinking neon "American tourist" sign over my head when my waitress at a sidewalk café addresses me in French.
She points me to a round red table and I grab a red wicker chair to sit on. It's mid-afternoon, and the sun still rests high in the sky, so that the awning leaves me comfortably in the shade. As I eat a croque monsieur and drink café au lait, I talk to nobody, but I meet half the world as I sit and watch it go by.
There are seemingly hundreds of cafés like this in Paris. Charlotte could use a few—somewhere to sit outside and do nothing. Too many restaurants with outdoor seating in Charlotte are in shopping centers or have "country club" in the title. And you have to look hard to find patio dining in uptown. Charlotte certainly has the weather for it, to say nothing of the people—even if it's just bankers running from one bank to the next.
The pace here isn't as frenzied as the sprint to the BofA headquarters. A casting call Frenchman grabs a seat four tables down. He's wearing a camel sport coat, a black turtleneck, and patches of scruff on his cheeks and neck.
Here comes a woman dressed like an advertisement on the window of a Champs-Élysées boutique. Every piece of clothing she has on looks to be more expensive than every piece of clothing I have ever owned. She pulls her right hand through her long brown hair, stops at the end, pulls it to her nose and smells it.
The sun drops below the awning, and its bright glare warms the right side of my face. A woman walks by wearing black leather pants and a white knit cap with a ball on top. I see more scarves than in a hair metal band's costume locker. It's in the mid-60s and there's a light breeze. But Paris and all of her visitors are bundled up like it's the dead of winter (cough, just like Charlotte, cough).
Every table has an ashtray, and at least one person at every table is smoking—real cigarettes, too. Smoke wafts over me, and for the first time in a long, long time, it smells like atmosphere and not poison. Cars honk and high heels click and roller skates chatter over the bricks on the street. Scooters buzz like giant bumble bees as they zip back and forth on the street in front of me.
A handful of passersby wave at the man sitting at the table behind me. I steal a look at him, which turns into several, because there's a lot to take in: yellow pants, blue shirt, green sport coat, and brown tie. It looks better than it sounds. He has stubble on his head, a crushed butt in his ashtray, and a leathery face. I'm not sure if his face is leathery because he's old or because he spends all day, every day sitting outside, drinking coffee and smoking cigarettes.
The sun drops below the trees and buildings across the street. I take that as my cue to leave. Dinner is soon, and I have the other half of the world to see there.
---
Stay
With rooms appointed like a country villa, the Hotel Le Clos Medicis plops you in the heart of Paris. You can walk to the Louvre and Notre Dame in a few minutes.
Eat
A crêpe with Nutella from a street vendor. Because where else will you be able to do that?
Do
Go to the Louvre and follow the signs to the "Mona Lisa." The actual "Mona Lisa" might be disappointing—there's not much you can gain from seeing it in person that you don't already know—but the art you will pass on the way is worth double what you pay to get in.