Direct Flight: In Search of Bratwurst in Munich
Memories bring a writer back years later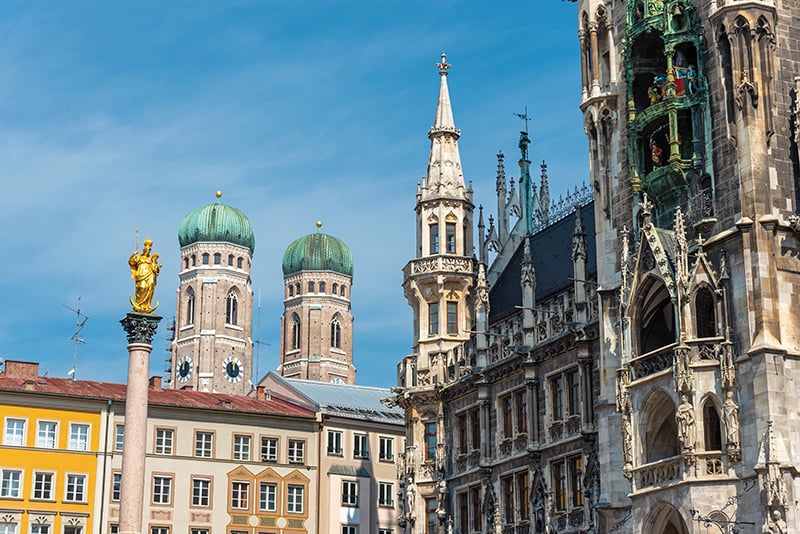 Our Direct Flight Series is presented by Mann Travels and American Airlines Vacations.
Miles from Charlotte: 4,565
Flying time: 8 hours, 55 minutes
Nonstop service on: Lufthansa, United
I GREW UP with three brothers in a blue-collar home, and we all followed a very strict diet: cheeseburgers and pizza. Sometimes we were feeling wild and would get outlandish toppings such as ham, and maybe even bacon, on pizza. When I was 16, I saved up enough money to go to Germany for a month with my high school class, and for the first time in my life, I was forced to eat food that didn't come in a box.
No McDonald's, no Domino's, no problem. I tentatively bought a bratwurst from a street vendor, timidly took one bite … and felt like a world-traveling renaissance man. I loved the pop of the casing when my teeth broke through it, the chewy inside, and the way the full, spicy taste stayed with me for hours. I loved that it tasted different than anything I had ever had.
Since then, I have tried to find an American brat that tasted like that. I have never found one, so when I returned to Munich last fall, I went straight to Viktualienmarkt, a massive farmers' market in the city center, to get my fix.
Viktualienmarkt looks like the Speed Street festival, the farmers' market in Davidson, and a food truck convention, except it's permanent and more than 200 years old. Merchants sell cheese, beer, wine, sausage, produce, and more.
I arrived at 11 a.m. on a Friday, and there were dozens of people sitting at wooden tables and drinking beer—big ones, too, in thick glass steins that you need two hands to hold. I eavesdropped on conversations and discovered most people were speaking German, though I did hear a Southern twang. I said hello to the person who had it and learned he was from south Charlotte. He was sitting with a man in a Carolina windbreaker; they and their wives were on vacation.
The Viktualienmarkt was packed in the morning, and even more so when I returned late that afternoon. There was a rhythm to the interactions that suggested more people were locals than I would have guessed. The selection process seemed more like a grocery store than a browsing area, like people knew what they wanted and where to get it, as opposed to how I usually shop at outdoor markets, which consists of wandering from booth to booth until the smell of something demands I buy it.
Maybe the seeming orderliness was just stereotypical German efficiency come to life. The market has been in its current location since 1807, and was a few blocks away before that, so the Germans have had a bit of time to figure out how to make it work.
I told myself I had eaten a big breakfast and was going to wait on the bratwurst—and I did, for all of five minutes. I bought one out of nostalgia more than hunger, as I couldn't resist the sight of the gray casing and the smell of the sweet and tangy meat. When my teeth punctured the casing, the taste poured into my mouth and nose, filling my head to my ears, reminding me of what I loved about bratwurst on that long-ago trip.
I devoured the whole thing in minutes. A few hours later, I went to the Hofbrauhaus—arguably the most famous bar in the world, inspiration for Olde Mecklenburg Brewery in Charlotte, and a short walk from Viktualienmarkt—to get another one, just to make absolutely sure that it really was still different than American bratwurst. I was not disappointed: Both turned me into that wide-eyed and earnest 16-year-old again. Now I have to restart my hunt to find brats that taste like that back home.
---
Stay
Bed and breakfast Zeevat is in Trudering, a neighborhood like Dilworth that is a short bus or train ride from the center of town. My breakfast conversations with owners Jan, who is Dutch, and Fatima, who is Brazilian, were captivating.
Eat
Franziskaner Garten is a neighborhood biergarten within walking distance of Zeevat. Sit outside and order the meatballs and chocolate mousse.
Do
Walk around Englischer Garten, an enormous park near Marienplatz, Viktualienmarkt, and the Hofbrauhaus. Be aware: If it's warm, there will be people sunbathing naked.