Disc Golf: Toss-Up
10 things you don't know about disc golf, but should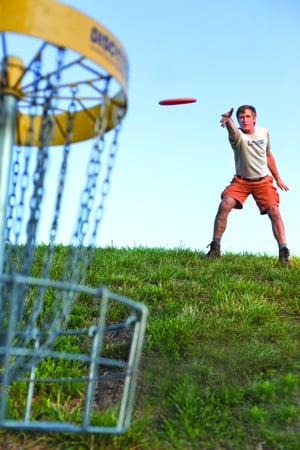 In July, Charlotte plays host to the Professional Disc Golf Association WorldChampionships. First the basics: players walk an eighteen-hole course, trying to land a disc (not a Frisbee—that's like saying "Kleenex" instead of "tissue") in a basket while navigating challenging terrain. Charlotte is a mecca for the sport, and the tournament sold out its 1000-plus slots the day registration opened. Here are more cool facts to impress your friends:
• Disc golf sprang up locally in 1984 when some UNC-Charlotte students started using light poles and trees around campus as goals. Around the same time, a group of people gathered regularly to throw discs at random trees in Dilworth's Latta Park.
• Parks and Rec designed the area's first official course at Reedy Creek Park in 1989. Since then, Charlotte Disc Golf Club members have worked to build fifteen more, with Stan McDaniel, Charlotte native, disc golf hall of famer, and former world champion, leading the way.
• An average player carries three discs on a course, but a serious competitor carries sixteen to twenty-two different discs. The discs vary in size and material, which change the direction of the disc when thrown.
• Competitors from twelve countries and forty-eight states have registered for the Worlds. The youngest is five years old and a few players are in their eighties.
• Professionals will be competing for a $100,000 purse. Amateurs will vie for trophies.
• Club members estimate that there are tens of thousands of people who play disc golf in Charlotte.
• McDaniel says the sport started among hippies enjoying the tradition of golf in a more laidback setting. Now, he says, everyone from bankers to teachers hit the public courses, and a state legislator has been known to play a private Davidson course.
• The average course in Mecklenburg County covers twenty-five acres. The largest, at Renaissance Park, is about forty.
• A good player can throw 400 to 500 feet. The distance record was set this April at a desert competition—822 feet, that's the distance of almost three football fields.
• The world championship runs from July 14 to 21 and will feature field events (longest distance, putting competition) and a regular course competition.