Disconnection: How COVID Has Widened the Education Gap
Charlotte-Mecklenburg Schools have increasingly segregated along racial and class lines since a federal judge's 1999 ruling ended a successful, 28-year desegregation program. The COVID lockdown of schools has hurt everybody in the system—and widened the chasm between its haves and have-nots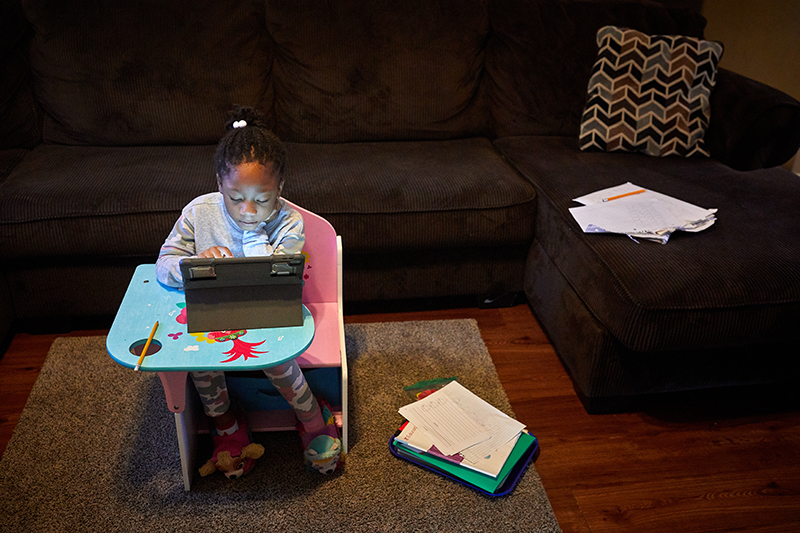 On her 18th day of first grade, a Thursday in late September, Khloe Johnson sits at a pink-and-blue, Trolls-themed desk and tries to learn to read.
Her designated spot is her family's living room in a four-bedroom, two-bathroom house in the Genesis Park neighborhood, wedged between Interstate 77 and Statesville Avenue just north of uptown. Eight people live here; six are children in school. The living room, dining room, and kitchen share a single open space. A few feet away, two of her siblings use the dining room table as a desk while the others work in their bedrooms.
Khloe, a shy girl in jean shorts and Paw Patrol slippers, "attends" Walter G. Byers School just a few blocks away. But the COVID lockdown in Charlotte-Mecklenburg Schools has forced her and her siblings to learn from here. It is not going well. CMS has provided 6-year-old Khloe with an iPad and fold-over cover that doubles as a stand, but she has trouble keeping it upright, and it repeatedly topples to the floor. Because she's still learning to read, she also can't tell time, so she relies on nearby family members to follow the class schedule. No teacher is present to help her type letters she does not yet recognize or find needed apps like DreamBox, Zoom, or Epic by their written names. When the teacher instructs her to use them, Khloe relies on her memory of their icons and swipes through screens until she finds them.
Khloe's 11-year-old sister, 9-year-old brother, and grandmother take turns assisting her. Khloe's father, Chevese Johnson, left for work two hours ago. Her 37-year-old mother, Latonya, suffered two strokes in July and remains bedridden. Latonya's mother, Amy Burks, 65, has temporarily moved in to help. As the start of the school day approaches, she shuffles between caring for Latonya, tending to laundry, making breakfasts, and picking up and resetting Khloe's iPad. Still, today's going a bit better than yesterday, when it rained and the family's unreliable internet service kept kicking the students off Zoom.
At 8 a.m., without the benefit of a bell, Burks realizes school has begun. Khloe quickly slides into her desk near a brown corduroy couch as her grandmother hurriedly consults a worn piece of paper for her login information. "Sweet Jesus," Burks says, exasperated already. As her classmates sign on, Khloe toggles between pixelated images of her teacher and nearly a dozen classmates, a mixture of brown and Black faces. One student sits in darkness. At 8:06, Khloe's iPad topples again.
Morning announcements commence. Khloe's teacher shares her screen, and Principal Anthony Calloway, a bespectacled and bearded Black man, appears in a YouTube message. He reads a quotation from Dr. Martin Luther King Jr. and implores students to seek out honest leaders with integrity who care about the whole community. He implores them to run for the Senate. "Prepare yourselves to be ready to be the leaders of our country," Calloway says, "so we can make it great for everyone."
Then, like a family member, he adds, "I love you."
***
Across town, in the Cotswold neighborhood, another family adapts to the CMS lockdown with a few more tools. Bree Devine's children—8-year-old daughter Riley, a third-grader, and 5-year-old Landon, a kindergartner—are students at Billingsville-Cotswold Elementary, a CMS pilot program that two years ago "paired" one elementary school with a student body of mostly low-income racial minorities and another with a mostly white and affluent population.
During the spring 2020 semester, Devine transformed the living rooms in her 2,600-square-foot, ranch-style home into makeshift classrooms for Riley and Landon. Over the summer, Devine and six other families from Landon's preschool and the neighborhood formed a learning pod and pooled enough money to hire a former CMS teacher to supervise and teach kindergarten and third grade. The kids started the fall semester in the living rooms but soon moved into a recently built garage and guest house in the backyard. Today, before the students arrive, Devine wipes down counters and checks to see if the refrigerator needs any more Diet Cokes or Greek yogurts while the family's 8-year-old chocolate lab, Molly, patrols the classroom alongside her. "We're just trying to make it as normal as possible in this COVID world, I guess," she says.
At 7:45 a.m., parents and the seven students walk up the stairs to the second-story classroom. The students drop their backpacks and lunchboxes in a corner bookcase, and Mrs. M, the former CMS teacher—she declined to give her full name—takes their temperatures and squirts dollops of sanitizer into their hands. The students sit in genuine classroom desks. Next to each is a neatly organized basket with the student's name on the exterior and, inside, notebooks, Unifix cubes, ten-frame boards, scissors, and glue sticks. An iPad sits on each desk, firmly encased in a stand provided by the school. The kids have access to two electric pencil sharpeners and a four-shelf bookcase topped with a scented reed diffuser and filled with titles like What Is a Space Shuttle? and Harry Potter and the Sorcerer's Stone.
Mrs. M. floats among the quartet of kindergartners and helps them log in. At precisely 7:45 a.m., the lights dim, and the students rise to say the Pledge of Allegiance, which a ceiling projector displays on a bare wall. Then a projected school employee leads the pod in a song that all seven students know. In unison, they sing: "We gain the knowledge to go to college."
***
COVID did not create the deep chasm between Khloe's and Landon's schooldays. The virus further exposed and in some ways deepened it. Since 1999, when a federal judge's order ended a model, 28-year-old desegregation program, CMS has devolved into a tiered system of haves and have-nots. Residence in certain ZIP codes grants families access to money and resources, and living in others allows families little or nothing.
The difference largely breaks along racial lines and shows in student performance: State standardized test results at Byers, Khloe's school, where 98% of the student body identifies as a racial minority, show 42.2% of students proficient in math and 34.5% proficient in reading. Under COVID, parents who already make enough money to benefit from the gap generally had the resources and support systems to accommodate the difficulties that the lockdown created. Affluent families usually have higher-speed and more reliable internet connections. They often have enough money to pay for tutors and teachers who can educate their children while one or both parents work.
"The pandemic has kind of laid bare huge gaps in our community, and infrastructure problems in our community, that were there before COVID-19. The virus just made it that much more critical," school board chair Elyse Dashew says. "And it's bigger than CMS. It affects all of us."
Beyond CMS schools themselves, groups like PTAs can supplement children's educations and opportunities in ways lower-income parents can't—and the lockdown further highlighted those advantages. Billingsville-Cotswold's Cougar PTA, a nonprofit, had a budget of nearly $200,000 in 2018, federal tax records show. The chapter paid $20,126 for electronic whiteboards and document cameras in classrooms—which enhanced the school's ability to switch to remote learning in 2020. Byers has no PTA.
As of this writing, in early November, CMS had begun to bring its 40,000 K-5 students back to school campuses for in-person instruction, with the possibility of further relaxation of COVID restrictions to come. But there was also no guarantee that the number of COVID cases, on the rise throughout the fall, wouldn't make another lockdown necessary.
It also wasn't clear what effects months of lockdown would have on students—especially those, like Khloe, who could least afford them. If Khloe's chaotic situation in Genesis Park inhibits her ability to read, will she have to repeat first grade? Or will she advance to second grade with diminished skills, which would damage her capacity to learn and increase the odds that she'll drop out before she graduates from high school? What might the lack of socialization—interactions with classmates—do to her development and mental health? No one knows.
"What's going to be the thing that parents or caretakers did that damaged kids less than what other parents did?" says Amy Hawn Nelson, a Charlotte resident and educational researcher for the University of Pennsylvania's School of Social Policy & Practice. "Unfortunately, that's the question, because all kids are going to experience a different trajectory because of this pandemic."
In May, the Brookings Institution released projections of what it termed "COVID Slide," or "what learning loss due to the pandemic might look like." Students, Brookings said, entered the fall 2020 semester with "roughly 70% of the learning gains in reading from the prior year relative to a typical school year. In mathematics, students may show even smaller learning gains from the previous year, returning with less than 50% of the gains. In lower grades, students may be nearly a full year behind in math compared to what we would observe in normal conditions."
***
Khloe's father works a full-time job in food distribution at Sysco as he trains to become a warehouse supervisor. Chevese Johnson, 42, is the family's sole breadwinner; his annual income hangs just above the 2020 federal poverty line for a family of eight, $44,120. He leaves the house in Genesis Park before 6 a.m. on weekdays and returns "whenever the work is done."
He knows about learning pods like the one Bree Devine has set up for her and other children in Cotswold, and he doesn't hold it against those families. They're just trying to do what's best for their children, just like him. "If you have the means to do so," he says, "do so!" His own family's circumstances aren't ideal, but Johnson counts himself fortunate to have his mother-in-law available to help. When Burks is busy with laundry or caring for Khloe's mother, tasks like remembering passwords and making lunches fall to Khloe's sister, Alanah,11, and brother, Quentin, 9, who have their own work to do from the same school. Without Burks, the three teenagers in the house would likely have to help tend to Latonya and keep house as well.
It's great that he has a job and a mother-in-law to help—as hard as his family has it, others have it far worse—but, I ask him, is remote learning really an education system that can work for Charlotte's children? Counting on good weather for internet access and expecting 6-year-olds to educate themselves during "independent time"?
He thinks about it. "I would have to say no."
So would I. I taught kindergarten and first grade for three years at two low-income, primarily Hispanic CMS elementary schools, Huntingtowne Farms and Albemarle Road, after I graduated from college. Many of my students didn't speak English as a first language—some not at all—but I achieved some success in advancing my students' reading levels, mainly by concentrating on phonics.
I also did what I could to help them manage other hardships: I witnessed 6-year-olds in tears because their fathers had been deported the night before. Every Friday, I trekked between the office and my classroom with a dozen backpacks full of canned food for students who might have nothing else to eat before Monday. So I know from experience that teaching young children to read—especially poor minority students who may be starting from nothing—is arduous, nonstop labor even under normal circumstances. I cannot imagine how anyone could do it through an iPad screen.
That's because, realistically, no one can—at least not without support from parents and stable homes that allow students to learn, and to retain what they learn. The twin barriers of inequality and COVID have made that task harder. The Brookings research—published on its Brown Center Chalkboard blog, which covers education policy—reinforces that poor and minority students will suffer more from the changes in learning, and its effects will linger long after the pandemic. They cited research on students displaced by Hurricane Katrina in 2005 who showed signs of depression, including difficulty concentrating, for months after.
"To have a kindergartner learn anything via technology, you're going to need a parent there to really help keep them on task and focused, or some other type of instructional assistance," says Jennifer Darling-Aduana, a professor at Georgia State University who specializes in learning technologies. Ask yourself: Since March, how "on task and focused" have you been in your own life, let alone your kids'?
***
Bree Devine and her husband, Jim, even with their relative advantages, learned that when the COVID lockdown landed in the middle of the spring semester. Bree works as an operating room nurse at Atrium Health Mercy, and Jim works in medical sales. "In the spring, we saw that we couldn't have a house (of children) and work two full-time jobs," she says. "And that's kind of the same with all the other families that were in the same situation. No one could have a full-time job and teach at the same time. It's not fair to the children."
Mrs. M, a former CMS teacher who hopes to return after the pandemic, wouldn't tell me exactly how much the families pay her but said it was on par with a teacher's assistant's salary, which ranges from $19,000 to $30,000. The children have Zoom access to their Billingsville-Cotswold teachers, but Mrs. M is there to assist with technical difficulties and organize daily worksheets. During "independent time," she downloads and prints age-appropriate books from the educational website Reading A-Z and helps the students read them.
The Billingsville-Cotswold "pairing" project, which began there and at two other pairs of schools in 2018, is an effort to extend those kinds of opportunities to children from a broader range of economic classes and ethnicities. CMS combined low-income Billingsville Elementary and more affluent International Baccalaureate world school Cotswold Elementary. Before the merger, 81% of Billingsville students were Black, and 88% lived in poverty. Cotswold Elementary was 54% white with only 37% classified as poor. For the 2019-20 school year, the combined school is 45% Black, 36% white, and 12% Hispanic.
COVID or not, Billingsville-Cotswold represents the kind of bold step CMS and other school systems can take to close the achievement gap between rich and poor, white and non-white, Hawn Nelson says. It also represents a step back, in a good way: CMS school pairings were common between 1971, when the U.S. Supreme Court's ruling in the Swann case began the desegregation era, and 1999, when a federal judge's ruling in the Capacchione case ended it.
CMS' pairing efforts remain pilot projects. The school district has not expanded them to other schools, and COVID has made it hard for the school system to operate at all. But Charlotte needs more efforts like it, Nelson says: "It's really hard, messy work, and I think we need to do that on a broader scale."
***
It's 8:21 a.m. at the Genesis Park house, and the students in Khloe's digital classroom are already exhausted. "Can I take a break?" one of them asks. Today is a testing day for Khloe and many of her classmates, which means they're largely on their own. To help them, their teacher shares her screen and shows the students how to access their reading lessons. She tells them to tap the module button under "Thursday." Khloe cannot read the word "Thursday."
It takes about five minutes for Amy Burks to help her find it, and Khloe discovers that her reading lesson is a book far too advanced for her, full of words she doesn't recognize. It's read aloud and displayed on her iPad screen, and she taps the page to turn it before the narrator finishes. She is supposed to do this for 70 minutes before she joins a Zoom call with her science teacher.
Even in mid-November, with many of her classmates back in school for in-person instruction, Khloe was still learning through her iPad at home. Also, CMS faced a bus driver shortage: 122 on leave and six vacant positions, which limited the number of buses the district could use while enforcing social distancing on them. The school board altered the return-to-school schedule to prevent students from getting home at night and advised parents and caretakers to take kids to school if they could—which, Chevese tells me, he can't for Khloe because of his long work hours.
Even though he, too, was still learning remotely as of this writing, Landon's possibilities were far broader far earlier. On another day in September, Landon joins his virtual classmates in talking about the book Carla's Sandwich and what it means to be open-minded. Mrs. M, who sits in a beige armchair in the corner, writes notes to the pod's parents in the students' agenda books. Later, Landon's teacher asks him to write in his reading journal what type of sandwich he would like. "I Prefer Bln," he writes. (He means bologna.) Mrs. M reminds him of lowercase letters, so Landon changes the "B" to "b." She encourages him to use spaces between words. She proclaims, beaming, "You remembered the period at the end of your statement!"
Landon hoists his finished product up to his iPad camera to show his teacher. "Hold it a little closer so I can see it!" she says. Landon shoves his composition book closer to the tiny camera. "Good job on being an awesome author!" his teacher says with a smile over a clear connection. The Devines have just upgraded their Wi-Fi to accommodate the pod and Jim working from home.
Jared Misner taught kindergarten and first grade for three years in Charlotte. He's now a writer and regular contributor to this magazine, and his work has also appeared inThe New York Times, The Chronicle of Higher Education, and Our State, among others.