Discovery Place Exhibit Brings Iron Man, C-3PO to Charlotte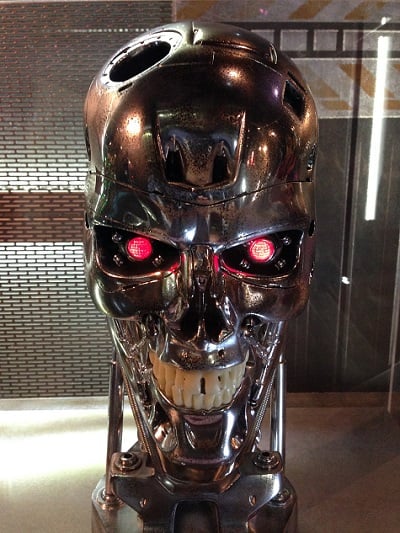 It's the kind of lineup you'd only find in a toy chest. Iron Man, C-3PO, the titular monster from Alien, and a Terminator robot, each within a couple yards from the other. But these aren't action figures. These sci-fi icons are life-sized, and they're the entry points into Discovery Place's newest offering.
"They bring that celebrity status to an exhibition like this," says Catherine Wilson Horne, president and CEO of Discovery Place. "And then you get here, and you see the interactives and robotic arms. You think, 'Oh, I've seen this kind of stuff before,' and you make the connections. And I think this exhibit makes connections with children and adults."
The exhibit is titled Alien Worlds & Androids, and it occupies a corner of the Tryon St. museum until Sept. 14. Nine areas comprise the show, with labels like "Looking for Life in Space," "The Robotization of Planet Earth," and "Artificial Intelligence and Robots." The models are just one method used to illustrate the areas. Touchscreens games, a mechanical arm, and other modules bring kids and adults closer to the science of the real world.
Alien Worlds & Androids was built to showcase work currently being done at NASA and its Jet Propulsion Laboratory, a research center in California. This includes a peek into the cutting-edge processes used by scientists to look for life in other planets and discover new aspects of our own planet. "We really want to bring science to life at Discovery Place and ignite wonder," Horne says. "And ignite wonder about outer space, the floor of the ocean, and inside volcanoes. But we also connect them to popular culture."
ANDY SMITH
This week, Discovery Place employees have hidden 15 toy UFOs in North Tryon St. businesses. The objects get admission for two into the museum and bonus access to the Charlotte Observer IMAX Dome Theatre to check out the film Hubble. The UFOs may not represent any real spacecraft, but they lead children to a 2010 documentary about a real mission to repair the Hubble Space Telescope.
"Kids are very fascinated, not only in the movies, but also the literature, books, magazines," Horne says. "Science fiction is a really wonderful way to connect to real science and to reinforce literacy and the idea that you can learn through the movies and books that you read. That could draw many kids to say. 'I want to grow up and be a scientist at DARPA [Defense Advanced Research Projects Agency].'"
Admission to Discovery Place is $15 for adults, $12 for kids or seniors, and free for members. You can read more about the museum's other exhibits here.