#DiscussCLT: The Hard Nut of Affordable Housing
Defining the problem? Easy. Solving it? Difficult.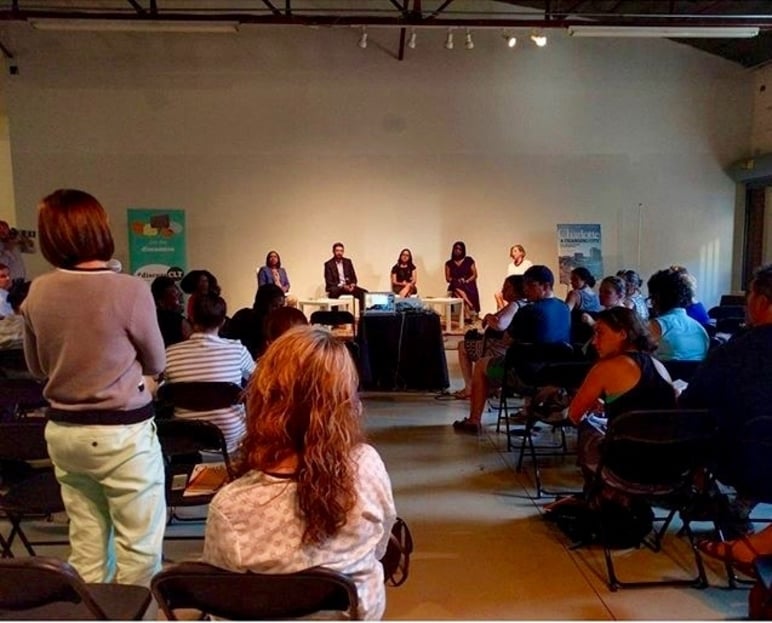 I attended a pair of community forums this week. The first, organized by this magazine and sponsored by and OrthoCarolina and Crescent Communities, tackled the perennial Charlotte issue of affordable housing, a dire need in a city with skyrocketing rents. The second, which I'll post about tomorrow, was a discussion of how openly gay and transgender people can run for public office and win, a subject of heightened importance after the mass shooting in Orlando. Coupled with the sudden amoeba crisis at the U.S. National Whitewater Center, it's been a hell of a week for problems that seem damn near impossible to solve.
Talking about them intelligently is the first step, of course. Close to 100 people showed up (and more than 800 tuned in at some point to two different live streams) at C3 Lab in South End for the affordable housing forum, the third formal (and fourth overall) installment of the magazine's ongoing #DiscussCLT series on civic issues. Public education and Growth By Design were the topics of previous forums; we'll be talking about attracting artists and making Charlotte a creative city in August, and "How To Make Things HAPPEN" in October.
Making things happen in the arena of affordable housing is, to put it mildly, hard. Each of the four panelists represented a different institutional player in Charlotte's housing landscape: Benjamin Collins of Crescent Communities on the development end; Carol Hardison, the CEO of Crisis Assistance Ministry; Dionne Nelson of Laurel Street Residential, a Charlotte affordable housing developer; and Pamela Wideman of the city's Neighborhood & Business Services office. But everyone agreed on a few basic facts (literally) on the ground:
The market alone won't solve the problem. Affordable housing requires public subsidies, public-private partnerships, inclusionary zoning, or some combination.

Mandatory inclusionary zoning—requiring developers to set aside a percentage of their apartment complexes for low-income renters—is a highly effective tool. In North Carolina, it would require approval by the General Assembly. So don't hold your breath.

What, exactly, is affordable housing? It's a malleable definition that depends on cost, income, location, and other factors. But as a rule, if you're paying more than 30 percent of your monthly income on rent (or, conceivably, mortgage service), you're paying too much. (That applies to roughly 40 percent of renters in Charlotte.)

"Thirteen hundred dollars is absolutely affordable—for some people," Hardison said. "But what you're talking about is children going hungry … and people wearing the same clothes they wore the day before because they can't afford new ones. That's what 'affordable housing problems' look like."

Public policy generally grants housing advantages to the people who need them least. "I used my housing voucher to pay for a vacation last year," Hardison said. "It's called the mortgage interest deduction."
The average monthly rent for an apartment in Charlotte in May 2011 was $909, according to RentJungle; in May 2016, it was $1,339, an increase of 47 percent. The city's market gains between 200 and 300 affordable units per year, Wideman said: "There's a need for 34,000." It's not even a matter of the city's poor approaching a crisis level, said Hardison. We're there.
So what to do? Charlotte's Housing Trust Fund is a formidable resource, funded by voter-approved city bonds, that's generated $92 million and more than 5,500 affordable units in its first 15 years. Many large U.S. cities have nothing like it. But as laudable as it is, it can't keep up with the juggernaut of an exploding market.
"The challenge is that we live in a lobbying society," Nelson said during the forum, "and one of the most powerful lobbies is the National Association of Realtors." It's sobering to consider that chipping away at the problem might be the best anyone can do. But the same market that offers perks for the haves necessarily assumes the existence, and neglect, of the have-nots.