Dispatch from Boone: The Early Voting Battle of App State
A town and campus struggle in the backwash of North Carolina's new voter law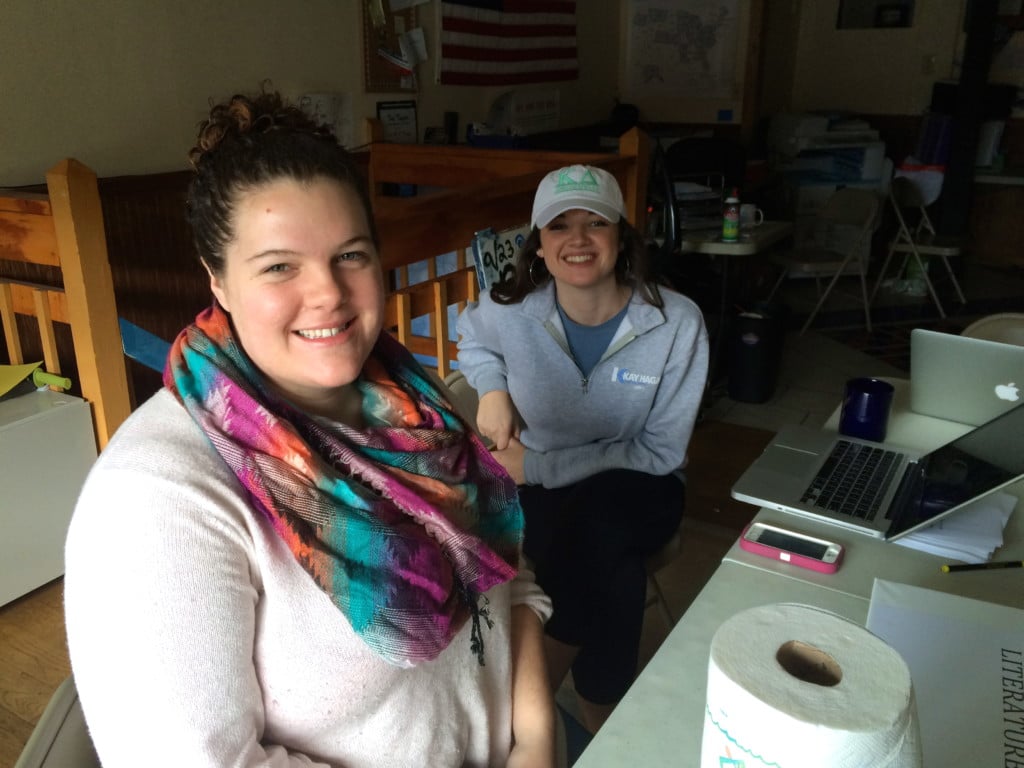 The Watauga County Democratic Party headquarters occupies a former coffee shop in downtown Boone, just across West King Street from the Appalachian State University campus. An impossibly narrow staircase leads upstairs, where a plate-glass window provides a spectacular view of the main campus library, its distinct spire, and the mountains beyond.
Three women were up there Tuesday morning, each trying in her own way to work around a new law and its aftereffects. Sue Counts, 71, is a retired county extension director running for N.C. House. She was making calls to voters.
A pair of ASU students—Claudia Shoemaker, 20, of Charlotte, and Jocelyn Hunt, 21, of Fayetteville—are volunteers for the county party. They were organizing voter lists and the party's volunteer roster. They're young, sure, but there's a reason why college students are such valued commodities here, especially for the Democrats: ASU students make up about a third of Watauga County's voting population.
Which is why all three of them are still amazed at the continuing court battle over something that seems so logical: An early voting site on the ASU campus.
"We had more than 5,000 students early voting on campus in 2012. We had lines to early vote all down the hall," said Hunt, who's vice president of the statewide College Democrats. "They want voting on campus. They don't want voting in the middle of nowhere at the most conservative church in town."
Early voting begins at 8 a.m. today. As of yesterday afternoon, it appeared that people would be able to vote in the student union: The state Board of Elections approved the site during an emergency meeting.
But late in the day, the state Supreme Court—ruling in a suit filed by a group of Watauga County voters—sent the case back to the N.C. Court of Appeals, which had stayed a Superior Court judge's ruling to allow the on-campus site. This means that the student union site can remain open, for now. But the state elections board has the right to meet again to shut it down.
This is a fine mess when you're trying to educate anyone, much less college students, on when and where they can cast their ballots. Students and their parents are still confused about the effects of the so-called Voter Information Verification Act, which in tandem with the Republican takeover of numerous county elections boards throughout the state has created this chaos, and in an election year.
"College students can't same-day register any more, and that was a huge thing in 2008 and 2012. Since we've been eligible to vote, that's something we've been able to do, and now we can't," Hunt said. And even though the actual photo ID requirement to vote doesn't take effect until 2016, plenty of potential voters think it applies this year—perhaps because of the common, and misleading, reference to VIVA as the "voter ID" law. "I think a lot of people understand that something has happened," she said, "but it's still confusing."
They say they're trying to get what information they can to people through social media, phone banks, and knocking on doors. They have a long-established network of volunteers that can give people rides to the polls if need be.
And depending on where people live, that ride may well be necessary. The county Board of Elections, claiming it was trying to distribute early voting sites evenly throughout the county, set up five early voting sites. Only one is in Boone, the county seat and by far the most populous part of Watauga County. It's also the one part of the county that leans Democratic.
The rest of the county is deep red, and that's where the other four sites are, including one in the tiny and isolated community of Meat Camp. Another occupies the Deep Gap Volunteer Fire Department, about 10 miles east of Boone on U.S. 421. We drove out there. It took about 15 minutes. We had to turn off a side road and circle around to approach it from the back. It's nowhere near anything.
"We've had these fights before—with women, with minorities," Shoemaker said. "It's the 21st century. We should be increasing access to the vote, not decreasing it."