Dive In at Krazy Fish
Plaza Midwood's newest restaurant is undoubtedly quirky, but its tasty tacos will almost make you forget there's a mermaid on the ceiling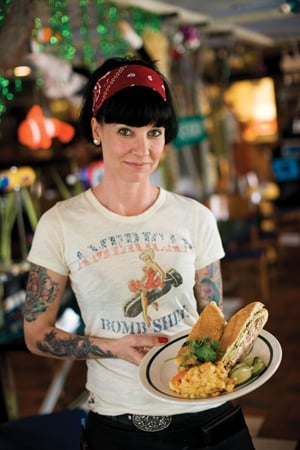 K. C. Terry owned and ran the popular, rough-around-the-edges Fat City Deli in NoDa in the 1990s before the days of the neighborhood's gallery crawls and stylish restaurants. Then, in 2003, the deli closed and Terry disappeared from the city's dining scene—until now. When you know Terry's background, his new restaurant, Krazy Fish on Central Avenue, starts to make sense. With its bizarre aquatic-themed interior, run-down parking lot, and location on "that" part of Central, this isn't a restaurant for the gentrified Plaza Midwood. It is, however, a place serving really good casual food with an eclectic—and delicious—fusion of Southern, Asian, Caribbean, and Latin flavors.
Before you can enjoy the food, you have to get past the décor. Yes, there's a giant blonde mermaid hanging from the ceiling. And yes, the wooden booths have some kind of odd splatter paint thing going on. But as soon as you're sipping the restaurant's icy hibiscus ginger and honey agua fresca ($2.50) or digging into the tender, citrus-flavored ceviche appetizer ($9.95), you'll barely noticed the odd plastic fish hanging above your table.
Seafood dominates the menu at the appropriately named Krazy Fish with elegantly prepared entrées like wasabi-spiced blackened tuna ($18.95), seafood Creole ($15.95), and the already popular shrimp-and-jalapeño-cheddar grits ($13.25). However, it's the casual fare that's getting the well-deserved attention. Tacos come in sets of two in thirteen varieties, including poached shrimp in crispy golden corn tortillas ($7.95), fried fish topped with a creamy house-made "pink gold" sauce ($7.95), and smoky Southern pulled pork in a blueberry tamarind chutney ($6.95). Under the sandwich section, look for Chilly Willy's Po'boy ($7.95), a slightly spicy variation on the traditional Cajun sandwich, piled high with your choice of seafood and named after the legendary local who frequently walks the stretch of Central in front of Krazy Fish.
With tacos and sandwiches, you have your choice of sides, which is the perfect excuse for indulging in items like the creamy mac and cheese.
Whether you're splitting chips and salsa alongside one of the restaurant's craft beers on the patio or sipping mojitos with the shrimp gazpacho inside, expect a laid-back—and likely heavily tattooed—server. The staff is friendly, and the boisterous Terry often weaves through the restaurant and kitchen. Don't go for a fine dining experience, but if you're that far down Central, that's probably not what you're looking for anyway.

Krazy Fish
2501 Central Ave.
704-332-1004
L, D, FSB, P