Divina Inspiration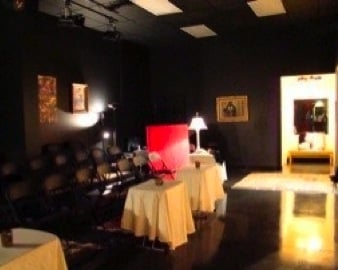 Something big is happening at the little Warehouse Performing Arts Center in Cornelius. Divina Cook, who has a string of letters after her name, including SAG (for the Screen Actors Guild), is starring in a powerhouse of a play.
Cook is a member of The Ensemble Studio Theatre in New York. Her Big Apple credits include Martha in Who's Afraid of Virginia Woolf?, Agnes in The Shadow Box, Eleanor in The Lion in Winter, and Annie in The Miracle Worker. In regional theater, she has worked at the Long Wharf in New Haven, the Williamstown Theater Festival, the famed Actors Theatre Of Louisville, Dallas Theatre Center, and more.
You've probably seen her in film (Scent of a Woman) and on TV (Law & Order and Law & Order: SVU, The Guiding Light, Sex and The City).
And now you can catch her in person. She's playing Carmen Ruiz in Stigmata, a play her husband, Don Cook, wrote for her. Ruiz is one of the richest and most powerful women in business. She has the trappings of success — a Park Avenue penthouse and a home in the Hamptons. But as the play opens, she awakens in a cell and has no idea where she is or how she got there. Her only contact with the outside world is the hand that pushes food and other items through a small opening in the room's door.
With no one else to talk to, she takes The Hand on a journey through her life. Giving, I suppose, new meaning to the phrase "Talk to the hand." (Sorry. I couldn't resist.) It's a revealing story about a small-town Hispanic girl who used her own damaged reputation to get to the top of the heap. And in the retelling, she discovers new insights about herself, her family and — as the title suggests — her church.
Divina Cook is in town via special arrangement with Actor's Equity. It's a rare treat to have an actress with her pedigree in town. Rarer still to see her in such an intimate theater space. Th-Sun, Sept 9-25. Details.