DIY Wedding or All-Inclusive Venue?
Here's what you need to know—and ask—when either planning your own wedding or picking an all-inclusive venue.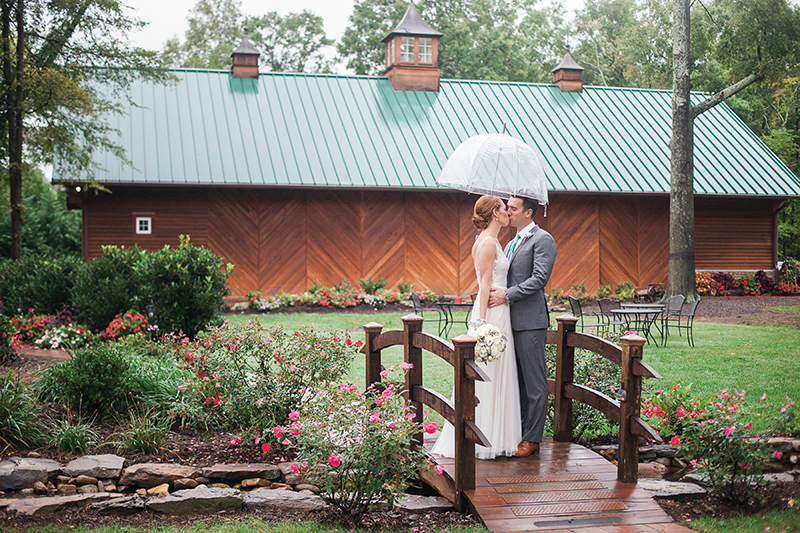 Post-question-pop, brides are bombarded with the immeasurable task of planning their weddings. Though it's an exhilarating time to envision your future with your life partner, the wedding planning stages are also known to stir up stress in a bride-to-be. It's not her fault, though—there are a lot of decisions to be made!
How do you prepare for what is often coined as "the first day of the rest of your life?" It's common for brides to book a full-service wedding planner, but what about the other two roads less traveled? Before you make any monumental decisions about planning your own wedding or booking an all-inclusive venue, it's important to know what you're signing up for. Carolina Event Design Founder and Lead Planner Heather Bryson has been in the business for over eight years, and she's seen it all. No matter which route you decide to go in terms of wedding planning, Bryson says it all boils down to asking the right questions.
---
---
What should the DIY bride ask?
Many brides choose the planner-free route to save money. Although this option allows free-reign to craft your big day down to every last detail, the undertaking can become blinding. Some brides get too overwhelmed that they make split decisions, leading to poor quality vendors and budget overages.
Get the (real) 411 on vendors
Once you've gathered inspiration and chosen a wedding style thanks to your Pinterest board and issue of Charlotte Wedding + Events, it's time to get down to business… Booking vendors. Bryson says that brides must be adamant about getting real-life reviews regarding vendors—not just turning to Yelp or WeddingWire. Consult your married friends for recommendations; companies that are mentioned multiple times clearly have a solid repertoire. Ask to speak with vendors' past clients to hear about their experiences. It's imperative to do your research. Bryson also warns not to get distracted by flashy advertisements. All you need to know is whether or not the vendor's services are high quality—their cutesy website means nothing if they can't deliver on your big day.
Understand your budget
"Keep in mind you get what you pay for," Bryson cautions. Although you want to save money where you can, paying low prices for vendors might reflect a skimpy commitment to your event. Another difficult part of the process can be allocating your budget in general. It's hard to know which components should take a bigger percentage of your budget than others. Bryson says it's worth the money to hire a planner to do hourly consulting to get professional advice if you can't afford full-service help. You can pay by the hour to ask all the questions you want and—at the very least—gain some peace of mind.
All hands on deck
When ideas need to be put into action, don't put all the weight on your shoulders—delegate tasks to family members. Assign some jobs to your bridesmaids, and don't forget your fiance is a teammate, too! As your wedding month nears and you're getting the butterflies all over again, Bryson suggests brides hire a month-of coordinator to step in and take over. The point is to have someone else get everything into place so you can relax and step into your heels as the bride.
---
How do I vet all-inclusive venues?
For the budget-conscious bride, all-inclusive services are another popular option without having to take matters into your own hands. Like some venues have their own caterers, others provide the full package. The Holiday Inn Center City and Alexander Homestead are just two of the many Charlotte venues that offer all-inclusive services.
What to expect
Most all-inclusive venue packages include decorations, catering, linens, wait staff, a DJ, and other features, but not all event packages are created equally, so check out what each venue includes. Packaged services can be helpful because options are greatly narrowed, but they can be frustrating for this reason as well. Some packages only allow beer and wine, for example, and some packages may not have the linens or chairs to match the style you had in mind. The same goes for quality. Bryson says, "Make sure the quality surrounds all of the aspects that are included." Just because tables or centerpieces are included, doesn't mean you'll like how they look. Is the DJ a professional party-starter, or is it an in-house chef who spins tracks as a side-hustle?
Points to keep in mind
Make sure you outline and research everything to ensure it aligns with your vision. Ask the right questions: How much would upgrades cost? Are appetizers included with catering? Is there a backup plan for rain? Read the contracts thoroughly to see what's allowed and what's not. Also keep in mind that all-inclusive services don't leave much wiggle room for personalized quirks, so don't expect to have you and your hubby-to-be's favorite BBQ joint cater a sandwich station.
Weighing the benefits
As aforementioned, if budget is a big concern for you, all-inclusive packages are usually a great bet (besides some rarities, like weddings at the Biltmore mansion). Much like planners get perks from their preferred vendors, these venues can also usually swing an overall cheaper price because of their relationships with the vendors who give them discounts. If you're looking to wipe your hands clean of the planning process, choosing an all-inclusive venue can take a lot of the stress away—you just need to be at peace with making sacrifices when it comes to specifics.
No matter how crazy the planning process might be, cherish every moment of it. Once you walk down the aisle and see the love of your life standing at the altar, you'll forget all about the details. You'll only see the big picture—and that's what matters most.
---
Don't forget to ask your venue about…
Rehearsal booking
Restroom situation
Parking
Loading supplies in and out
Included lighting
Exclusivity
---
SEE ALSO: Say 'I Do' to the Perfect Wedding Venue