DNCC CEO Steve Kerrigan On 'Flashpoint' Sunday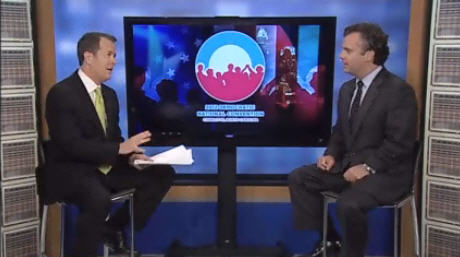 You can catch Steve Kerrigan, CEO of the Democratic National Convention Committee, on this Sunday's (January 22) episode of Flashpoint. The weekly political affairs show, hosted by veteran news anchor Dave Wagner, airs at 9:30 a.m. on WCNC (channel 36; channel 6 on Time Warner Cable).
Now that the dust has settled a little from the DNCC's big announcements this week, Kerrigan will talk more about the decisions to shorten the convention by a day—replacing it with a public event at Charlotte Motor Speedway on Labor Day—and holding the final day of the convention at Bank of America Stadium. He'll also reiterate how North Carolinians can get involved.
This is at least the second time Kerrigan is a guest on Flashpoint. He previously appeared on the show on September 25, when the 2012 Democratic National Convention was a little less than a year away. A lot has changed since then. Not only was the convention planned as a four-day event, all at Time Warner Cable Arena, some of which Wagner and Kerrigan discuss in terms of the bidding process having just opened up for construction firms interested in doing the upfit to the arena. But one of the leadoff stories Wagner reports on is a Winthrop University poll of South Carolina voters that showed Rick Perry leading Mitt Romney by three percentage points. Fast forward four months and the South Carolina Republican Primary is taking place tomorrow, with Perry having dropped out of the race yesterday.
In sports, when it comes to the certainty, or lack thereof, of predictions on final outcomes, the saying goes: "That's why they play the game." The same can be said about politics.
You can watch a clip of Kerrigan's September appearance on Flashpoint below.