DNCC Marks 100 Days Until President Obama Accepts Re-nomination, Launches 'I'm There' Campaign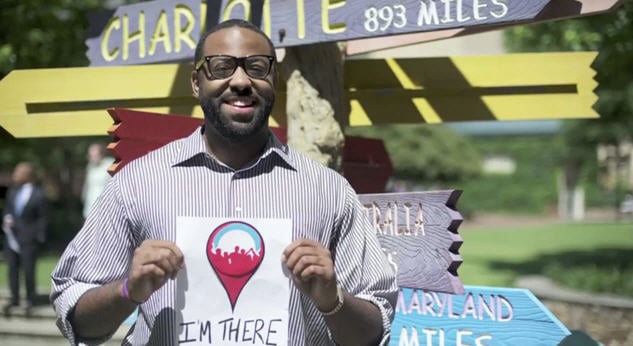 The Democratic National Convention Committee is touting numerous achievements and milestones today as it announces that we're 100 days from when President Barack Obama will accept his party's re-nomination at the Democratic National Convention. DNCC officials held a press conference this morning at Bank of America Stadium, which is where the president will give his acceptance speech in front of 70,000-plus people on Thursday, September 6, closing night of the convention. Democratic National Committee Chair Debbie Wasserman Schultz, DNCC CEO Steve Kerrigan, Charlotte Mayor Anthony Foxx, and Karen Baldwin, an Obama for America volunteer from Durham, spoke at the press conference this morning.
In a press release sent by the DNCC, the following milestones in convention planning were listed:
Shortening the convention to three days, allowing for a free, family-friendly festival at Charlotte Motor Speedway on Labor Day.
Fundraising campaign has expanded the donor base by more than 30 times the number of contributors from the 2008 convention in Denver.
More than 10,000 people have signed up to volunteer.
Democrats have expanded the number of delegates to the convention by more than 1,000, bringing the total to about 6,000.
Today, the DNCC has also launched the "I'm There" campaign, where it's asking people to declare their participation by sharing a photo of themselves with the convention logo and a caption that says "I'm There" by going to demconvention.com (click here for direct link, where you can download and print the I'm There logo). Below is a video promoting the I'm There campaign, where you'll see people showing their support in front of notable Charlotte places and landmarks.