Do Conservatives Have a Place Anymore in Charlotte Government?
After another blue landslide in city races, Republicans wonder again what went wrong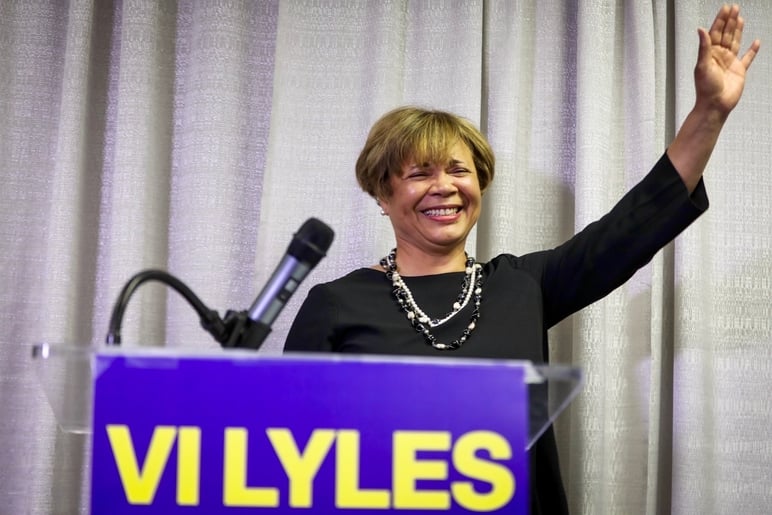 Is there still a place for conservatives in Charlotte city government?
In strictly geographic terms, yes. It's called "the wedge," the diamond-shaped segment of south Charlotte bound by the state line to the south, uptown to the north, Interstate 77 to the west, and Independence Boulevard to the east. The wedge is the richest, whitest, and most Republican part of the city, as opposed to the poorer, more diverse, far more Democratic "crescent" that arches atop it. The area dovetails tidily with City Council districts 6 and 7, both traditionally held by the GOP. That will continue: On Tuesday, newcomer Tariq Scott Bokhari and veteran Ed Driggs, both Republicans, handily won those seats.
And that, as far as Republican representation on the council, is the extent of it. The other nine council seats and the mayor's office went to Democrats, extending the 9-2 council majority the party has held since 2011. None of the races was close. Republicans haven't held a majority on the council since 1999. They were forced again to wonder what went awry, and at least some of the answers, oddly enough, made them sound like Democrats after they lost the Presidency last year.
"We are now in a place where Republicans in urban counties are going to be fighting for their lives, and we've got to quit with this circular firing squad," Larry Shaheen, a 34-year-old political consultant who ran Bokhari's campaign, told me Saturday. He referred to his party's frequent inflexibility on social issues and infighting between older and younger Republicans: "This nonsense of purity tests, of, 'We need to make ourselves feel good'—no, you need to win. And you need to stop talking and listening to the people who have never won." We've heard the same thing over the last year from establishment Democrats venting about the insurgent Bernie Sanders crowd.
This was an especially vexing election for the Mecklenburg County GOP. Kenny Smith, who had held the District 6 seat for four years, was presumed to be the best Republican mayoral candidate since Pat McCrory left office in 2009. Smith had plenty of money, name recognition, intelligence, organization, and enough of a reputation as a semi-moderate to perhaps even win some Democratic votes. Polls as recently as last Monday indicated a tight race.
It ended up a blowout for Democrat Vi Lyles, who'll be sworn in next month as the city's first black female mayor. Lyles won by the largest percentage margin in a mayor's race since 2011. She earned more votes, 71,876 unofficially, than any mayoral candidate I could find on record. (The Mecklenburg County Board of Elections' website has election data going back 20 years, and only once before—with McCrory's 2001 victory over Ella Scarborough, now chairman of the county Board of Commissioners—had a victorious mayoral candidate surpassed 60,000 votes.) In an eight-way race for four at-large—meaning citywide—council seats, Republicans John Powell and Parker Cains thought they had at least punchers' chances against the four Democrats in the race. Both finished far behind them. More than 13,000 votes separated fourth place from fifth.
McCrory, the Republican who won seven mayoral races before his disastrous term as governor, was on WBT radio on election night, lamenting, "I'm not sure Abraham Lincoln could win mayor of Charlotte right now." Glance at the map of the mayoral election results, courtesy of the election data startup Decision Desk HQ. If you're lacking a clear illustration of crescent and wedge, the political divide between one Charlotte and another, you can hang that on the wall.
Shaheen said he thinks part of the result stems from growing discontent on everyone's part, related to but not necessarily caused by Trump. In other words, a new mayor and six new council members might reflect general dissatisfaction regardless of party. The growing ranks of unaffiliated voters, especially among the young, help shore up that argument. "Once we get these certified election results on my desk, I'm going to bet you that we have a bunch of voters who have never voted before in municipals," he said. "Where do we go? It's time for younger conservatives to step up. It's clear that we need new leadership from the top to the bottom, and it can't just be in name only."
The results present another kind of problem, at least potentially, for the Democrats: immoderation. The slate of council members that voters elected Tuesday is probably the most progressive in the city's history—Braxton Winston went from protester on the streets to at-large council member in a little more than a year—and they'll be tempted, especially in budget season, to try to spend Charlotte out of genuine and perceived injustices. The new members are showing signs that they understand the risk.
"I don't think there's going to be some wild left turn," said Larken Egleston, 35, the new District 1 representative. "I think you've got people who are far more measured than they might be given credit for. I don't think anyone's going to come in and just flip the table over."
Egleston said he's already heard from Republican legislators, who savaged Mayor Jennifer Roberts and the current council over House Bill 2 and other matters, "who have said they're glad there are some new folks. I kind of hold out hope, maybe naïvely, that we can patch some of that stuff up." I'd view that, maybe jadedly, with some skepticism. But as bleak as things look now for local Republicans, Democrats ought to remember that the electorate is more volatile and unpredictable than it's ever been. It doesn't take much, or long, for the table to flip.