Do Good, Feel Good: Help With Da Lucky Spot's Annual Book Bag Drive Saturday
2015 Charlottean of the Year Shaun Corbett and CMPD teaming up for annual drive.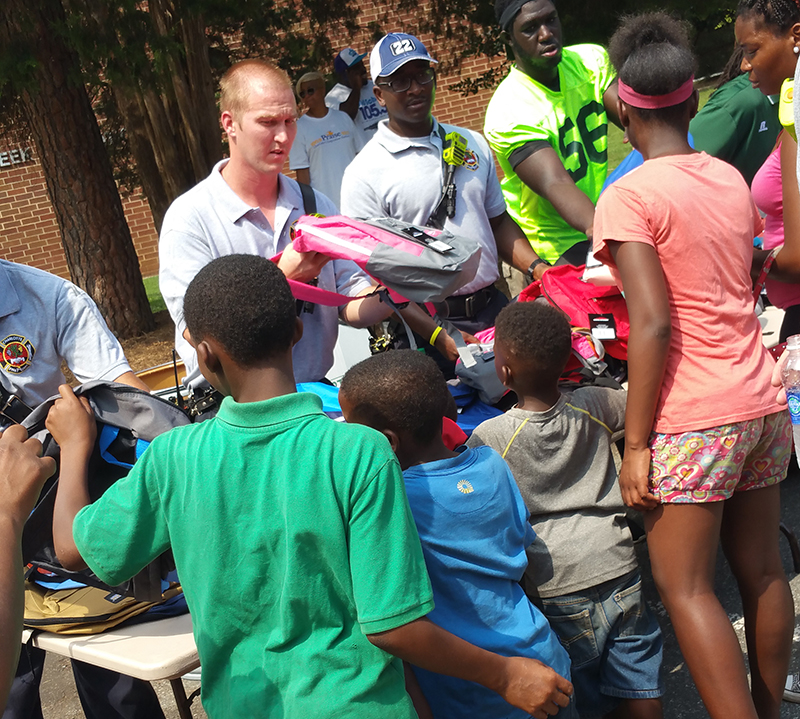 BARBER SHAUN CORBETT, one of our 2015 Charlotteans of the Year, is teaming up with the Charlotte-Mecklenburg Police Department again this year to give away book bags to some of Charlotte's neediest children.
This year's event is scheduled for Saturday, August 27, at Martin Luther King Jr. Middle School on Bilmark Avenue, from noon to 4 p.m.
Corbett is a former felon whose work in the community during the past decade has helped thousands of teenagers and kids. Last year, he helped launch the Cops & Barbers program with CMPD. The program helped generate conversations between young, black people in the community and police officers, in hopes of preventing events like those in Ferguson, Charleston, Baltimore, Cleveland, Baton Rouge, and elsewhere. Cops & Barbers was so successful that the White House chose Corbett to speak during a discussion on community policing in July 2015.
Corbett's work in Charlotte—especially in the North Tryon area around his barbershop, Da Lucky Spot—extends much further than Cops & Barbers, though. Each year he holds a coat drive before Christmas, a turkey drive before Thanksgiving, and the book bag drive at the start of the school year.
Last year, more than 2,000 children got book bags and supplies, and the line wrapped around the block.
This year's drive will include more than book bags. UPS will be giving out applications and pledges to hire three people from the pool of applicants. City Council members will be in attendance. A basketball tournament will be held—with a team from CMPD participating. Bojangles' and Popeyes are offering sponsorship assistance, too. The book bags come from Wal-Mart.
Corbett says they're still looking for help, though. Last year, he ran out of supplies for the bags. If you'd like to donate money or help with supplies, click here. Or contact Dana Sidberry at 704-326-2187 or events@motivationmktg.net. To volunteer, visit http://bit.ly/29GjPLw.