Do You Know What You're Really Buying at the Farmers' Market?
Some people selling "locally" grown vegetables planted and harvested them. Others bought them from farmers or wholesalers. All of them sell at the same market. How can you tell the difference?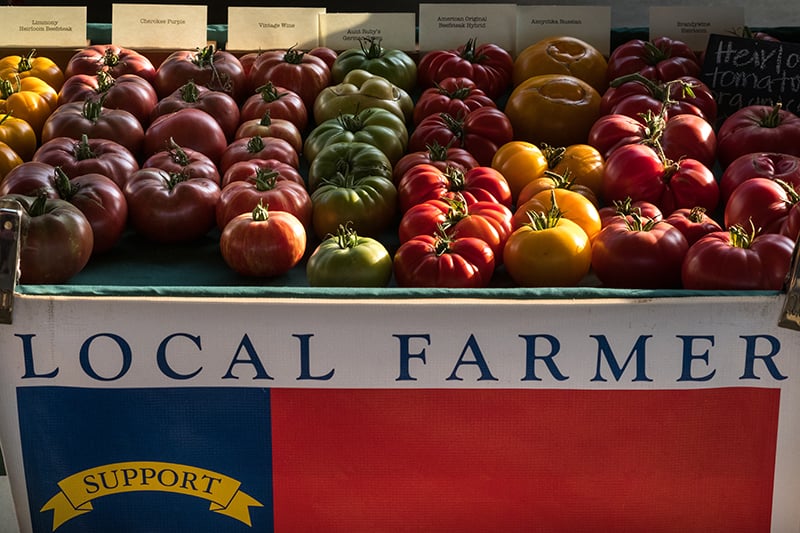 A BANNER above the cashier at Rosemary Pete's booth at the Charlotte Regional Farmers Market tells customers what they want to hear: "Local, home grown, pesticide free produce." At 10 a.m. on a Saturday in June, people are lined up to pay for the colorful rows of rainbow carrots, squash, kale, purple jalapeños, mushrooms, lettuce, herbs, and other bounty displayed on the tables in front of them. "These lettuce look really good," one man says, pointing to a bag of mixed greens.
He's right. Rosemary Pete's lettuce mix looks better than any of its competitors in the building—the leaves fresh and crisp, with no brown spots—and a half-pound bag is $3. That's impressive, especially because lettuce is not in season in June, according to the North Carolina Department of Agriculture.
No matter. Rosemary Pete owner Pete Vinci later explains that he grows lettuce, arugula, and carrots year-round in three greenhouses he keeps on a 70-acre farm in Asheville. A farm he does not own, does not give an address for, and does not allow chefs, market managers, or customers to visit.
Welcome to the farmers' market.
Questions and confusion surround the vendors at these markets. Some are not farmers, sell produce they did not grow, and hawk fruits and vegetables that are anything but local. Two of the most popular markets in Charlotte— the Kings Drive Farmers Market and the Charlotte Regional Farmers Market on Yorkmont Road—sell produce from Washington State, Guatemala, or Mexico on tables next to North Carolina strawberries or South Carolina squash. Some items are labeled with their county, state, or country of origin; many are not. Many vendors at the regional market have addresses in North Carolina but sell produce grown by other farmers or purchased from wholesalers. And they're all lumped together under the same title: farmers' market.
Karen McSwain, farm services director for the Carolina Farm Stewardship Association in Pittsboro, says this market arrangement is not unusual, and neither is the practice of claiming something is local when it isn't. "My guess is that it's pretty widespread," McSwain says. Local is "a buzzword, it's a marketing word," she adds, with cache similar to the weight "organic" carried 20 years ago. Vendors know they can get more money for something labeled local, and there is no government regulation to stop them. "I'm sure that that is a problem everywhere," she says.
***
PETE VINCI started selling herbs at the regional market about 10 years ago, when he was just 17. First, he took clippings from the overgrown rosemary bushes at his parents' south Charlotte home and adopted the name, Rosemary Pete. Then customers started requesting basil, oregano, parsley, and sage, so he raided his mother's herb garden. The following year, Vinci planted his own herbs, and progressed to growing greens and vegetables, along with gs he sells from the trees in his parents' yard.
In those early days, Vinci posted pictures from his garden on his Facebook page: rainbow carrots with the dirt still on them, cayenne peppers growing in potted soil. His more recent photos are much more polished—piles of purple eggplant, yellow and orange bell peppers, an image of sweet potatoes that's a dead ringer for a photo from the website of California Sweet Potatoes.
"There are some pictures that I use as, what is that, banners? Cover photos?" he explains. "It's stuff that I have, but I don't have pictures of it. So, if I find a picture (online) that's similar, I'll use that."
His largest growing area, he says, is a 70-acre farm in Asheville that's home to three greenhouses. That's where he grows herbs year-round, along with baby lettuces, arugula, spinach, and carrots. He also grows on farms in Waxhaw, Mint Hill, Kings Mountain, and Denver—farms where the owners no longer till the land. "All in all, we don't own any land, even in Asheville," he says. Instead, he's worked out deals to give the landowners a percentage of profits and/or some of the produce he grows on their farms.
It's an arrangement that he knows has roused suspicion. "There're all kind of rumors. I don't know who started the damn rumors. Pain in the ass," he says. "Lot of people say we don't grow the produce. It's just because they can't come out to the farm."
Vinci won't let me visit his farm, either. And before he agrees to meet me for coffee at Nova's Bakery, he makes sure I won't bring a video camera.
On the June morning we meet, he finishes a cigarette in the parking lot just before 10 a.m., then grabs a bottle of water from the bakery's refrigerated case. Vinci doesn't drink coffee. The 28-year-old is tall and lanky, with a scruffy goatee and brown hair pulled back into a short bun. He has a fiancee, three children, and a job as the executive sous chef at Belmont Abbey College. It's hard to imagine how he finds time to grow and harvest 1,000 pounds of produce a week and deliver it to local markets and chefs.
He explains that he has a farm manager called "Miss Sue" and a man named Skip who visits all the farms. Plus, Belmont Abbey gave him the summer off.
So why won't he allow people to visit his farms?
"We used to," he says. Then he brought a friend out to the farm, and that person brought his girlfriend, who worked for one of the restaurants Vinci was supplying with produce. After that visit, he says, the owner of the restaurant made his own arrangement with the farmer and cut Vinci out of the deal for the land.
Vinci's other concern is about growing techniques. "We grow the products very fast. It takes basil about 30 to 40 days to grow. We grow it in a week," he says. "It's nothing illegal, nothing harmful, no hydroponics; it's grown in the ground. We just grow it fast," he repeats, drawing out the "s" on the last word. "And those are some secrets I don't want to get out.
"One of my friends/mentors said to me once, as soon as you introduce something to the farmers' market, the next year, everybody's gonna grow it. And there's a few products we want to keep secret," he continues, his voice picking up speed. "Like our sweet potatoes. Our super-sweet sweet potatoes—three times sweeter than any other sweet potato ever grown ever—nobody knows the variety name. We've been growing that sweet potato for about four or five years, and no one's brought it out to the market. So, I don't want things getting out."
***
THE CHARLOTTE REGIONAL FARMERS MARKET, owned by the state of North Carolina and run by the N.C. Department of Agriculture and Consumer Services, has three main buildings for produce shoppers. If you don't know the difference between them, you are not alone. They are labeled on the market's website and on laminated maps near the main entrance, but none of the maps mentions one salient detail: the presence of agricultural resellers.
Building A, labeled "Got to Be NC," is supposed to house only North Carolina products. Vendors there grow the fruits and vegetables themselves or partner with one other farmer, says market manager Amie Newsome. The building is open year-round on Saturdays, with a few farmers showing up on Fridays and a flower vendor selling on Thursdays when flowers are available.
Building B, where Pete Vinci sells, is called "Market Shoppes," and is open Tuesday through Saturday all year, plus Sundays from May through September. This building has North Carolina farmers—including those who buy from other farmers to supplement their stock—and resellers, who bring in produce from the Carolinas, Florida, and all over the world, Newsome says.
Building C, "Variety Shoppes," houses produce from farmers from the Carolinas, baked and prepared foods, seafood, and crafts. For the average customer browsing tables of vegetables in buildings B and C, it can be tough to tell which ones are grown nearby and which were imported from elsewhere. "The vendors are supposed to be labeling their items, where they're coming from," Newsome says. But many do not.
On a Saturday in early July, Building B is so crowded, I can't reach the front of the checkout lines. Families towing young children, moms and dads sipping coffee, people with shopping lists and armfuls of fresh-cut flowers fill the warm, open-air building. At Unity Farms, the price tags say "local" but do not mention the names or locations of farms. An employee restocking the tables tells me the company grows most of its tomatoes and vegetables, but works with another farmer who grows blueberries, and sells yet another farmer's strawberries, peaches, and blackberries. When supplies run out, he says, they supplement from other places. I ask if those places are in North Carolina, and he assures me: "We only have local stuff."
Across the aisle at Knob Creek Farms and Creamery, pints of strawberries from Toluca, North Carolina, west of Lincolnton, sit on a table next to Rainier cherries from Washington State. At Red Kapps Produce, I notice one label on tomatoes: Johns Island, South Carolina. An employee tells me the company buys fruits and vegetables from places such as Columbia, South Carolina; Hendersonville, North Carolina; and Lincoln County, North Carolina. But it also imports "unusual stuff" from Florida.
It's a similar story at Fat Boy's Produce, which occupies most of a back corner of Building B. "Basically, our produce comes from everywhere," says an employee in a Hornets jersey. Most of the food comes from Florida and South Carolina, she adds.
Even in Building A, which is supposed to house only local growers, there is some doubt as to who is growing and who is not. Newsome tells me she visits the farms represented in this building to verify that. But Dean Mullis isn't so sure.
Mullis is tall and soft-spoken, his lined face sweating under a baseball cap. He and his wife, Jenifer, have been farming on two acres in Richfield, North Carolina, since 1989. These days, he does most of the farming himself, because Jenifer works full time.
His table is small, with just a few baskets of tomatoes, onions, garlic, and potatoes on display. He grows organically, but his Laughing Owl Farm is not certified as such, because the bill for that USDA stamp of approval got to be $800 to $900 a year. Over the years, it's become harder and harder to grow in this environmentally friendly way, he says: "Just a lot more people doing it now."
I ask if he worries about vendors misrepresenting what is local produce. "There's a lot of it in this building," he says, but declines to name names. "If you just look at the tables," he adds, there is produce that couldn't have been grown here in season.
Mullis realizes that some customers come to this market looking for food that is cheap, and they don't mind if it was imported from Florida or Mexico. But he doesn't think they know there are resellers here. "It'd make it a lot easier for customers if it was actually a growers-only market."
***
THE IDEA of a growers-only market is catching on. Small markets in NoDa, Davidson, and Cotswold aim to restrict their vendors to local growers and producers. But big crowds still flock to other places.
Norman Simpson's grandfather, Willie, started selling his produce in a parking lot on Kings Drive in the 1940s. "Sometimes everything would be growing good, sometimes it wouldn't," Norman recalls. "It was never real regular."
On its farm in Indian Trail, the Simpson family grows okra, peas, collards, pumpkins, squash, and other produce. In the early days of the Kings Drive market, they used to invite other farmers from the Carolinas to sell such things as watermelons, peaches, and strawberries. But it was hard to find people willing to leave their farms to sell in the city three days a week. After Norman's dad, Darrell, took over the market around 1980, those farmers began dropping o their produce with him, to sell along with his wares. "We try to deal with families who take pride in what they grow," says Norman Simpson, who now runs the Kings Drive Farmers Market with his brother, David.
As the market expanded, customers complained that they could get most of their shopping done at Kings Drive— vegetables, fruits, eggs, meat—but still needed to stop at the grocery store for staples such as bananas. So the Simpsons began to sell Chiquita bananas from Guatemala, mangoes from Mexico, avocados from California. These items are not labeled "local" and many still have the stickers on them, noting their place of origin. "We do it for convenience," Simpson says of the imports. "We try to get the best for the money so we can keep the price down."
Matthews Community Farmers' Market is the most well-known local market that allows only growers to participate. With the exception of fish, it sells items that were grown, raised, or made within 50 miles of the market, and its board of directors visits the farms to ensure that vendors are telling the truth. "Sellers must be the original producers (or family members of producers) of all items being sold," the market rules state. "No buying and reselling of produce or other products are allowed."
This past May, the Cotswold Farmers Market opened with a similar mission. "We prefer keeping it local and we prefer not having people who resell," market manager Mike Walker says. "If it's not in season, we typically don't have it."
Farmers at the Cotswold market usually come from within a 100-mile radius, and Walker has visited all of their farms—except for one. That farmer happens to be one of the most popular vendors at the market. The vendor's name is Rosemary Pete. "With him, at the last minute, we could not visit (his farm)," Walker says. "It throws up a red flag."
Walker says he has already told Vinci that eventually, he will need to see where Vinci is growing: "I want to know, and I want to be honest with our buyers." *
Some local chefs share Walker's concerns. Clark Barlowe, the chef and owner of Heirloom restaurant, says he still buys Vinci's herbs, but not his fruits or vegetables. "We like to be able to visit our farms and understand where the food's coming from," Barlowe says. "I know that Pete grows his herbs. Everything else … Sometimes when things look a bit too perfect, there's a reason for that."
Barlowe is especially cautious because his restaurant aims to serve items that are grown or produced exclusively in North Carolina. "I don't feel comfortable putting something on the menu that I can't honestly say I know the source of," he says.
What about Vinci's desire to protect his growing techniques? "That's stupid," Barlowe says. "Anybody that's doing innovative things with farming loves to show it off."
Tim Groody, chef/owner of Fork! restaurant in Cornelius and one of the pioneers of the area's local food movement, has similar reservations about Vinci. He says Vinci sells items that are not in season, and the large quantities he produces couldn't be grown on an urban farm. "His arugula and his spinach are not local," Groody contends. "It's the same stuff that I would buy at the Chef's Store."
Vinci is well aware of his critics, but says he isn't willing to jeopardize his business and allow farm visits to appease them. "If they don't like it, they can kiss my ass," he says. "I'll just keep doing what I'm doing. There are a lot of good people that enjoy the produce, so I'll just try to stick with them."
About a week after we first meet, Vinci calls me to ask about the angle of this article. He's worried that he will be portrayed negatively. I ask if he has any idea how I could verify the information he gave me about his produce. He says he'll think about it.
A few days later, I tell him I need to see his farms. He says he'll discuss it with a friend and let me know the following Saturday. "It does not look promising but I will get back to you," he says.
He still hasn't called back.
* After our print publication deadline, Cotswold Farmers Market removed Vinci from its list of vendors. His last weekend there was August 6.
LISA RAB is a freelance journalist based in Charlotte and regular contributor to this magazine. Her work has appeared in Mother Jones and The Village Voice, among other outlets. Reach her at lisayrab@gmail.com.
---
This article appears in the September 2016 issue of Charlotte Magazine
Did you like what you read here? Subscribe to Charlotte Magazine »
---