Does the Loss of a Newspaper Building Matter?
What the Observer's new digs mean for Charlotte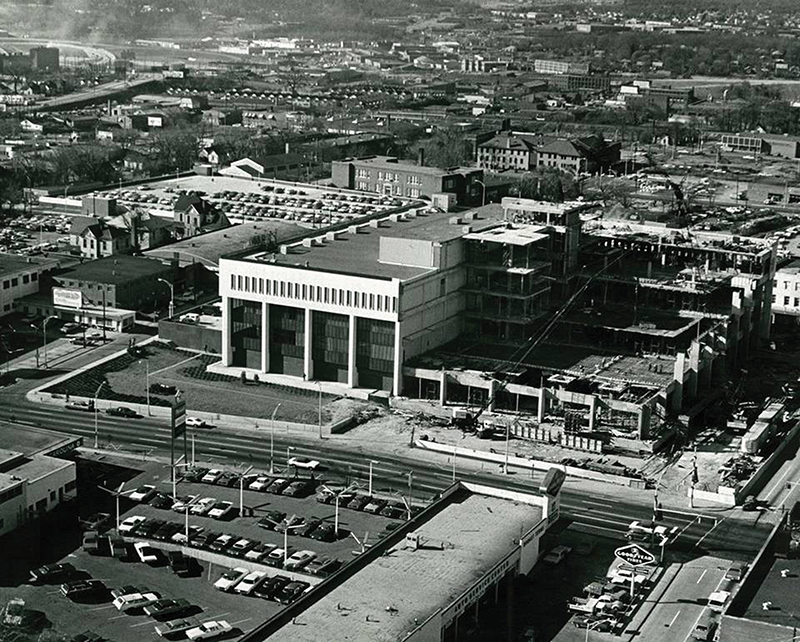 THIS SPRING, when The Charlotte Observer moved out of its headquarters at Stonewall and Tryon, and into rented offices at the NASCAR Plaza building, it was part of a larger real estate and media story playing out in newspaper offices from Chicago to Columbus to Houston.
As pieces of property, these hulking, expansive buildings—or the dirt beneath them—are now worth more than the papers themselves. That burns more than a little. But change happens. Density and walkability are good. Big, flat parking lots are bad. Digital journalism is here to stay.
Still, Americans like a certain uniformity in the types of buildings found in their city centers. Here is the courthouse or post office or city hall, grand with oaks or magnolias out front; here is the cathedral or synagogue. In Charlotte, perhaps it's the federal courthouse, historic uptown churches such as St. Peter's, or the banks at Trade and Tryon. These are the institutions that let us know that, for a few blocks anyway, grown-ups are in charge. And for the longest time, in communities big and small, declining or emerging, that lineup of core buildings has included the newspaper.
Many of those other institutions benefit from some protections: The government is allowed to run itself into debt as a normal operating procedure; the houses of worship are aided by nonprofit status and donations; the banks were bailed out by our tax dollars. But newspapers have faced a true free market; they are allowed to hang themselves with their own rope.
***
TRACE THE LOCATION of a city's newspaper offices, and you can trace the city's prosperity along with it. More than a hundred years ago, some were built out of limestone and stained glass, with winding marble staircases and views of grand hotels. They are the ones who stayed downtown when downtowns emptied out; they are in the downtowns where planners have spent decades using the word "revival."
But what about a city's values? A thriving press is supposed to help the people who have few protections in society. It's supposed to be a conscience with a backbone; the building that makes all the other buildings in the city center behave better because someone's watching.
Observer executive editor Rick Thames says Charlotte's not in danger of losing journalism devoted to public service. "The Observer has never been special because of its building," he says. "That's been about its people and their dedication to serving and protecting this community. They are still here, as passionate and vigilant as they have ever been."
Few mourn the pending demolition of the newspaper's physical building, which is squat and Soviet-looking. Before it was built in 1972, the publisher looked where a lot of Americans were looking in the early 1970s: the suburbs. General Manager Bill Dowd made the announcement to stay uptown in his own paper, and showed concern for the city and the newspaper's place in the nucleus of a healthy community. "We are hopeful that the developments we have in mind will be an enhancement of downtown and a stimulus to plans for revitalizing the central business district," Dowd wrote at the time, according to the Charlotte-Mecklenburg Historic Landmarks Commission.
The resulting building was severe and imposing—as it should be. A newspaper should make people in power believe that if they're doing something wrong, they're going to be caught.
The Observer's 9.4-acre site will now make way for a large, mixed-use development. That's not necessarily a bad thing, says Jennifer Henaghan, deputy research director for the American Planning Association and a self-described newspaper fan.
"Clearly, it [the physical building] means something to the people who worked there," she says. "But the building itself may not have had a larger role in the social fabric of the city."
Henaghan tells me this over the phone from her office in Chicago, two blocks away from the iconic Chicago Tribune tower. It's for sale, too.
"Real estate and buildings are very expensive, and newspapers don't need the same kind of square footage they once did," Henaghan says. "It's fantastic the Observer was able to stay so close to its original location. Charlotte's in its name. It's more important for that kind of business to be place-specific in Charlotte, not 30 miles away in a suburb."
So what should we watch for at the NASCAR Plaza building, and newspapers everywhere? It's possible in the future that meaty investigative reporting work will be supported by nonprofits. It's possible that thoughtful, careful local news coverage will be funded by companies that make their bread and butter on cat videos. Maybe newsrooms don't need offices or signage at all, just computers with enough power to download leaked documents like the Panama Papers. We don't really know. But communities that don't reserve room at the table for the media make me uneasy. A favorite idiom in newsrooms is that sunlight is the best disinfectant, and I like my press out where I can see it.
---
This article appears in the July 2016 issue of Charlotte Magazine
Did you like what you read here? Subscribe to Charlotte Magazine »
---