Don't Cry For The Weepies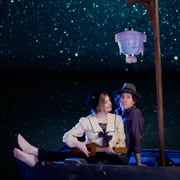 I love The Weepies — their music and their sense of humor. Here's part of an email they sent to their fan base (of which I am a member) in advance of their first tour in ages.
"AAAAAHHHHHH!! We are seven days away from tour, and appropriately freaked out. It's a big tour. We cannot wait. We're in good shape musically, but we have not packed yet and have no idea what we're wearing. Some shows are sold out and many will sell out by show day. We're bringing all our acoustic instruments and a lighting designer and a big set and we're not sure when we'll get another chance to do it quite like this."
The big tour bus bearing Deb Talan and Steve Tannen, their two young kids, their Candyland board game and all that equipment wheels into Charlotte Sept 7 for their show at McGlohon Theatre. Come see the band whose melancholy name has very little to do with their sweet, upbeat sound.
Did I mention they have a sense of humor? Check out Deb and Steve's Muppet doppelgangers.