Don't Forget: Spring Fashion Trends Presentation Thursday March 4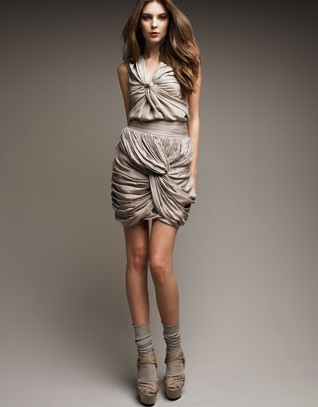 I know that the Olympics are over and everyone is about to return to their regularly scheduled DVR programming – but I implore you to set aside your normal schedule for just one night this week. Thursday, to be exact.
That is when Sarah Crosland (Charlotte Magazine Style Editor and former Shop Talker herself) and I will be presenting a bevy of fabulous spring fashion trends as part of Neiman Marcus' FASHION RULES! Party.
We'll be showing you how to wear trends like the one seen here – dramatic draping. Though, granted, I probably won't pair nude socks with a pair of high heeled sandals. But that is the difference between fashion marketing and fashion reality – and that's exactly the distinction Sarah and I will be there to provide. We'll give you tips on how to incorporate big trends in little ways and clue you in to the absolute must-have pieces of the season.
Not to mention there will also be cocktails, little yummies, and lots of other buzzy presentations including a fashion trivia game hosted by Rachel Sutherland and a presentation on Destination trends for the season, which is sure to make you want to book a flight to somewhere warm and tropical as soon as you get home.
Will we see you on Thursday night? Tweet at me (@jenntgrab) to let me know if you'll be there!