Donte's Opportunity
At 28, Donté Montague was injured and out of a job. When the Goodwill Opportunity Campus on Wilkinson Boulevard opened this summer, he found everything he needed to start again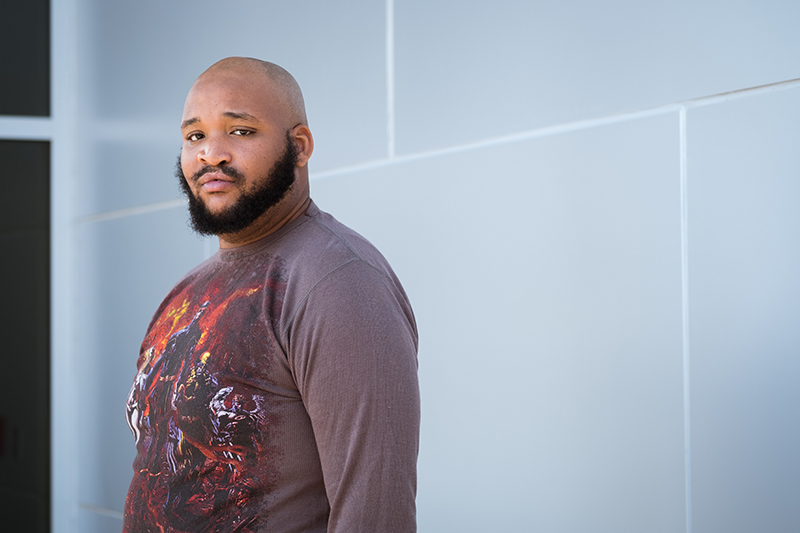 Donté Montague never wanted to leave New York. He's Bronx-born and bred. But his mom, Chevelle, left the city in 2008 to live near relatives in South Carolina. Worried about her 6-foot-5, 300-pound black son in the era of stop-and-frisk, she persuaded him to move to Manning, South Carolina, population 4,108, in April 2010. "That's the day my life slowed down," says Montague, now 28. "She was like, 'Things can go wrong,' and she thought maybe I'd get some kind of beating. So she wanted me to come down here where it was safer."
Naturally, here's where he got hurt.
He met his girlfriend, Anita Washington, who lives in Charlotte, two years after he moved, and he eventually moved in with her. In June, she was driving down Donald Ross Road on the west side, with Montague in the passenger's seat—he doesn't drive—when a man rear-ended their car. The collision aggravated a back injury Montague had sustained working in a warehouse in South Carolina. At the time of the accident, he was doing similar, low-wage manual labor for a west Charlotte pallet recycling company. After the accident, he couldn't lift or haul with an injured back. He'd been hurt off the job, so the company let him go.
"At first, things were looking bleak and dreary," he says when we speak in early August. "Then I remembered Goodwill, and I said, 'Yeah, let me go over there.' "
Goodwill Industries of the Southern Piedmont's Opportunity Campus, which opened in June on Wilkinson Boulevard near the airport, was envisioned and designed for people in Montague's fix: the working poor, folks one injury, illness, or layoff away from dire poverty and loss of hope. The idea behind the $22 million project is to provide job and life skills services on the west side of town, Charlotte's poorest, for people who can't afford them—and to provide them under one roof. The campus includes the Leon Levine Opportunity Center, a 160,000-square-foot complex that houses not just Goodwill but a health clinic, a bank branch, classrooms for job training, and community nonprofits.
There's also a bus stop, which Montague needs. He'd bought furniture at Goodwill's old retail store, a few miles down Freedom Drive from where he lives with Anita on Marble Street. But Goodwill shut down the old store when the new campus opened. It took him an hour to get there by bus when he first visited in late July, thinking he'd see if he could earn a forklift operator's certification and get hired back by his old company.
But the more offices he visited and people he talked to, the more options unfolded in front of him. After his visit, Montague decided to forgo the five-day forklift operator's course for a six-week construction course, starting in late August, to earn the forklift and three other certifications. "Just to give me a little side thing I can do, too," he says. He was trying to get into one of Goodwill's personal finance classes, as well, to learn basic budgeting and money management skills.
"I walked through the whole thing, and I was like, 'Yeah, this is nice!' And everybody's nice. You walk through the hall, people say hi, let you know about things, ask if you need any help," he says. "You know that if you need to, you can go there and get something that can help you better your life. That's the real best part about Goodwill," he says. "I just want a good-paying job right now, not no nine-dollar-an-hour thing. I don't just want to be able to pay my bills and have to go use the bathroom at somebody else's house because I can't afford toilet paper, you know?"
Of course, now he has a reason besides himself to want a better job and life. Anita's expecting their child in November. "I've been wanting a boy for 18 million years," he says with a chuckle. "I've got a feeling it's going to be a girl."
---
Levine Opportunity Campus Partners
These are the businesses and nonprofits that operate in Goodwill Industries of the Southern Piedmont's new west side campus. For more information, go to goodwillsp.org or call 704-372-3434.
CHARLOTTE COMMUNITY HEALTH CLINIC
A sliding-fee scale clinic that provides health services to low-income and uninsured adults.
THE CENTER FOR COMMUNITY TRANSITIONS
A nonprofit that helps clients with criminal records nd job opportunities and build career and life skills.
COMMON WEALTH CHARLOTTE
A nonprofit that gives low-income workers access to financial education and low-interest emergency loans.
CHARLOTTE METRO CREDIT UNION
A bank that serves the unbanked and people who need to rebuild their credit histories through access to checking accounts, transfer programs to build savings, and specialty loan programs.
---
By the Numbers
2: Tons of pork Barbecue Center in Lexington will send to this month's Lexington Barbecue Festival.
1,740: Laps Jimmie Johnson has led in races at Charlotte Motor Speedway, which hosts the Bank of America 500 on Oct. 8.
469: Miles of the Blue Ridge Parkway in North Carolina. They'll be packed with "leaf peepers" this month.
1,296: Weight, in pounds, of the largest pumpkin ever grown in North Carolina. The orange fruit tipped the scales at the 2014 State Fair.
---
This article appears in the October 2016 issue of Charlotte Magazine
Did you like what you read here? Subscribe to Charlotte Magazine »
---