Dos and Don'ts of Partying During CIAA Week
Follow these tips if you're partying in Charlotte between February 27 and March 4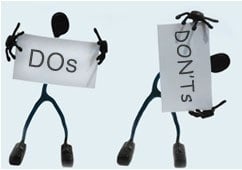 There are more than 200 parties scheduled to take place in Charlotte while the CIAA Tournament is here. As is the case each year, party promoters, event planners, nightclub owners, and the like seek to capitalize on the tens of thousands of visitors coming to Charlotte that week to party. Just look at the CIAA talk on Twitter—there's almost no mention of basketball.
But not all parties—or planners—are created equal. Here's how to get the most out of your partying.
DOs
-Do buy your tickets in advance. Most of the parties began selling advance tickets a month out or longer. Prices tend to go up each week, and at some of these parties the admission at the door will be astronomical.
-Do read the flyer or event description closely, especially if a famous rapper or singer is promoted as being there. If the description doesn't say that Lil Young B. Man is performing live or something to that effect, he's probably just hosting the party, which could mean you only see him a few times when he emerges out of VIP.
-Do attend at least one day party. That's one of the things that makes partying during CIAA Week special. There are dozens of day parties scheduled on Friday and Saturday, March 2 and 3 beginning around noon, at some of the trendiest nightclubs and bars in Charlotte. See what these places look like inside when it's light out. And see what these guys and girls look like when it's light out. DJs will be playing, the bars will be open, and, in some cases, celebrities will be appearing.
-Do tip the bartenders and servers well. They're tending to larger than usual crowds—hopefully management is staffing as many workers as possible—and everybody in the party wants their drinks at the same time.
-Do visit the CIAA Toyota Fan Experience, taking place Friday through Sunday at Charlotte Convention Center. The CIAA puts on this series of events each year for the public to attend for free. There will be interactive zones, fashion shows, cooking demonstrations, DJ battles, and free concerts by several national recording artists, including Avant, Boyz II Men, Estelle, and Omarion.
-Do try to attend at least one basketball game. That's what's at the core of the CIAA Tournament, after all. The men's and women's teams from these HBCUs play hard. Plus, there are entertaining halftime shows and sometimes famous musicians will perform. It's also common to see celebrities sitting courtside.
-Do take some time to see what else Charlotte has to offer if you're visiting from out of town. We have some great restaurants, local shops and boutiques, museums, art galleries, and more.
-Do share the list of events and parties we've compiled at www.charlottemagazine.com/ciaa with your friends (and on Twitter and Facebook) so you all can properly decide which parties are the best fit for you.
DON'Ts
-Don't pay too much to party. You know what your budget is and you might have stacks of cash you're ready to spend, but if the ticket price is high and it's not offering many amenities (big-name DJ, special entertainment, complimentary food, etc.), why pay five times more to party at a particular club on CIAA Saturday then you would the following Saturday?
-Don't place too much stock in a party being put on by some promoter or entertainment company that doesn't have a website listing parties they've organized in the past. Now is not the time to take chances with novices.
-Don't be overly concerned about partying where everyone else is. That's not possible. On Friday and Saturday night, there will easily be at least 20 parties that have reached capacity. Just decide where you and your friends want to go, and have fun there.
-Don't drive up and down Tryon and College streets in your fancy whips. You're only adding to the traffic.
-Don't expect to get a hotel room for a reasonable rate in uptown (many hotels are sold out of rooms for that weekend) if you're trying to book your room when you arrive. Plus, keep in mind that some hotels require a two-night minimum stay. Veteran CIAA partiers made their reservations long before 2012 rang in.
Follow Charlotte magazine contributing writer and blogger Jarvis Holliday on Twitter @HollidayInk.
For more of our comprehensive coverage of the 2012 CIAA Tournament, including an events and parties list, stories, and photos, visit www.charlottemagazine.com/ciaa.