Dot Dot Dot Serves Classic, Inventive Cocktails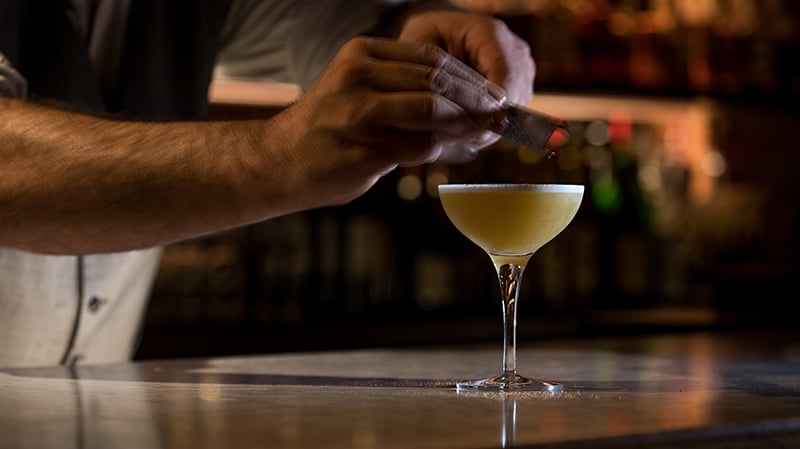 THERE'S NO NEON SIGN or fancy façade marking Dot Dot Dot, the self-styled "culinary driven bar experience" in Park Road Shopping Center's Backlot. The back deck of the Flying Biscuit restaurant above the basic brick entryway will be your only bread crumb.
You might think you've been transported to the era of back-alley speakeasies and secret passwords. That's just the mood partners Stefan Huebner (former master mixologist at Cosmos Café and Heist Brewery) and Conrad Hunter (owner of Foxcroft Wine Co.) were aiming for at this members-only bar.
Huebner says Charlotte needed a sophisticated venue where innovative cocktails aren't jockeying for center stage with the craft beer-of-the-moment. The marble bar accentuates a surprisingly accommodating atmosphere, with its wood-paneled, book-lined walls. The silken soundtrack of legends such as Dean Martin, Frank Sinatra, and Etta James helps set a relaxed tone.
Was it mere coincidence that James' "At Last" was playing when I took my first sip of a flawless dirty gin martini? I think not.
Classic cocktails such as the Gibson, the sidecar and the Manhattan are pleasantly retro. Creative house specialties, with names including "Bi-Plane," "Hit the Wall," and "Thai Basil Smash" on a recent menu, cleanly break with tradition. The last is my personal favorite, blending cognac, gin, and Asian spices with an infusion of fresh basil that nicely complements instead of overwhelms.
The dining menu's small plates, ranging from cheese plates to bone marrow, merely buttress the drinking experience. But when they're spot-on, such as the buttery-tender char-grilled octopus, you might consider doubling the portions for your next trip. That's the key to Dot Dot Dot's spell: Nurse an old-fashioned one day after work, come back next time for a midnight "Truffle New York Sour."
Because you will come back.