Down on Main Street: Kindred Restaurant
Spot combines fine-dining tastes with hometown service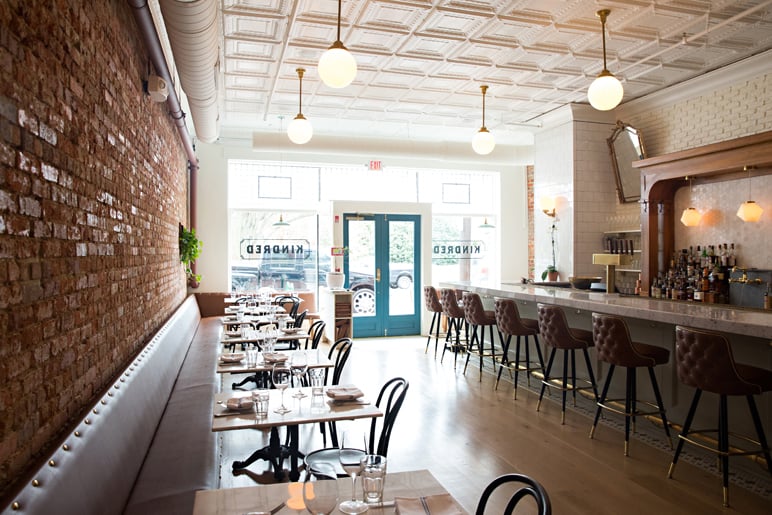 IN THE MONTHS before opening their much-anticipated Kindred Restaurant, owners Joe and Katy Kindred gutted all three floors of an old brick building in Davidson—the bottom for a kitchen and chef's table, the ground floor for a bar and seating, the third for more seating. As they renovated, they came across objects left behind from the days when pharmacists kept medications in glass bottles here. Katy was inspired.
She began researching turn-of-the-century pharmacies, creating an idea for how the restaurant could reflect its past, before the building was a Davidson College store and before it was a gnome museum. An old photograph of the pharmacy showed brass light fixtures similar to the ones now hanging above the bar. She and Joe uncovered an old, heavy wooden mirror leaning against a stairwell. They removed the mirror and added shelving for liquor, and its frame now surrounds Kindred's bar shelves.
Since opening in February, Kindred has had a warm reception. Businesspeople line the bar after work, while diners fill up tables later in the evening. Nearly as soon as water glasses are filled, milk bread arrives at the table in a whimsical display, but it won't stay pretty for long. One bite of the soft, slightly sweet bread with salt on top, and it's hard to stop tearing it apart.
The menu is varied and can be somewhat intimidating for people unfamiliar with terms such as cotechino (a salami-like cured meat) and chermoula (a seasoning popular with seafood in Moroccan cooking). But the staff members know the menu, and the big words on it, and are happy to answer questions. Kindred's single page listing its dishes, which change frequently, is divided into soups and salads, pastas, meats, and side items, and all are served as smaller, shared options.
To start, order the cheese. A server rolls out a cart holding that day's cheeses and cuts your selection in front of you (each one is $4). The salumi, a collection of house-cured meats, makes for a great accompaniment.
The rolled noodles in the duck garganelli ($17) hold the flavor of a Bolognese-style sauce, while the tortelloni ($15) is bathed in a Gruyère sauce. Decadent scallops are served over a puree of roasted sunchoke, and dashi is poured over it tableside. A few dishes could placate a less adventurous eater: The duck fat potatoes add a little something extra to regular french fries, while the pasture-raised chicken is a serving nearly large enough to pass as an entrée.
The dishes, from their names to their ingredients, create an environment of fine dining. But everything else is accessible to anyone. The dishware is vintage, but the wine glasses sparkle. When you step away, a member of the staff steps in to refold your crumpled napkin and clean off any crumbs on your seat. You can eat well and be treated well, the Kindreds believe, without having to adhere to a dress code.
"Just because the food is executed at a high level and we source the best ingredients doesn't necessarily mean it has to be fine dining," Katy says. "I think you can have a place where you can afford to go once a week, where it's a fun place to be, and it's lighthearted."
Kindred Restaurant
131 N. Main St., Davidson
Shared plates $6-$24
980-231-5000
BR, L, D, FSB, P, R