Dragons, Ring-Holders, & Sunglasses for Big Heads: 4 Charlotte Kickstarters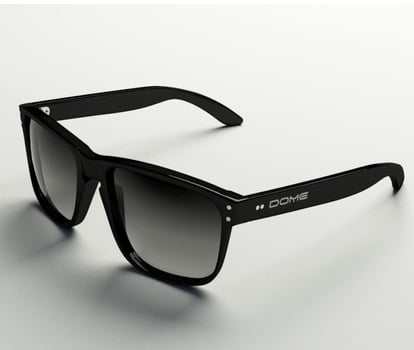 Kickstarter.com, aside from being the Web's top crowdsourcing service, is a treasure trove of innovation (and oddities). It's a common tool for Charlotte's tech start-ups and bands who need some extra cash to record, but that's not all. The Revue blog has compiled a list of our favorite, sometimes unorthodox products currently asking for your money. Let's start it off with a cause.
---
1. DOME Shades.
Andrew Reagan loves sunglasses, but one thing has always made it difficult to find the right pair: He has a big head. No, this isn't an ego thing. Reagan says he his head is just too big to make wearing regular sunglasses comfortable. That's why he's created DOME Shades, fashionable glasses for anyone facing this issue.
"If you have been called any or all of the following names throughout your life, DOME Shades will fit: egghead, melonhead, uberskull, tengallon, bisonhead, wide-between-the-ears," the page says.
Bonus: 1-percent of the company's revenue goes to nonprofits that specialize in vision services for those in need.
Status: $2,847 pledged of $10,000 goal. Days left: 18.
---
2. Gyro Twins Food Truck.
Harry, George and Zabrina Pappas say that they're tired of frozen gyros. So they're starting the Gyro Twins food truck, hopefully coming to a rally near you. How much do they need to start slingin' the Greek dishes? The page says the goal is $20,000, with rewards that include "adhesive handlebar mustaches" and T-shirts.
Menu items for the truck include the following: traditional lamb gyro, our family recipe chicken gyro, vegetarian gyros with imported cheeses, Greek dips, fresh pita bread, real Greek salads, spinach pies, olive breads, and homemade dressings.
Status: $3,200 pledged of $20,000 goal. Days left: 6.
---
From the man who brought you Strong Like Bull magnets, the Spoke Pencil, and bottleLoft, comes the Ring Spike. If you need somewhere to place your ring during a project around the house or any other activity, the cone-esque post gives you a classy solution. The base comes in matte black, while the top portion can be either a stainless steel or brass finish.
A $20 pledge gets you a Ring Spike, while increased pledges simply increase the amount of Ring Spikes you get. How many Ring Spikes does one need? I don't know, man. That's up to you. Maybe save a couple for stocking stuffers this Christmas?
If you don't think this is something people would want, tell that to the 274 backers that have already fulfilled the asking price nearly three times over.
Status: $9,792 pledged of $3,500 goal. Days left: 2.
---
4. The Deep Sea, Blood & Ice Dragons by Kerem Beyit.
Robert Burke is a Charlotte game designer who created the world of Draco Magi, a card game. He wants to commission artist Kerem Beyit to complete art for the newest set of cards, but he needs the help of fellow game enthusiasts to do it. A new set of cards means a new set of dragons for fans.
Like the Ring Spike, though, Burke has already completed his funding goal. But there's still a potential for folks to get some prototype cards, posters, and other awards out of it.
Read more about Burke's other games here.
Status: $3,975 pledged of $2,000 goal. Days left: 13.