Dramatic Dining at Mez
Uptown's Mez has a new chef and a new menu, but nightlife still rules at this EpiCenter hot spot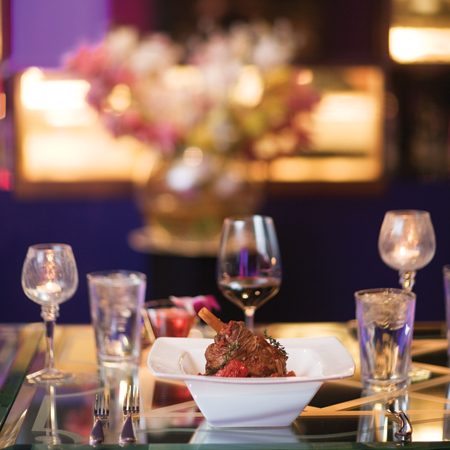 Red-velvet rope fittingly marks the entrance to Mez, the popular uptown lounge, theater, club, and restaurant. Once guests are beyond the velvet rope and doormen, they ascend through a cream-colored escalator tunnel illuminated by ever-changing lights and into a large lobby/kitchen/concession/hostess area—quite a dramatic scene leaving no doubt that Mez is the epicenter of EpiCenter.
The slick design is modern urban with onyx wood-grain tables throughout. There are two seating areas, an eighty-seat dining room and a mezzanine that seats another eight. The lively bar and two-story lounge that anchors the front of the restaurant is spectacular, lit by large windows streaming natural light during the evening and views of the uptown skyline after dark. Mez offers a premium cocktail list, including a proper Old Fashioned, made well with muddled fruit and good bourbon. At twilight, cocktails are flowing like wine, with a diverse group of attractive professionals in oversize sunglasses knocking back $7 G&Ts. Huge framed celluloid images of the Rat Pack and Marilyn Monroe flank the entrance of the adjacent theater, where you can order dinner and drinks while you take in a show. People get really excited when they explain this to me, but I'm not sure I dig dinner and a movie together. I just need popcorn and some Sno-Caps. Thankfully, Mez offers that, too.
At twilight, cocktails are flowing like wine, with a diverse group of attractive professionals in oversize sunglasses knocking back $7 G&Ts.
The restaurant is open for lunch, but it is not a lunch place per se. It's too cavernous, and the ambience feels cold. Still, the hummus, tzatziki, and baba ghanoush appetizer satisfies, even if the house-made pitas are a bit cold and stale. Fresh mussels are well cooked in a gorgeous saffron-tomato broth that has wonderful acidic tones and an almost frothy texture that works nicely with the creamy mussels. Flatbreads are also available ($11), with several varieties offered, including mushroom and arugula with juicy baby portabella mushrooms. A cut of beef that shows up several times on the Mez menu is the butcher steak ($22)—a lesser known and flavorful cut, in this case charred perfectly, but served with limp truffle fries in a flat presentation. This is an example of what we experience at Mez throughout each visit. For every well-executed dish or part of a dish, there is something else equally shabby.
The dinner menu is large, with small plates, salads, flatbreads, and entrées available at a variety of price points, as well as the "Butcher Block" section, featuring steakhouse cuts of beef and one "Land & Sea" special for a ludicrous $49. The reserve wine list is impressive, with more than eighty, mostly Californian cabernets alone, and more than two hundred bottles total. Some of the small plates are delicious, but there are a few misfires. Well-seared scallops drown in a cloying plum sauce and are accompanied by a weak salad of jicama and apples that do nothing to challenge or complement either the palate or the eye. Linguini puttanesca is much better, though, with a lightly acidic tomato and olive sauce that begs for fresh grated pecorino, but sadly, our server never delivered on our request. Still, the linguini is springy and hot underneath the flavorful sauce. Lamb chops with saffron risotto is another one of those duplicitous dishes, as the promise of perfectly grilled lamb chops in a well-balanced sour cherry sauce is thwarted by a gloppy and underseasoned saffron risotto, something that is simply unfair for $30. Spice-seared mahi-mahi is even less impressive. It is difficult to detect the flavors of the sauce, even though the fish is covered in it.
After a recent shift in management and the addition of an executive chef, it appears change is afoot at Mez, with noticeable yet incomplete improvements. Award-winning chef Anoosh Shariat was hired last summer from Louisville, Kentucky, where he earned kudos in both fine-dining and casual circles. And he is still in the midst of many of the changes at Mez, including the menu, which now offers new choices. However, items on the menu still command high prices, with a very significant gap in value. Restaurants of this caliber, especially in this price range, should gallop on busy evenings; Mez just kind of canters along.
As the dinner hour ends, Mez begins its final push to closing time, with DJs spinning into the wee hours, taking on a Vegas look and feel. It is packed and loud and pulsing. And on a night like this, food seems like the last thing on anyone's mind. Mez is way bigger than that.
Jon Luther's Favorite Dishes:

Fresh mussels are steamed in a saffron-tomato broth ($9)
Linguini Puttanesca ($16)
Mushroom and Arugula Flatbread ($11)

Mez
210 E. Trade St.
704-971-2400 mezcharlotte.com
$$$, BR, L, D, FSB, R