Dramatic Homecoming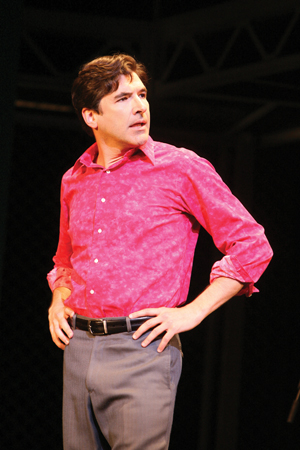 Charlotte native Jonathan Hadley will bring a taste of the Shore to the Queen City as part of the Jersey Boys national tour. The Myers Park high grad plays Bob Crewe, the Four Seasons' producer, in this Tony-magnet musical. here's what he had to say about the Jersey Boys' success, playing a living legend, and coming home.
What will it be like to come back after such massive success?
It's just going to be a big reunion. I have lots of social activities planned, hosting a luncheon for NCSA alumni and Queens alumni. I've been teaching a lot, so I'm hoping to get a chance to teach some masters classes. I'm looking forward to seeing how the Charlotte audiences respond. It's been my experience that they're terrific audiences: responsive, appreciative, and they enjoy live theater.
What's the skyrocketing of Jersey Boys been like for you?
I've never been in anything that's quite like this. It's still a huge hit on Broadway, and there are six companies of Jersey Boys all around the world. But we're the only one that's touring, and I love taking it to different parts of America. I've loved playing Bob Crewe. He's really such an interesting, flamboyant, smart, creative guy that is fairly unknown to the general public. He wasn't necessarily an out gay man, but he was in an industry that's very straight. He was a pioneer. And then I get to play this other character who's totally opposite, very Jersey, Sopranos-type character. So I get to stretch myself.
What made Bob Crewe a unique challenge after other roles you've played?
What has made this a unique challenge is playing a real person. That's the thing with Jersey Boys: everybody's real, alive. I always feel a responsibility in being true, in not making them into a cartoon.