Draught Charlotte
With 40 beers on tap, a gastropub reimagines the former Hartigan's spot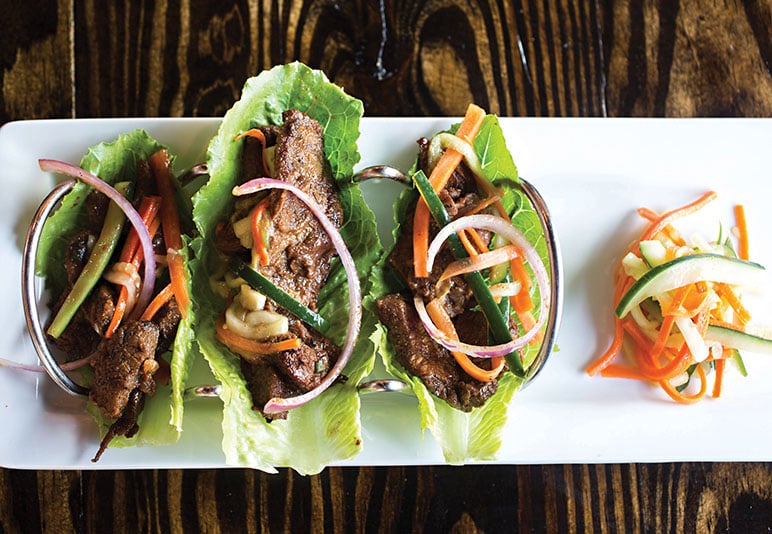 Draught Charlotte is not a sports bar. At least, it's not just a sports bar, although it has all the markings of a game-day destination. Sitting in the shadow of Bank of America Stadium, the new gastropub has a herd of prominently placed, 60-inch HDTVs. When the Panthers are playing, they're on the TVs here, and on college game days, the pub hosts alumni from Clemson, Michigan State, and the University of Miami.
Opened in August, Draught is barely recognizable as the former Hartigan's Irish Pub. The decor is simple, with refinished floors, burnt-wood accents, and paintings by local artists Matt Hooker and Matt Moore. An expansive new deck offers plenty of outdoor dining, and a large garage door gives the space an airy feel when it's opened on nice days.
The menu from Executive Chef Tony Maiolo is an elevated take on Southern bar food with a fusion of influences from all over the world. An egg roll of the week ($5) is an unusual signature item, recently executed as a Rueben and a loaded mashed potato. But there's something for nearly everyone here, from pimento cheese fritters ($7) and fried green tomatoes with goat cheese ($6) to a selection of flatbreads, a warm kale salad ($12), and Korean Bulgogi lettuce wraps ($14).
In the evenings, the bar scene is lively: Thursdays and Fridays bring live music to the patio, and a pared-down menu is served from 10 to midnight. In addition to the 40 craft beers on draft—15 taps are devoted to local brews—the pub is one of a few restaurants in the city with liquor on draft, offering mojitos, Moscow Mules, and other specialty drinks served in Mason jars.