Dreaming of a Dine-Out Christmas?
You're not stuck in the house for the festivities this year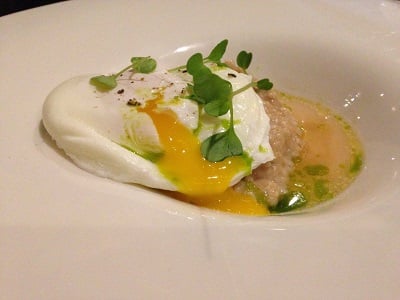 Unlike the holiday classic A Christmas Story would have you believe, there's much more open in terms of dining options on Christmas than your run-of-the-mill Chinese eatery. Several Charlotte eateries will be hosting special Christmas Eve and/pr Christmas Day dinners, so you don't need to worry about perfectly cooking a Christmas goose, ham, or whatever other animal your family demands at the table.
The Asbury: Chef Chris Coleman's restaurant in uptown will be hosting a Christmas day dinner with seatings at 4 and 6:30 p.m. The three-course prix fixe dinner is $55 for adults; $25 for children ages 6-10; and free for children younger than five. On the menu are choices ranging from chicken liver risotto topped with a creamy poached egg; Osso Buco with whipped potatoes, roasted beets, and blue cheese butter; campfire trout with pickled greens, roasted tomatoes, and cornbread puree; and much, much more. Visit the event page for more information; make your reservations here.
____________________
Blue Restaurant & Bar: The uptown restaurant will host a special Christmas Eve dinner from 5 to 9 p.m. featuring live music and a three course dinner special for $39.95 per person. Dishes will include a choice of baked stuffed lobster or bison ribeye along with several dessert choices including sticky toffee pudding and white chocolate creme brulee.
____________________
The Blue Taj: If you're craving something outside the norm, head to The Blue Taj in Ballantyne for a bit of Indian flare. They'll be open for full service on Christmas Eve and Christmas day. Grab a spot in the moody interior and kick back with a mango lassi and lamb vin d'alho.
____________________
BLT Steak: The uptown eatery will be open on Christmas Eve for breakfast from 7 to 10:30 a.m. and for dinner from 5 p.m. to close. A three course blackboard special will be featured along with the full a la carte menu; specials include a smoked sea salt crusted Delmonico with bone marrow and pickled onions, plus a black grouper with cauliflower, brown butter, and lemon caper vinaigrette. The restaurant will also be open on Christmas day from 7 to 10:30 a.m. for breakfast and from 2:30 p.m. to closing fpr lunch and dinner. Reservations are available online at www.bltsteakcharlotte.com or by calling 704-972-4380.
____________________
The Gallery Restaurant: Head to south Charlotte's Ballantyne Hotel & Lodge. The Gallery Restaurant will be open for dinner on Christmas Eve from 4 to 9 p.m. and will feature its regular menu along with a prime rib dinner special. Additionally, the restaurant will offer a Christmas Brunch on Christmas day from 11 a.m. to 3 p.m. Cost is $75 per person; $35 for children ages 5 to 13; and complimentary for children ages 4 and younger. The buffet will include a variety of seasonal salads, an assortment of cheese and seafood displays, breakfast items with omelet station, carving station and regional desserts. To make a reservation, please call (704) 248-4100.
____________________
Georges Brasserie: The French boulangerie will be open on Christmas Eve for lunch and dinner from noon to 9 p.m. Sample some of their fabulous French fare like the Bourguignon de bison with potatoes, creminis, carrots, onions, and lean, delicious bison. Also, leave room for some of those rich French pastries. Click here for reservations.
____________________
Passion8: Join the Annunziatas for an traditional Italian Feast of the Seven Fishes Christmas Eve dinner. The event begins at 6:30 p.m. of Christmas Eve; a prix fixe menu featuring all seven courses is available for $75 per person. The a la carte menu is also available from 5 to 8 p.m. Chef Luca will be dishing up everything from a traditional seafood soup to a swordfish roulade with fried capers and potatoes to lobster risotto. Hurry and make your reservations by calling 704-910-3161 or visiting the website.
____________________
RockSalt: Care for some seafood? RockSalt will be open on Christmas Eve with their full menu available. Grab some small plates, sides, soups, a la carte fish plates, and anything from the raw bar. Make your reservations here.
____________________
Stagioni: The Moffett Restaurant Group's Italian eatery will be serving up a traditional family-style Christmas Eve dinner from 5 to 8 p.m. with five course for $60 per adult; $25 for children. Dishes include spuntini, salads, choice of porchetta or whole roasted fish, housemade pasta and dessert. Call 704-372-8110 to reserve your spot.