Drink Spotlight: Snooze in Plaza Midwood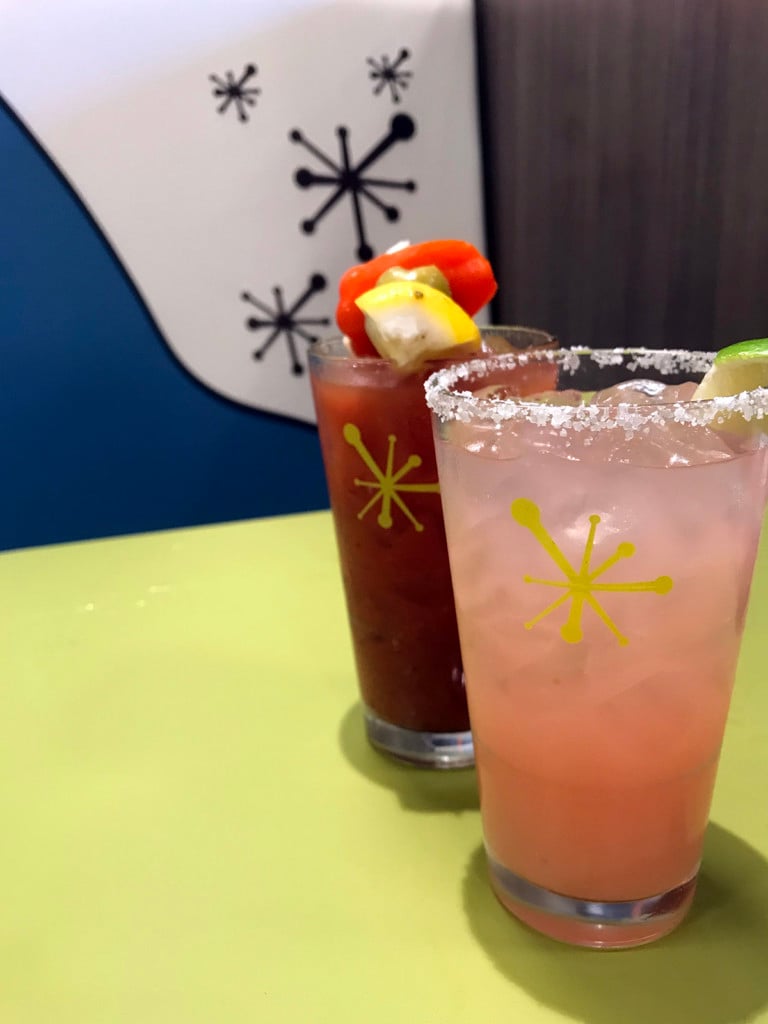 THERE'S A CERTAIN AMOUNT of irony to a breakfast restaurant named "Snooze" with servers in metallic green pompom wigs dancing six feet away from you at the beverage station to Kelis' "Milkshake."
There's even more irony about the decibel level of Britney Spears' "Circus" when you consider the restaurant in question, which through painstakingly accurate detail, has created a space that looks like what I imagine Cloris Leachman's kitchen in the '70s looked like – metallic-lined rounded lime green tables with lime green and orange walls accented by white Space Age retro jacks.
Snooze, which has locations in Colorado, Arizona, California, and Texas, calls itself an "a.m. eatery." It officially opens in Plaza Midwood this week, and it's a remarkable amalgamation of contrasts: retro décor with dance club-loud bops, bright orange trying and failing to blend with lime green and, most fortuitously, a breakfast drink menu specifically curated with nearly two dozen libations.
To hell with someone telling you it's too early to drink.
Snooze offers all the brunch regulars – mimosas, Bloody Marys – but it takes breakfast drinking to a delightfully new, somehow appropriate level. Even the "regulars" are punched up. The "Rummmosa" comes with spiced rum and orange liqueur, the "Cute Cumber Mimosa" comes with white rum, and the "Boss Hog" is a Bloody Mary that comes with bacon-infused bourbon.
That's right. Bourbon.
When my husband, Nate, and I stopped in on a pre-grand-opening packed Saturday afternoon, we ordered a "Wicked Watermelon Margarita" and the Boss Hog. Never have I ever have a margarita with breakfast. I have been living a lie. Margaritas go great with eggs just as well as with tacos.
Keeping in line with the vintage grandma's kitchen vibe, both drinks came in a plain glass, accented with that same Space Age jack. The lack of a margarita glass combined with the lime green tabletop made it feel like my drunk grandma, on a whim, felt like making margaritas for her mahjong crew, threw in some watermelon and said, "Hey, whatever, enjoy this thing I just thought of."
It was delicious, accented by the jalapeno-infused tequila.
Then came the "Dirty Drunken Chai," an iced chai latte that comes with coffee liqueur and rum because after you've already made the bold choice to pair breakfast with tequila, what's a little Kahlua to boot? It, too, comes in this same style glass because you're at grandma's and why are you being so picky about your glass, anyway?
You're probably drunk now anyway. It's time to go home.
Misner is a writer for this magazine. His work has also appeared in The Chronicle of Higher Education, The Knot and Logo.
---
Read more about Snooze here.