Drinking With Chicken: The Roasting Company
Restaurant adds a new bar, but its beloved rotisserie style remains the center of attention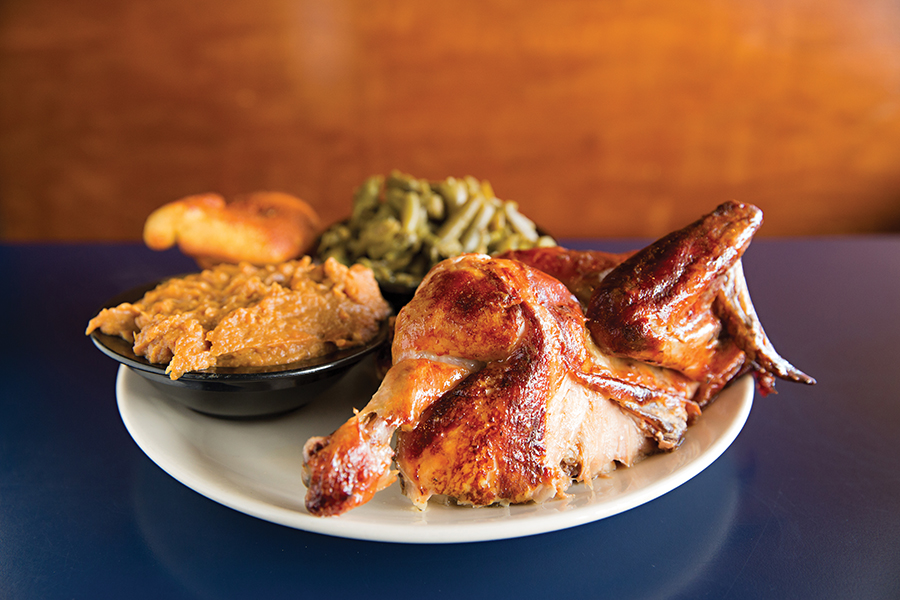 Not too long ago on Montford Drive, there was a restaurant without a bar. It didn't mean to stick out, this restaurant, but it did.
It got along just fine for more than 20 years without a bar. The restaurant opened in 1991 in the little corner of a building, and it served rotisserie chicken like Charlotte had never tasted—with a special marinade from Costa Rica and a gas-fired brick rotisserie. The Roasting Company wasn't fancy, but it didn't have to be.
This little rotisserie chicken place made its little rotisserie chicken, until it became big. People liked it because it was a little healthier than its fried cousin. They felt less guilty after eating it. Two years after opening, the Roasting Company expanded. Business grew and the menu grew, all on the bone of chicken.
A few years ago, though, a local beer movement began. People started saying new words around the old rotisserie chicken restaurant, funny words like "Olde Mecklenburg," or "Hop Drop N' Roll," or "Triple C," or "Birdsong."
So the owner, Doug Bell, a Charlotte native, made a decision last year: Let's add a bar. Last summer, the Roasting Company underwent a quick update. Now with a slick, wooden bar, the Roasting Company can respond to those funny new words. All the beers on tap are from North Carolina breweries—everything except Guinness and Pabst Blue Ribbon, that is.
The chicken's still the main idea. You can eat it off the bone, in quarter-chicken ($6.90 for dark) or half-chicken ($8.32 for dark) amounts. There's also a stellar chicken sandwich, which is a quarter-pound of meat lumped together in the shape of a softball and dropped on a bun ($6.85).
That's all the same as it has been for nearly 23 years. Only now, you can eat all that familiar chicken at the new, slick bar. You'll see it when you get there: It runs parallel to the road, so when you sit down, your back will face Montford, and you'll be perfectly in line with the surroundings.