Drinks with Brandon Huskins
The general manager of World of Beer in South End opens up about what's hopping at the new brew haven.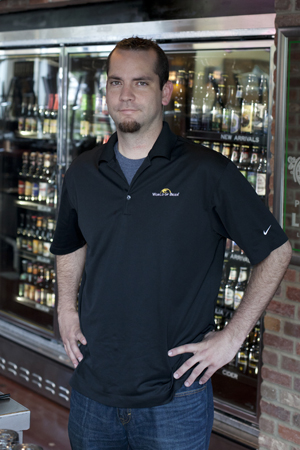 Person, dead or alive, you'd love to find sitting at the WOB bar? Jackie Robinson.
Which beer would you serve him? Brooklyn Pennant Ale: it's the beer named after Robinson's team, the Brooklyn Dodgers.
What sets WOB apart? We are an entertainment venue purely devoted to American specialty and import craft beers. We don't serve wine or liquor, and we allow outside food.
Pick the brew, the local restaurant food you'd order in, and the live music you'd have playing for your ultimate WOB experience: La Fin du Monde Belgian triple, sushi from Nikko, and Ingram Hill playing live.
Pick a beer for each place. The beach? Imperial Costa Rica Pale Lager A summer barbecue? Ommegang Hennepin Belgian Saison A fancy dinner? Russian River Supplication Flemish Sour Ale
With 500 beers and 60 taps in-house, what's your warm weather go-to? You can't go wrong with a refreshing cider on a hot day.