Drinks with Joshua Cain
The Ritz-Carlton executive pastry chef (he started as an intern), shares the secret behind being pastry king over a glass of shiraz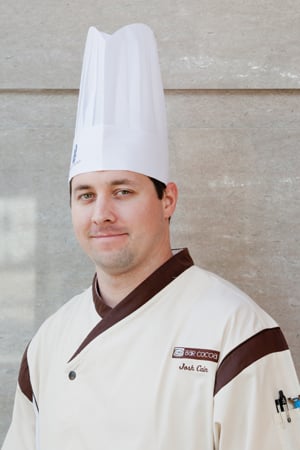 Most important ingredient(s) in your kitchen cache?
Butter, eggs, sugar, and flour; you need all four, but with them alone, you can make a million things.
Pastry on the Ritz-Carlton menu that takes the most time to make?
Bread—especially focaccia or brioche.
Biggest hit at Bar Cocoa?
The Bar Cocoa signature—a bar-shaped slice of hazelnut dacquoise with chocolate cream and a hazelnut- and-chocolate glaze.
How long did it take to create Madam Cocoa (the five-foot-eight sculpture and Bar Cocoa muse made of chocolate)?
Ninety-five hours.
Best drink-and-pastry pairing in the house?
The dark chocolate hot cocoa, with Baileys, and tiramisu.
Only place you'd rather be besides the kitchen?
Other than with my family, flying a helicopter; that's a dream of mine.
Guilty-pleasure pastry?
Rum- roasted pineapple tarte tatin.
Pastry icon in your family?
My great-aunt; she made the best banana pudding, and everything was from scratch.
Holiday dessert you have to have?
Pumpkin cheesecake—with cider.
Pop-Tarts or Toaster Strudel?
Toaster Strudel!