Driving Charlotte to the Outer Banks: 3 Great Stops Along the Way
Here's your itinerary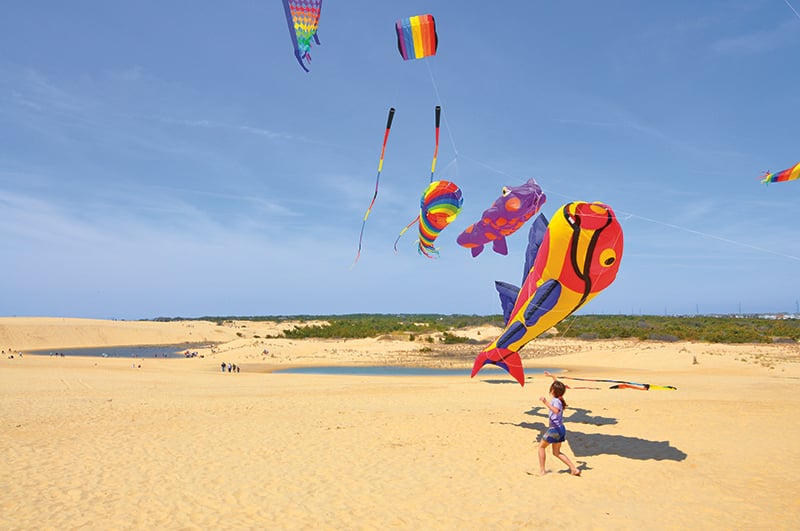 N.C. is the widest state east of the Mississippi. The trip from CLT to OBX covers 350 miles—or three-fifths—of it. Use the opportunity to eat a true Carolina lunch, take in some ancient wonders, and find a regional perk in Rocky Mount.
Stop 1: Bar-B-Q Center
900 N. Main St., Lexington
DISTANCE: 57 minutes
If you're traveling anywhere near Lexington at lunchtime, you have a moral obligation to stop for barbecue. This joint opened in 1955 as The Dairy Center, a business that primarily sold ice cream. Its owners built a small pit to offer something else during the slow winter months, and the barbecue caught on. It's a spot so friendly, it even gives away the secret to its light-brown sauce on the website: "ketchup, pepper, salt, water, and hot peppers. It's very tangy alone but calms down on the meat." First-timers should get a combo plate to conduct a proper survey: chopped pork, ¼ white or dark chicken, two sides, and a roll. (And yes, they still serve ice cream, even if the name eventually changed.)
Stop 2: North Carolina Museum of Natural Sciences
11 W. Jones St., Raleigh
DISTANCE: Two hours and 30 minutes
The oldest museum in the state displays some of its oldest residents. For those heading to the beach, take one look at the megalodon mouth on the first floor and you'll be glad they exited the oceans around 3.6 million years ago. Did you know its teeth are the North Carolina state fossil? You likely won't find any of those on the shores of the Outer Banks, but hunters find plenty of teeth of other shark species there (think Meggy's great-great-great grandchildren). On this free state museum's four floors, you'll also find dinosaurs, displays discussing the state's various terrains, and even live specimens of creatures that currently inhabit the Carolinas.
Stop 3: Books and Beans
1147 Falls Road, Rocky Mount
DISTANCE: Three hours and 20 minutes
Ah, the coffee stop—an essential of the 4-plus-hour drive. Let's go somewhere special this time. Palestinian-American author and professor Etaf Rum, author of the New York Times bestseller A Woman Is No Man, is a notable resident of Rocky Mount. In 2019, she opened an artsy coffee shop-bookstore hybrid in Rocky Mount Mills called Books and Beans. Rum herself curates the selection of books, which you can peruse as you wait for your locally roasted coffee from Counter Culture.
Final Stop: The Outer Banks
DISTANCE: Five hours
We get it: By now, you probably have your go-to beaches and restaurants in the Outer Banks. But there are a few treasures across the barrier islands that you may not have seen. In Frisco (52186 Morriss Lane) near Hatteras, there's a Futuro House. Fewer than 100 of those spaceship-like structures were manufactured as prefab homes in the late '60s. Now they're cult artifacts scattered across the world. The Alligator River National Wildlife Refuge (100 Conservation Way, Manteo) offers 152,000 acres and thousands of creatures to potentially spot. One more: Products from Outer Banks Distilling (510 Budleigh St., Manteo) have a pirate theme, including the award-winning Kill Devil Rum (which comes in gold, silver, and pecan varieties). The spot offers tours, tastings, and a slew of legends inspired by the bandits of the sea.