Dude, You're Getting a Festival
DudeFest debuts in NoDa on June 26. Because Charlotte needs to man up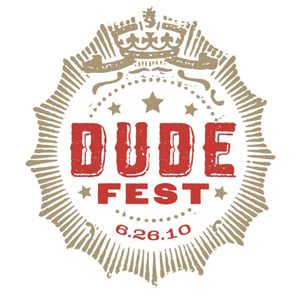 At a time when big beer companies are fruiting the beer (lime this, lime that), barbershops are offering pedicures, and men's fashion is embracing skinny jeans, a new local festival is coming to the rescue. DudeFest is taking over NoDa on June 26 in celebration of all things real dudes do.
A creation of Joe Kuhlmann, co-owner of the Evening Muse, this all-day event is in response largely to Charlotte's ranking in a national study last year. Snack food brand Combos commissioned research company Sterling's Best Places to determine the "Top 50 Manliest Cities" in America. Charlotte ranked second, only behind Nashville (New York placed fiftieth and Los Angeles forty-ninth—"girlie men," as Gov. Arnold Schwarzenegger would say). The study used criteria such as number of professional sports teams, popularity of power tools, and frequency of monster truck rallies (here are the rankings).
"When I heard we came in second, I was like, 'Well, why aren't we first?' " Kuhlmann says. "I figured let's put on a festival that celebrates all things guy oriented. Guys shouldn't be afraid to be guys anymore. I feel like there are not enough men being men, as far as owning up to things and being a good stand-up person."
Kuhlmann has experience putting on festivals. He and his wife, Lea, started the annual Charlotte FemmeFest three years ago, which celebrates women in the arts and music. He says that throughout the process of putting on the women's festival, men would often say to him that they wanted one, too. So when Charlotte got snubbed in the manliest city rankings, the ideas began to align.
One of the highlights of DudeFest will be the chicken-wing-eating contest. With a $5 entry fee and a timer set, you can have your go at a pile of wings from Wild Wing Café. And even as you're licking your fingers, you'll be happy to know that proceeds from this competition will benefit the Save the Ta-Tas Foundation, which raises money and awareness to fight breast cancer.
And what goes best with wings? Beer. So far, Kuhlmann has secured fourteen different craft beers from breweries and distributors in the region. For $10, you'll be able to taste each of the beers and then vote for the one you favor. "You'll give your poker chip to the beer you like best. And the winner will be the official beer of DudeFest for 2011," Kuhlmann says. Proceeds from this tasting will go to local charity Pints for Prostates.
There will also be a motorcycle competition where you can show off your hog. And, of course, there's music—twenty-one bands will perform at three different venues in NoDa: Neighborhood Theatre, Salvador Deli, and the Evening Muse. Scheduled bands include Breaking Laces, Leslie, Lucky 5, Jeremy Current, Deadstar Blues, Truckstop Preachers, Lou Ford, Transmission Fields, gogoPilot, and Damsel Down. The wrist band you're given during admission to the festival gets you into each of the venues.
Kuhlmann says that even though this festival is touting men, it's for everyone. During the day, you might even want to bring your family. "It's a tongue-in-cheek festival, not meant to be taken too seriously. We want to allow people to blow off some steam, have a good time, and raise some money for charity—a bunch of guys getting together to raise money for breast cancer research. Guys love breasts, too, you know."
What You Need to Know:
DudeFest 
June 26, 2 p.m.-2 a.m.
NoDa, corner of East Thirty-sixth and North Davidson streets
Admission is $20.
dudefestcharlotte.com