Duke, coal ash, and "cleaning up all that"
A year ago, Jim Rogers said Duke would clean up Charlotte's coal ash ponds. We're still waiting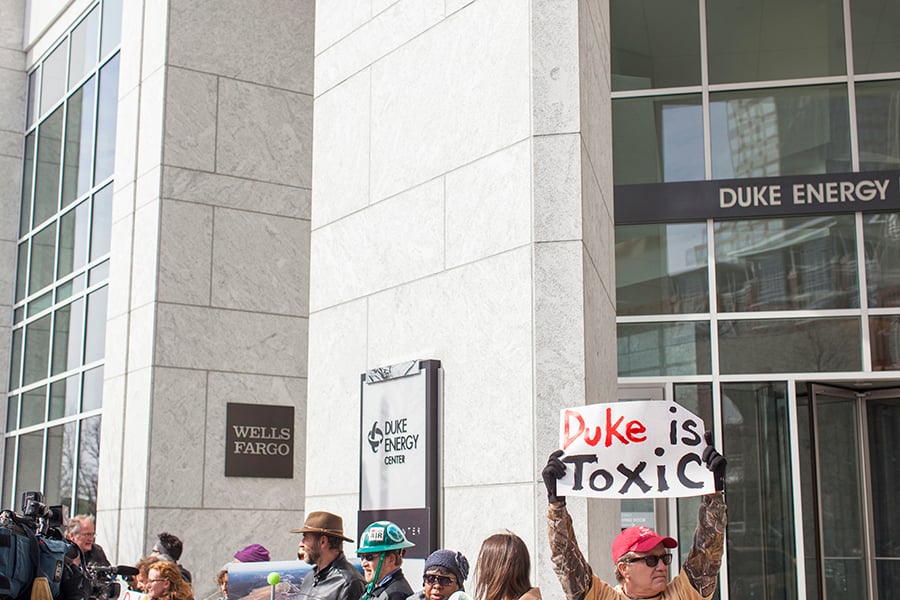 Last February, on Super Bowl Sunday, Jim Rogers sat in his living room and talked about the legacy he wanted to leave when he retired as CEO of Duke Energy. We were discussing the Riverbend Steam Station, the aging, coal-fired power plant near Mountain Island Lake that Duke had recently decided to shut down. Coal ash from the plant is stored in two large, unlined ponds by the lake, which also supplies drinking water to many people in Mecklenburg County. Environmental activists had pointed out—and a Duke spokesperson acknowledged—that a small amount of liquid was seeping from the ponds into the lake. I asked Rogers what would happen to the ponds.
"We'll ultimately end up cleaning up all that," he said.
A year later, Duke is scrambling to stop thousands of tons of coal ash spewing from another of its ash ponds, in Eden, North Carolina. A corrugated metal pipe broke, the Dan River filled with sludge, and the people of Danville, Virginia are frantically filtering toxins out of their water supply.
What's stopping that from happening here?
Riverbend's coal ash ponds remain as they were a year ago, untouched. State officials and environmental groups have sued Duke over the ponds—which the state says pose a threat to public safety—and the matter has not yet been settled. Duke has long contended that the seepage at Riverbend does not threaten the water supply. Yesterday, a Duke spokesperson told the Charlotte Business Journal that the company will either drain the liquid from the ponds and cover them with soil, or remove the ash entirely, but there's still no timetable on when that will happen. How is that different from Rogers's pledge to "ultimately" clean up?
In my research for the article on Rogers, I spoke to many environmental experts, on and off the record. They made it clear that even a small leak is worrisome. The coal ash ponds are unlined. They are already leaking. It's a "very realistic probability" that a larger rupture will occur, sending coal ash into our water supply, one expert told me. Frank Holleman, senior attorney at the Southern Environmental Law Center, expressed a simliar sentiment to WFAE last fall.
"We know they are storing 2.7 million tons of toxic coal ash in unlined holes in the ground next to Charlotte's drinking reservoir, separated only by an earthen [dam] that leaks," he said.
Sure, we can trust Duke, allow the company to keep studying the problem and promising long-term fixes, and hope the dam holds. Or we can look at the people of Danville, Virginia, and decide we don't want to share their fate.