Dumbnado
Two Carolinas governors, two feeding frenzies, united in dumb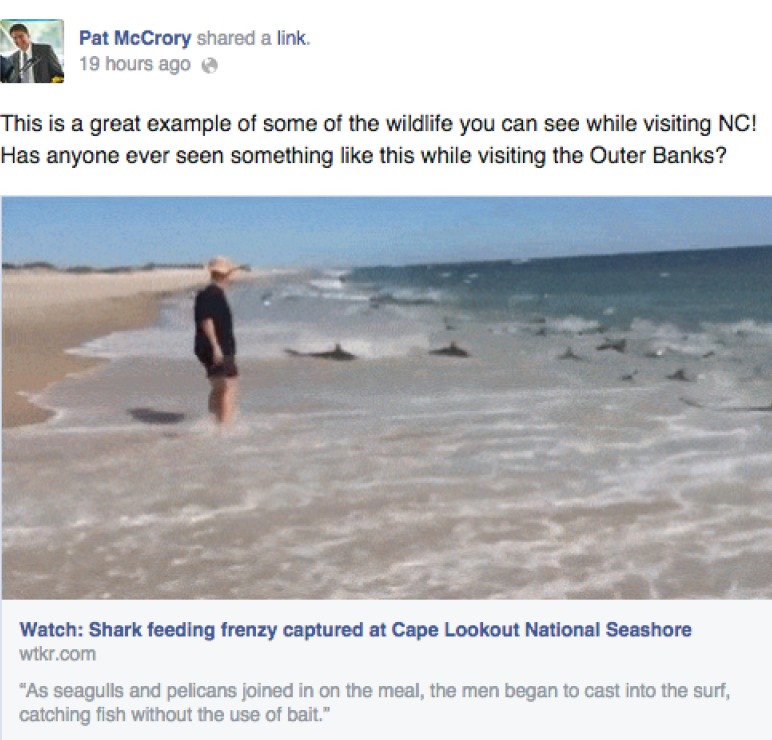 Two Carolinas governors, a whole lot of dumb.
Exhibit A: North Carolina Governor Pat McCrory's (or the administrator of his Facebook page's; still, it's in his name) reaction to this video, which shows a shark feeding frenzy at Cape Lookout National Seashore. The governor's take on this is reproduced above.
If you're the governor of a coastal state, and you want to boast about the magnificence of your state's wildlife, you might a) want to reconsider your full-throated support of oil and gas exploration that would endanger this wildlife; and b) choose as an example of the wonders of nature something other than a swarm of conscienceless, single-minded, savage killing machines feeding on creatures helpless to defend themselves.
Which takes us directly to …
Exhibit B: South Carolina Governor Nikki Haley and the people she really works for. During a gubernatorial debate Tuesday, Haley responded to Democratic challenger Vincent Sheheen's objection to the continuing display of the Confederate battle flag outside the state house:
"You know, the Confederate flag is a very sensitive issue, and what I can tell you is over the last three-and-a-half years, I spend a lot of my days on the phones with CEOs and recruiting jobs to this state. I can honestly say I have not had one conversation with a single CEO about the Confederate flag."
Assuming a certain number of CEOs who wouldn't even bother to get on the phone with her because South Carolina is South Carolina, this proves what, exactly?
I'm willing to stipulate that Haley also hasn't had a single conversation with a CEO about her state's ranking of 42nd in life expectancy, or its ranking of ninth in infant mortality. That doesn't mean the problem doesn't exist, just that the CEOs willing to talk to Nikki Haley about tax incentive packages care only about the flavor and quantity of the chum in the water.