Duped By Dulin: Bipartisanship Bites Local Dems in the Butt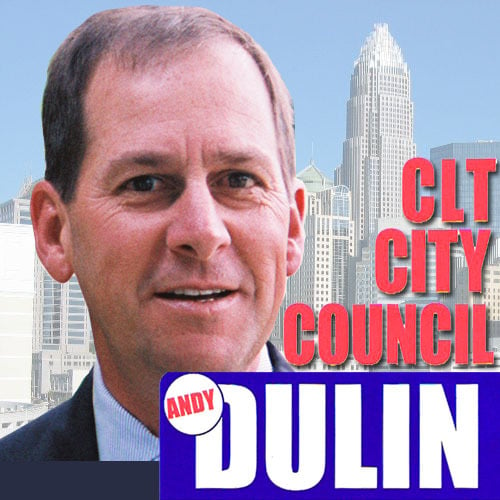 In late September, the Committee for Charlotte in 2012 announced the members of its Host Committee and Steering Committee for the Democratic National Convention. With more than 100 names, the list reads like a who's who of Charlotte and Carolinas business leaders and current and former elected officials. The DNC also touted bipartisanship, highlighting that it wasn't just Democrats giving their time and expertise, but that a handful of Republicans would be serving on the committees as well. One of those is Andy Dulin, a Republican, three-term member of Charlotte City Council.
Since Dulin, who represents District 6, didn't draw an opponent earlier this year in the primary or in the general election that takes place tomorrow, he's been devoting his time helping to promote his fellow GOP candidates. Last Wednesday, he recorded two political phone call messages, also known as robocalls, in support of Republicans Ed Toney for City Council District 3 and Dennis Peterson for District 5. The calls started going out to registered Democratic voters in Charlotte around Thursday. Why Democrats, you ask? Wouldn't they just ignore a call they received from a Republican asking them to vote for Republicans?
Well, in the calls, Dulin never says that he or his candidates are Republicans. Here's how he introduces himself: "This is Andy Dulin, Charlotte City Councilman and member of the DNC Convention Host Committee." You can listen to the 30-second call where he endorses Toney by clicking here.
Dulin's phone introduction is true—but not the whole truth—because it's clear his intention is for listeners to assume he's a Democrat since he's name-dropping the DNC, while not divulging his own party affiliation. His response to this little controversy—on Twitter and elsewhere—has been: "I did not deceive anyone, I did not say anything deceitful or anything untrue."
But the North Carolina Democratic Party is incensed, releasing a statement saying: "This is the worst kind of deceptive politics," said Jay Parmley, executive director of the North Carolina Democratic Party. "Misleading voters by representing himself as a Democratic official and then bragging about it on Twitter just shows how far Republicans are willing to go to win. Andy Dulin should publicly apologize to LaWana Mayfield, John Autry (the Democratic opponents in those two City Council races) and the voters of Charlotte. He should also do the respectable thing and step down as a member of the Charlotte 2012 host committee."
It will be interesting to see if the DNC does in fact ask Dulin to resign from the committee. Who's to say that Republicans on the DNC committees won't try such tactics during the 2012 campaign season, which is sure to be brutal?