Dusk Till Dawn Social Series – Next Event Oct. 15
Second installment of Charlotte magazine's monthly event series invites guests to Eight Sushi and Asian Kitchen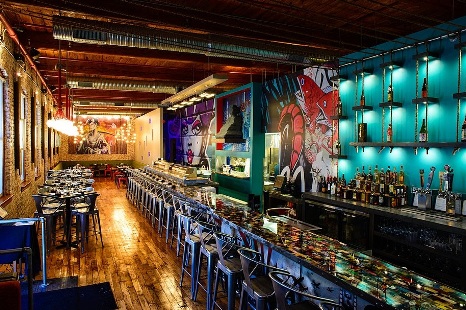 I have a very busy week. It's filled with deadlines, meetings, professional and personal obligations. You can relate, right? But guess what I've made time for on my calendar: the next event in the Dusk Till Dawn Social Series, which takes place this Wednesday, October 15, 6-8 p.m. at Eight Sushi and Asian Kitchen (1000 NC Music Factory Blvd.).
See, one of the main reasons Charlotte magazine launched this monthly event series (the kickoff event was in September at Sullivan's Steakhouse) in conjunction with its Dusk Till Dawn blog (which I write), is because everybody's always busy all the time, but it's important to carve out a little bit of time for your social life. You'll be so happy you did.
So, for a couple of hours on Wednesday, come out to Eight, which is the newest venue at NC Music Factory—if this will be your first time visiting Eight, I promise you will be impressed. And, on this evening, you'll enjoy complimentary hors d'oeuvres, drink specials, and the chance to win a gift card from the event's sponsor, Diamonds Direct. Plus, it's a chance for you to make new friends and/or reunite with old ones.
Admission is free, and all you have to do is RSVP at www.charlottemagazine.com/DTDSocialSeries.
The hashtag for this event series is #DTDsocial, and I look forward to seeing you there!
Be sure to bookmark www.charlottemagazine.com/Blogs/Dusk-Till-Dawn to stay plugged into Charlotte's nightlife and social scene. Click here to sign up to receive the weekly Dusk Till Dawn e-newsletter. Follow me on Twitter @HollidayInk; email me at jarvish@grownpeopletalking.com.