Eagle Eye: Dena Diorio
She has an open attitude and a talent for slashing budgets. Can she fix Mecklenburg County government?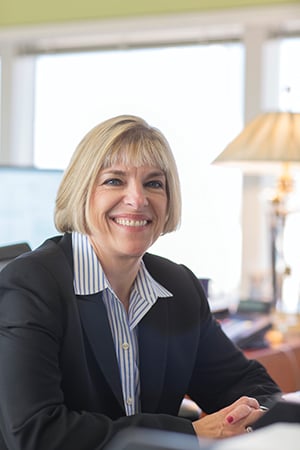 All the problems Dena Diorio has to contend with as Mecklenburg County's new manager—the budget, service delivery, a citizenry still chafed by a botched county property revaluation—huddle under one big issue.
"In terms of overall trying to restore trust, county managers have to be transparent about the work that we do," she tells me on a cold January morning at the government center.
"We're going to spend a lot more time putting information out for the board to see, for the public to see."
Diorio, whom the county commissioners named manager on December 17, doesn't mention her predecessor, Harry Jones. She doesn't need to. Jones's opacity and standoffish attitude were primary reasons for his firing a year ago.
So here's Diorio, the longtime financial director, left to repair the county's relationship with taxpayers, plenty of whom were overcharged in the 2011 revaluation and have reason to distrust local government. She has to mend that breach quickly, by finishing the review of the reval and refunding taxpayers who were overcharged.
"That's a project I started as assistant county manager, and I'm committed to seeing that through," she says. "We will over-communicate as opposed to under-communicate. The more the public knows and the more the board knows about what we're doing, the better off we're going to be."
Diorio says she wants to make county government function better, which informs another goal: a system that consolidates the delivery of all human services—the Department of Social Services, Public Health, and Community Support Services—to allow citizens to access them more easily.
It sounds like dull administrative stuff, but that's why it's important. It's what we pay people like Diorio for—efficiency that saves taxpayers time, money, and energy.
"If you need services," she says, "you should be able to get them."
Diorio has also shown a willingness to read the fine print. Around 2000, when she was budget director for the city of Stamford, Connecticut, she noticed the city's telecommunications bill seemed high. So she combed through the itemized records and discovered the city was on the hook for dead and unused lines, along with other charges no one had bothered to question.
"I remember sitting in on a pretty tough negotiating session with her and the company, and she was pointing out the charges: 'Well, what about this?' " says her former Stamford boss, Tom Hamilton. "I think they were surprised she had done her homework. They were a little sheepish about it: 'OK, OK, you're right.' And I didn't tell her to look into that. She just kind of picked it up and ran with it."
Mecklenburg County is a far heavier ball. Hamilton's story is a good sign, though—an indication that Diorio's willing to bring the same sort of diligence and tenacity to the long run she has ahead of her.