Easing into Position
A guide to Charlotte's yoga offerings and which one fits you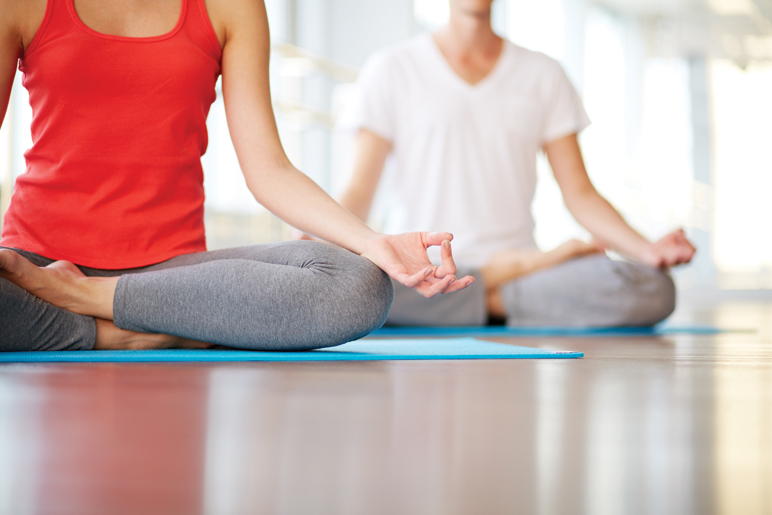 TO THE UNINITIATED, yoga can seem like an intimidating practice of contortion for only the most noodle-like humans. Charlotte yoga teachers say the most common worries they hear from students are "I'm not that flexible" and "I've never done this before." But most studios have classes that help beginners ease into learning the fundamental poses in addition to a variety of advanced classes. Yoga practices vary from the serene to the challenging, and this city has them all.
---
I want a challenging workout.
The rooms are heated to just above 100 degrees at Y2 Yoga studio in Cotswold, where yogis flock to owner Tanner Bazemore's Double Shot class. The class moves fast through a series of asanas, or poses, and you can expect to get your heart pumping and challenge your muscles. Enjoy the custom playlists synchronized to fit the flow of the class, and don't forget to bring a towel and water. Y2 may prove to be a fitness destination when it opens its new studio­—one of the largest on the East Coast—next door to the current location. Until then, sign up for a class or listen to this week's Y2 playlist on the website.
280 S. Sharon Amity Rd. (soon to be 274 S. Sharon Amity Rd.)
704-456-9642
y2yoga.com
---
I'm new to yoga.
The Yoga Roots class at Okra studio in Plaza Midwood is geared toward beginners. It's a "vinyasa" class, meaning that it focuses on synchronizing fluid movement with steady breath. This class moves at a slower pace, and teachers take their time guiding students through the foundational poses of yoga. If you've ever wondered what exactly a "crow" or "tree" pose looks like, this is the class to learn the vocabulary and proper form. Okra's new-student special includes two weeks of unlimited yoga for $20, so you can celebrate your good luck with a drink at the shop's coffee and specialty-tea bar.
1912 Commonwealth Ave.
704-266-1443
okracharlotte.com
---
I want to leave inspired.
Yoga One's motto, "Awaken. Empower. Inspire. Sweat." is painted across a studio wall in the Central Avenue location. As a hot-yoga studio, sweating is inevitable, but inspiration and personal transformation are loftier goals. The hallway to the studios is covered with words of encouragement, such as "Follow your bliss." Most classes begin with teachers stating an intention for the class or asking students to examine the state of their hearts. Yoga One gives back to the community by offering a $5 Karma yoga class every Sunday at the Central studio and every Saturday at the University-area studio. Proceeds go to a different charity each month.
1318 Central Ave.
704-332-9911
10039 University City Blvd.
980-237-0489
y1now.com
---
I want peace of mind.
Nancy Nicholson's background includes experience as a therapist and certified integrative health coach. Nicholson teaches Kripalu yoga, which she describes as "meditation in motion." While most of her clients are older than 50, she recommends her gentle classes for anyone, especially those with stress, anxiety, depression, or physical pain. Nicholson has worked with patients with Parkinson's disease, multiple sclerosis, asthma, fibromyalgia, and other health concerns. She teaches floor classes on Mondays and Wednesdays at First Christian Church and a chair class on Wednesdays at Covenant Presbyterian Recreation Center, both in Dilworth. For a full schedule of classes, call 704-377-9273 or email Nicholson at nancyenicholson@gmail.com.
---
I want to try something fun.
If you're interested in incorporating playfulness into your yoga practice, try Gotta Yoga's aerial classes. Offered multiple times per week, the classes combine a circus hammock with traditional yoga poses. Kat O'Dell, who trained at Aircat Aerial Arts in Boulder, Colorado, says that in addition to being fun, the hammock can make challenging poses easier. Wrapping your legs in the fabric removes pressure from your neck and shoulders when performing inversion moves, such as a headstand or handstand. Introductory as well as intermediate aerial yoga classes are available; private group classes are offered for up to eight people.
9539 Pinnacle Dr., Ste. 350
704-688-7256
19911 N. Cove Road, Ste. C Cornelius
704-237-0526
gottayogastudio.com
---
I want a solution to my wellness rut.
Lisa Holland has spent almost a decade in Charlotte using the moniker Belly Guru to heal people through physical therapy, lifestyle medicine, and yoga. After years of studying rehab and sports medicine and becoming a doctor of physical therapy, Holland sought a more holistic way of healing. She became a yoga instructor in 2001 and began her integrative physical therapy practice here in 2005. In addition to teaching weekly group exercise classes at Thrive Yoga and Fitness Lifestyle Center in Pineville, she meets with clients for private yoga sessions and health consultations. She has worked with everyone from athletes to seniors.
7810 Pineville-Matthews Rd., Ste. 9
704-780-4586
ithriveyoga.net
omhealing.net
---
I want to improve my flexibility.
Imagine getting off work and heading straight to the Be Yoga studio in Dilworth. The sun has set, and you're met with a small studio with warm lighting. The cork floors are soft under your bare feet, and the leaves painted on the walls give the ambiance of a quiet clearing in the woods. Deep-stretch classes are held here most evenings and set to calm music. In addition to people with office jobs, this class is a good option for athletes who need to release tension in their legs, back, neck, and shoulders. Poses are held for two to five minutes to allow muscles to release.
1247 East Blvd. (upstairs)
704-372-7665
7510 Pineville-Matthews Rd., Ste. 2B
704-705-2610
beyogaclt.com