Easy as Pie: Grilled Pizza
Make your next party a grilled pizza party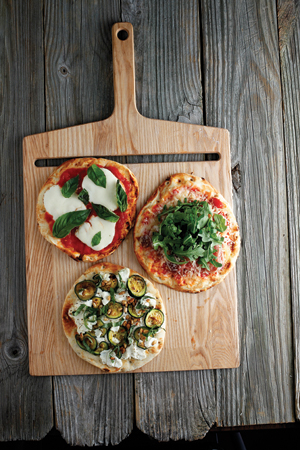 Thanks to chefs like Mario Batali, delicate, unfussy, Neapolitan-style pizza has made us rethink how we prefer our pies. Get in on the gourmet trend by throwing a DIY pizza party and make it seasonal by tossing the dough on the grill. Let guests explore their inner sous chefs by having them choose their own toppings. Take note: with pizza this simple, high-quality ingredients are the difference between a ho-hum and a five-star pizza.
Classic Margherita: Drizzle shell with olive oil. Top with tomato sauce and slices of fresh mozzarella. Cook until cheese is melted. Remove from grill. Top with basil leaves, olive oil, salt, and pepper
Prosciutto and Arugula: Drizzle shell with olive oil. Add a thin layer of tomato sauce, shredded Fontina and Parmesan cheeses. Remove from grill. Top with prosciutto, arugula, basil, olive oil, salt, and pepper
Grilled Zucchini: Drizzle shell with olive oil. Add dollops of ricotta cheese, grilled zucchini slices, pine nuts, and black pepper. Cook until cheese is soft. Remove from grill. Top with basil leaves, olive oil, and salt.
KNOW YOUR DOUGH
Store-bought dough will work fine, but this method —which doesn't require machinery or hours of proofing—is worth an hour in the kitchen. Seek out Tipo 00, an Italian bread flour, for the most delicate crust. The dough can be stored in the freezer until the day of the party, or even grilled just before guests arrive. Make like the best Italian pizzaiolos and drizzle a high-quality olive oil on each cooked pizza shell before and after they are topped. And don't forget to sprinkle with kosher salt and fresh ground pepper before you serve.
Grilled Pizza Dough
Combine yeast, lukewarm water, and sugar in a small bowl. Let stand for 5 minutes. Add cold water and olive oil. In a large mixing bowl, mix 4 cups of flour and salt. Add yeast mixture and stir until dough just comes together. Cover bowl with a towel and let sit for 5 minutes.
Turn dough out onto a smooth surface. Begin kneading the dough, gradually incorporating the last cup of flour—1/4 of a cup at a time. Continue to knead for about 8-10 minutes until smooth and elastic.
Place dough in a lightly oiled bowl and cover with a kitchen towel. Let rest until doubled for about 45 minutes. If your kitchen is drafty, try placing bowl near a hot stove. Cut dough into 6 equal pieces and shape each piece into a ball. Cover dough with plastic wrap and a towel, and let rest for 15 minutes. At this point you can freeze the dough if desired.
Preheat an outdoor gas or charcoal grill to medium-high heat. Form dough balls into rounds or squares. Use a rolling pin or hold the dough vertically, rotating and gently pulling the disks outward, using gravity to stretch it into a thin, even shape. Grill one shell at a time by placing it on a pizza stone and setting it on the grill. Close the lid and cook for 2-3 minutes per side on high heat. Repeat with each shell. Leave the stone on the grill racks and turn the heat to high to keep it hot for grilling your pizzas again once toppings have been added.
Quick tip: For easy transport to the grill, stack the shells on a cookie sheet with plastic wrap in between them so that they don't stick together.
Set shells aside until ready for topping. Once you've added your toppings, place the pizzas on the pizza stone and grill again until the toppings are melted.
Tomato sauce: Mix a 28-ounce can of San Marzano tomatoes with 1/4 cup olive oil and 1 teaspoon salt

CHEESE: fresh buffalo mozzarella, shredded Fontina, high-quality ricotta, grated Parmesan, blue cheese

Meats: Cooked and sliced meatballs, cooked crumbled sausage, slices of prosciutto

Greens: Basil leaves, arugula, grilled veggies, or ripe fruit such as figs or pears